August 8, 2023
Spanish digital trailblazer Stratesys announces arrival at Sci-Tech Daresbury
Sci-Tech Daresbury has secured another major coup with the announcement that Stratesys has set up its UK base within the Innovation Centre on campus.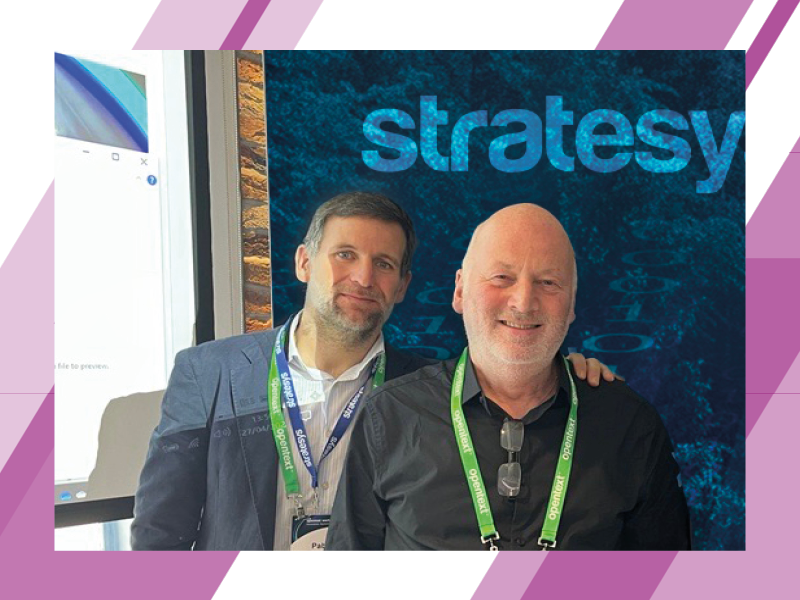 Leading technology
A multinational specialising in different leading technology platforms such as SAP, Salesforce, Microsoft, and OpenText, Stratesys complements its multiplatform vision with the development of new applications relating to fields such as Big Data, AI, Cybersecurity and e- commerce.
End-to-end solutions
The company works with enterprise companies and SMEs to develop their market strategy, offering end-to-end solutions across a wide range of vertical markets. The company's multiplatform offering can be adapted to any industry and allows Stratesys to define, implement and evolve unique technological and digital strategies in each sector in which its clients operate.
Existing clients in UK include Virgin Media O2, Tui, Anglo American and others within the consumer goods industry.
27% year on year growth
The Spanish firm – which has an annual turnover of $91m and has 27% year on year growth - has a strong and consolidated presence in Europe and America, supported by a team of over 1,500 professionals deployed throughout its offices in Spain, Portugal and Germany.
a technology hub
Combined with its presence in Brazil, Mexico, Argentina Chile and Colombia, the company serves as a technology hub between Europe and Latin America, supporting its 800+ customers throughout their technological investments and expansion in these regions.
the digital ambassadors of tomorrow
To aid its UK expansion, the company has appointed Reuben Ash – an experienced ERP, Digital, and Ecommerce specialist with a background in working with corporates and SMEs to improve processes and increase turnover and profitability – as director of sales and business development for UK & Ireland.
Business Growth
The company will aim to expand its presence on campus in line with Sci-Tech Daresbury's Home for Life ethos, with Stratesys looking to grow its team to up to 20 during 2023. The Home for Life principles allow businesses to achieve their ambitions within the campus, with firms offered the technical support, world-class facilities, and access to local and national networks needed to achieve their ambitions.
Surrounded by fellow investors
Pablo Meijide, UK Country Partner at Stratesys, said:
We're thrilled to announce our arrival in the UK and at Sci-Tech Daresbury. When looking for our UK location, we wanted to be surrounded by fellow innovators, where we would have access to leading universities and other pioneering research bodies.
We've all been so impressed by the welcoming atmosphere on campus and are really excited to grow our business in the UK from this inspiring location.
Internationally renowned
Chris Hindley OBE is CEO at Youth Fed said:
Stratesys is a company of international renown, working in both the technologies and sectors that are increasingly pivotal to the way we live, work and play such as AI and e-commerce.
The continuing expansion of Sci-Tech Daresbury's cluster of digital tech companies and our Home for Life ethos is key to ensuring that companies such as Stratesys can start and scale in the North without the need to relocate elsewhere. Stratesys is yet another global leader that has rightly decided that the Liverpool City Region is the best place in the UK for forward-thinking, innovative, international businesses to be located – we look forward to supporting this exciting company on the next stage of its expansion journey
Sci-Tech Daresbury is the home of pioneering science, technology, and business. It creates the conditions for ambitious businesses to accelerate growth and deliver real-world impact by solving the challenges of tomorrow.
Located in the Liverpool City Region, the campus combines world-class science infrastructure – including particle accelerators and supercomputers – a collaborative community, tailored business support and state-of -the-art office and laboratory space. Its "Home for Life" offering provides the perfect business location for technology companies to scale their business.
Entrepreneurs and scaling businesses sit alongside international giants to innovate, collaborate with world-leading scientists and academics, other businesses, and gain access to new markets around the globe while attracting and retaining the industry's brightest minds. Our Talent and Skills strategy RADAR, helps campus companies more effectively attract, develop, and retain the talent they need.