Phase 2 of Violet is set to comprise the speculative development of two buildings V4 and V5
Ideally suited for well-established and growing science and technology companies
Phase 2 of Violet is set to comprise the speculative development of two buildings V4, a c. 23,000 sq ft Grade A office building and V5 a c. 60,000 sq ft Grade A lab building both of which have been designed to BREEAM Excellent standards, have exemplary specifications, and is capable of achieving up to a 25% bio-diversity net gain with the inclusion of green roofs and a comprehensive planting scheme.
V4 is ideally suited for growing science and technology companies in areas such as engineering, healthcare technologies, digital technologies, and sustainability. It enables them to have strong visibility and identity on a national science and innovation campus.
V5 is ideally suited for well-established, growing companies requiring scalable lab infrastructure. Suitable for companies involved in life sciences, materials development, analytical testing, and instrumentation. The ground floor laboratories will meet the requirements of companies needing to accommodate large pieces of equipment or instrumentation.
Offices space
Offices 3,000-6,000 sq ft
On-campus parking
Secure on-campus car parking with EV charging points
The perfect tempertaure
Cycle storage
Showers and Lockers
Shower and locker facilities
Energy
A rated energy performance
Laboratory units
5,000-6,000 sq ft with external door access to ground floor labs
Offices space
Offices 1,600-3,700 sq ft
Access to chemicals
Access to gas bottle, chemicals, and hazardous waste storage areas
liquid waste disposal
Access to centralised liquid waste disposal facility
air and nitrogen
House compressed air and nitrogen supply
Roof garden
Energy
A rated energy performance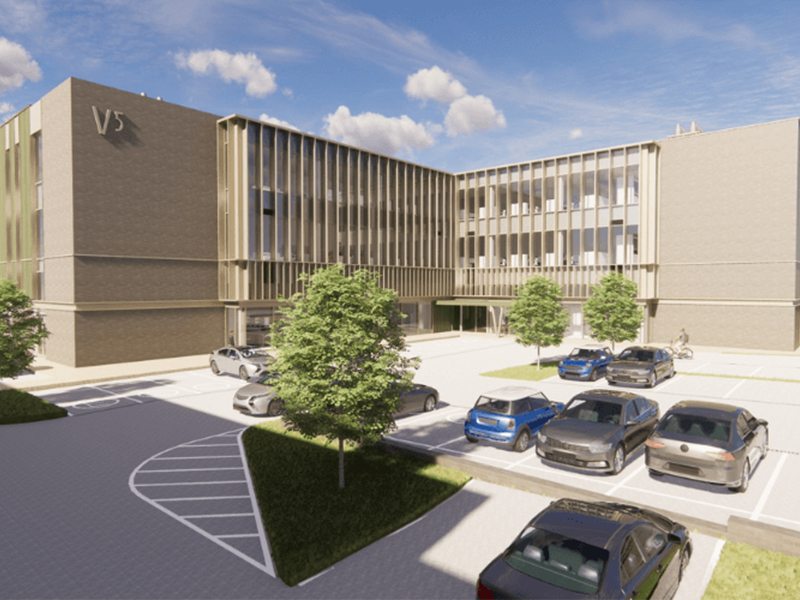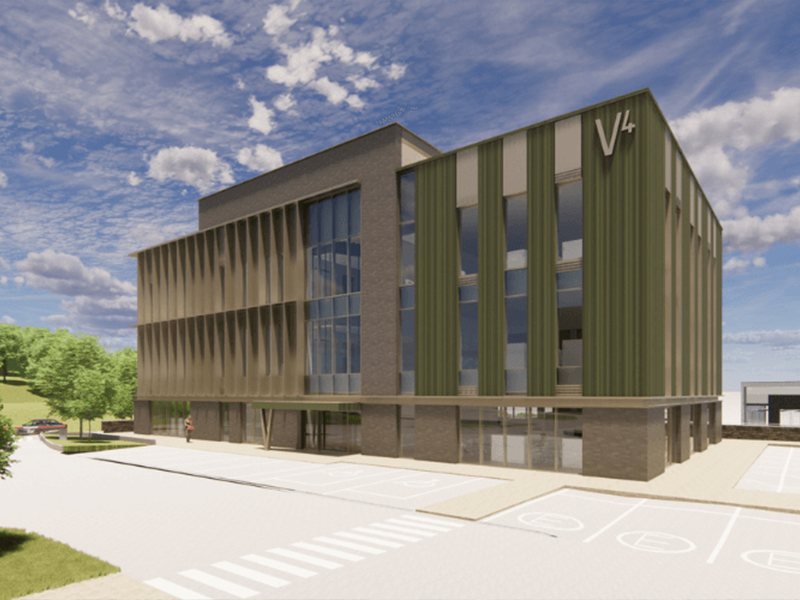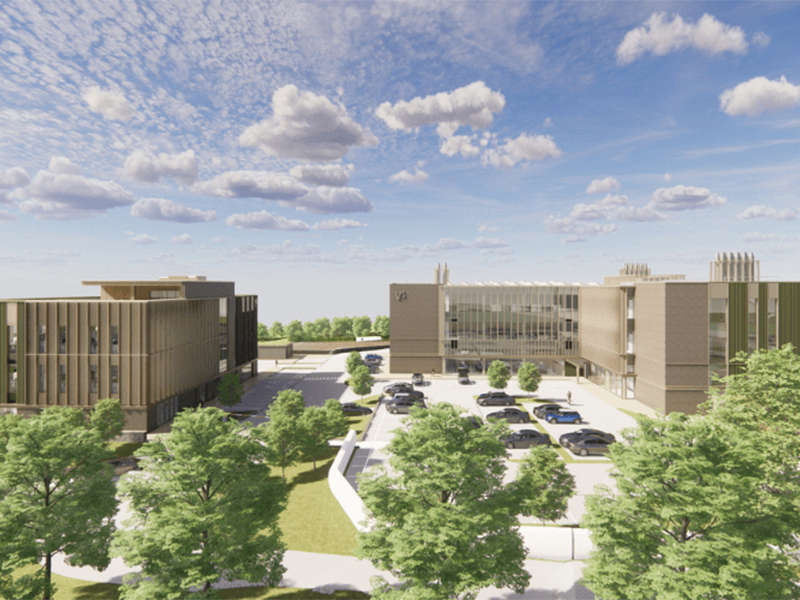 Floor plates from 3,000 sq ft to 6,000 sq ft

Shower and locker facilities
Green roofs with external terraces

Access to electric vehicle charging points
Grade A laboratory building complete with Grade A office and write-up facilities

Single lab floor plates up to 6,000 sq ft

Exemplary 2nd storey office accommodation with demisable roof terraces with floor plates ranging from c. 1,600 sq ft to 3,700 sq ft
High-quality Boardroom with external roof terrace

Green roof and external terraces

Access to electric vehicle charging points
Access to directly piped gases for nitrogen and compressed air

Cold-water supply from break tank for lab use

Domestic cold-water supply for lab hand wash

Laboratories capable of being fitted out to meet CL2 lab requirements

Ground floor laboratories with external double door access and solid flooring with 4.5m room height

Low vibration building structure suitable for sensitive instruments
Centralised gas bottle storage area

Lab drainage suitable for chemicals

Comfort cooling and heating

Mechanical ventilation providing up to 8 tempered fresh air changes per hour

Purpose built reagent storage available
Discover opportunities and find your home for life
Sci-Tech Daresbury is the home of pioneering science, technology, and business. It creates the conditions for ambitious businesses to accelerate growth and deliver real-world impact by solving the challenges of tomorrow.
Located in the Liverpool City Region, the campus combines world-class science infrastructure – including particle accelerators and supercomputers – a collaborative community, tailored business support and state-of -the-art office and laboratory space. Its "Home for Life" offering provides the perfect business location for technology companies to scale their business with over 150 companies on-campus.
Home to the impressive Daresbury Laboratory which is renowned for its world leading scientific research in fields such as computational science, physics, chemistry, materials, accelerator technology and engineering. Daresbury Laboratory is part of the Science and Technology Facilities Council (STFC), the laboratory supports scientists, researchers and industry by providing a collaborative environment to perform cutting-edge research and innovation.
Enquire today and start building your forever home for your business with Violet Phase Two office and Lab spaces at Sci-Tech Daresbury.
MAKE AN ENQUIRY OR CALL 01925 984 046