February 4, 2021
How to recruit and retain talent during and post-COVID.
Recruitment doesn't have to stop just because we're in the grip of a global pandemic. However, finding - and keeping - candidates is, like most things, vastly different to how it was before.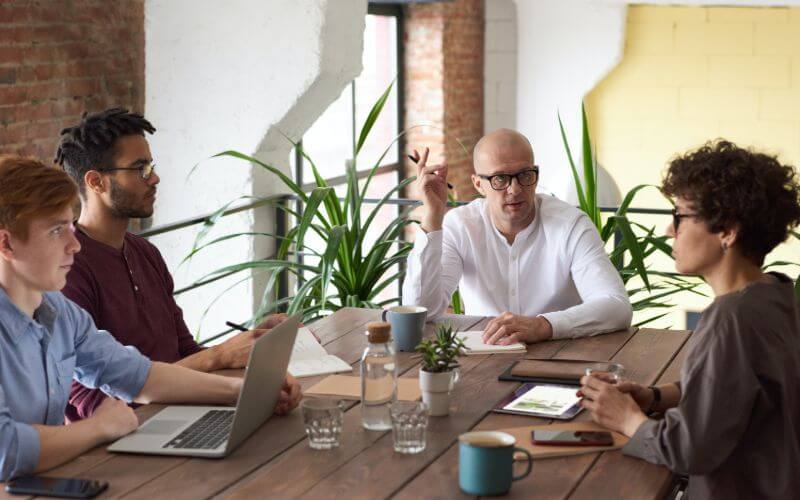 So, to help you make sense of what you need to do with your recruitment and retention during and post-COVID, we asked Sci-Tech Daresbury Gold Partners, Sally Tomlinson and Helen Frankland from Slater Heelis LLP, and Mark Lawson-Jones and Ben Appleton from Michael Page to share their thoughts.
We started by asking by what's changed for recruiters during COVID?
Michael Page (MP)
'One of the biggest changes has been the mass adoption of online tools, including video platforms, to assist in hiring.  Some employers have used use online assessments, such as personality, numerical and verbal reasoning tests to overlay some science on personal perception, which are helpful when combined with 360 references.  These tests are useful guidelines in decision making rather than being used as a deciding factor.'
Slater Heelis (SH)
'More interviews are being carried out remotely on Zoom and Teams, which means interviews could be recorded. It's important interviewers have prepared in advance and that they make sure recruitment is conducted on the basis of merit, against objective criteria that avoids discrimination. All staff involved in the recruitment process should be given equal opportunities training.
'Right to work check requirements have been temporarily adjusted, so employers no longer have to meet candidates in person to verify their original identity documents.'
And what do you think will change for recruiters after COVID-19?
MP
'It's likely the initial phases of the recruitment processes will continue to be run online, although employers are likely to look to shift to a blended approach of online and in-person meetings. This may also be the case for the on-boarding process, where replicating in-person meetings and conveying working environments is hard to replicate online. 
'When it comes to the general market, we'd expect an increase of applicants over the coming months, as the furlough period ends, and organisations consider restructuring. Securing the best people in this market will increase the upfront work of searching and selecting candidates that meet the needs of employers. We expect this to remain the case, even as teams return to the office in greater numbers once restrictions are lifted.'
What will the workplace look like post-COVID?
SH
'Many employers have realised working remotely can be a good complement to office-based working, and it's likely many businesses will have some employees who enjoy working from home and would like this to continue to some degree. To retain staff and to attract talent, employers will need to be flexible and consider maintaining or offering some element of agile working. 
'This will also mean they'll have to consider new ways of managing performance, supervising and monitoring staff when working from home, and ensure the protection of data and confidential information.'
What will employees' value most from employers post-COVID?
SH
'Employees are likely to value flexibility and a willingness of employers to adapt to new ways of working. They're also going to expect employers to offer a better work/life balance.
'An understanding of the importance of mental health and measures to support it will be vital to employees, including wellbeing as central to the culture of the organisation. Implementing coaching and mentoring services, as well as other benefits, such as health insurance and gym membership, will also be valued by employees.'
Do you think remote working is here to stay?
MP
​'As more employers determine what a return to work may look like, they're considering the health and safety of their people now, and in the longer term, and the effect this will have on productivity and their organisational structure.
'This will include things like team structures and employee engagement, effective communication for office and remote employees, accessing a wider talent pool for remote working, looking at new revenue streams to replace those lost from physical ones, and review of office use.  
'From our research, it appears working from home will form part of the new normal moving forward, but many organisations don't necessarily expect to make this switch longer term.'
SH
'Yes, we consider a degree of remote working is here to stay. Supporters of remote working argue that employees are more efficient and can save the time and expense of the daily commute. However, employees who permanently work from home could miss out on the creativity, camaraderie, and support and mentoring an office environment might be better equipped to provide.
'The pandemic has given businesses the opportunity to re-evaluate their working practices and it's likely progressive businesses will retain some elements of the traditional office culture, while replacing others. Many employees have new expectations about work-life balance and will want to either continue working from home or will want a hybrid working from home/office-based model.'
Many workers are working flexibly, as well as remotely, as they combine childcare and so on. Is the 9-5 working day now a thing of the past?
SH
'COVID has shown us the traditional 9-5 working day may well be a thing of the past. Workers are demonstrating they can be just as productive working more flexible hours and are no longer losing hours every day travelling to and from the office and in attending face to face meetings.
'Some employers are already implementing "sliding hours" for working parents, particularly in lockdown when they're having to juggle home schooling. This involves employees starting work early or working later into the evening.'
MP
​'There's an appetite and need for agile working practices and it can often improve productivity. But we should recognise there can be limits to this depending on specific jobs. Manufacturing, logistics, operations, or laboratory roles, for example, are areas where it can be harder to implement flexible working as set hours are often needed.
'In some jobs, people need to work where the customer is, which may mean physical locations, while in other sectors, businesses are looking to transition to a digital and eCommerce focus.'
Sci-Tech Daresbury is a national science and innovation campus located in the Liverpool City Region. It's home to nearly 150 high-tech companies in areas such as advanced engineering, digital/ICT, biomedical and energy, and environmental technologies. Sci-Tech Daresbury offers flexible space to rent within its multi-occupied buildings, showcasing high-quality offices, lab space, and technical space. Contact us to find out more.