February 16, 2017
Work completes at another world class Sci-Tech Daresbury facility
A major milestone has been reached with the completion of a new state-of-the-art business facility at the flagship Sci-Tech Daresbury Enterprise Zone.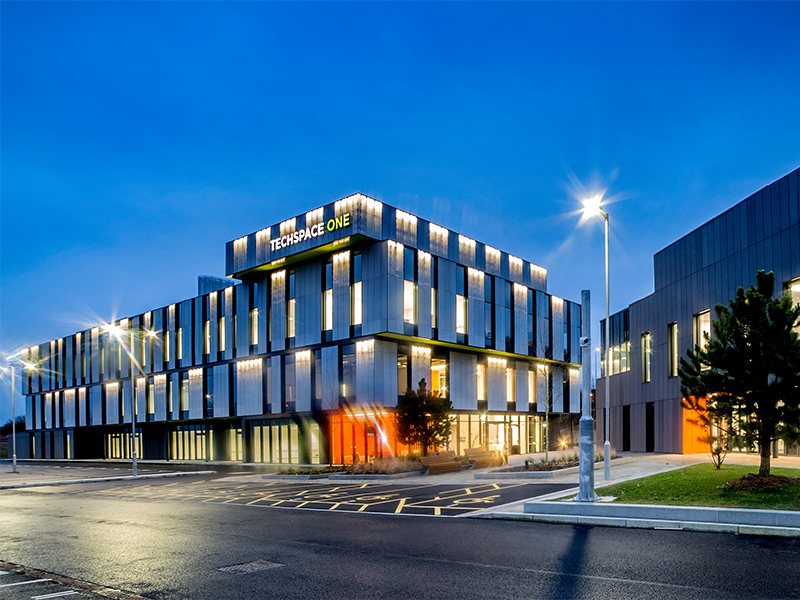 A major milestone has been reached with the completion of a new state-of-the-art business facility at the flagship Sci-Tech Daresbury Enterprise Zone.
Practical completion of another Sci-Tech Daresbury facility, Techspace One, a three-storey, self-contained building comprising 46,000 sq ft of high quality wet and dry laboratories, grade A office accommodation, meeting hubs and break out areas, took place this week.
It will be occupied by companies from sectors such as biomedical, materials, process technology and clean technology.
Tenants will benefit from access to fume extraction, provision of liquid waste disposal facility and materials/gas bottle storage areas, on-site supply of nitrogen, compressed air and natural gas, and ground floor labs with external door access.
The building also includes high-speed internet connectivity and will provide accommodation of between 900 and 2,400 sq ft units.
Already the new building is attracting significant interest from leading companies, following a year when a record number of 34 companies located or relocated to the internationally renowned science and technology park, which is now home to 114 businesses.
Techspace One completes the latest development at Sci-Tech Daresbury following its sister building, Techspace Two, which opened last September.
The 10,000 sq ft two-storey Techspace Two has already welcomed Conveyor Networks. Both buildings will see the eventual creation of another 350 jobs at the campus.
The Enterprise Zone status of both buildings means that tenants will be eligible for a number of financial incentives including reduced business rates over a five-year period.
Neal Biddle, Group Development Director of Langtree and Board Director of the Sci-Tech Daresbury joint venture company, said: "We're delighted that the Techspace project is now complete and look forward to welcoming more new businesses to Sci-Tech Daresbury.

"Techspace One, together with its sister building provide grade A office accommodation and the highest specification laboratory space and will help cement our reputation as a hot house of excellence, championing technology within the sector and a dedicated focus on open innovation."

Jayne Furnival, Group Property Director at Langtree, added: "Both of these facilities offer businesses unrivalled opportunities to collaborate with like-minded businesses, to access professional and scientific expertise and to identify valuable partnership opportunities all of which will aid the rapid commercialisation of innovation."

Sci-Tech Daresbury, located close to both Manchester and Liverpool, is internationally known for the quality of its work and is home to scientists and engineers from across the academic research community as well as private industry. Areas of study include accelerator science, bio-medicine, physics, chemistry, materials, engineering and computational science, as researchers explore new areas of science and new technologies – and facilities stretch from a VR/AR lab to a particle accelerator.