September 14, 2021
What your business needs to know about National Coding Week
Since its inception in the UK in 2014, National Coding Week has grown in popularity so much, it now takes place across Europe, the US, Australia, and many others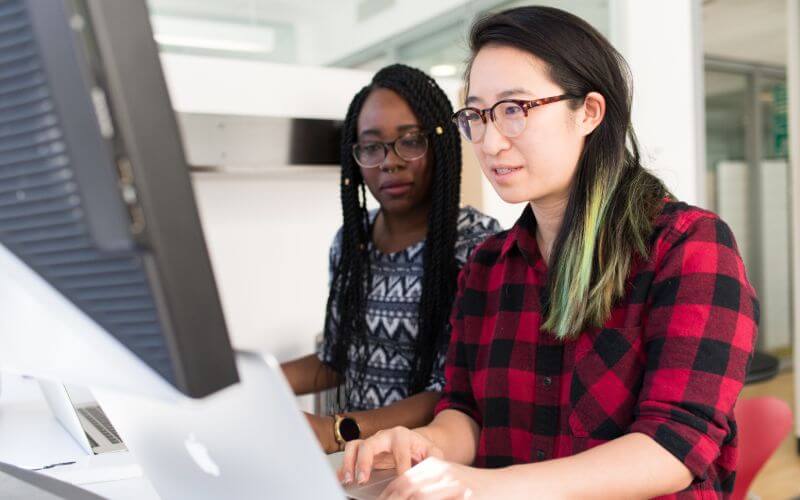 What your business needs to know about National Coding Week
Since its inception in the UK in 2014, National Coding Week has grown in popularity so much, it now takes place across Europe, the US, Australia, and many others. The idea behind it is to introduce people to the benefits of coding by running events in schools, libraries, and businesses.
If you're reading thinking coding isn't for you, or that it's not particularly relevant to your tech business, this blog might make you change your mind. Coding affects just about everything you do in business, from keeping your data safe to making your bookkeeping easier, so improving your knowledge (or someone else's in your business) can have a positive effect on your business.
How can coding help my business?
According to Cybercrime Magazine, cybercrime could cost the world $105tn annually by 2025. That's a staggering statistic. A lot of businesses have been slow to react to this threat and don't have the proper precautions in place. Understanding how to protect your valuable data and minimise your risk from attack is real advantage.
Of course, it's not just in fighting crime where a knowledge of coding can help, it can be useful in sorting out website issues, improving your current business site, or even setting up a blog, so you can create and share your own content.
What skills are needed for coding?
Coders tend to be creative, good at problem solving, and patient, as these are the typical characteristics needed to be successful at it. But, in truth, most people have transferable skills they've gained over their career and can usually pick up coding skills without too much trouble. Being able to think logically and stay calm when things go wrong, for example, are often skills people learn by simply running or working in a business every day.
Can coding be taught?
Yes. Our partners at Code Nation believe anyone can code and they run courses to put this belief into practice. From beginner level to advanced coding bootcamps, their courses are held face-to-face or remotely, and give students the practical skills needed to succeed in the industry.
Code Nation is a forward-thinking training provider specialising in coding, software development, cyber security, and extended reality. They offer courses in both software development and cyber security, as well as providing apprenticeships for existing or new employees to help future-proof your business. This can be a 1-2-day taster course, 3-week introductory course, or a fast-track 12-week course.
You can sign up for one of their courses yourself or train people within your business to become software developers. You can also work with Code Nation to identify someone who could be an apprentice and bring into your business.
Coding is often a skills gap in workforces, so upskilling existing staff to be proficient in coding can help you plug the gap. Even someone like a project manager can benefit from learning code, as they'll have a better appreciation of timescales and what's required on projects.
Coding for your customers
The technology world is rapidly changing. Everything and everyone is online. Customers are demanding more and more tech to make their lives easier and more convenient. Businesses must keep up, change, and adapt to survive. Understanding how coding works is one-way of helping them do this. And it could help your business too.
You can check out what's happening during National Coding Week here. If you'd like to talk to Code Nation about their coding course or bootcamps, please get in touch. As part of National Coding Week, they are also running three hour-long Women in Tech taster sessions on 15 September, which you can find more about here.
Sci-Tech Daresbury is a national science and innovation, covid-secure campus located in the Liverpool City Region. It's home to nearly 150 high-tech companies in areas such as advanced engineering, digital/ICT, biomedical and energy, and environmental technologies. Sci-Tech Daresbury offers flexible space to rent within its multi-occupied buildings, showcasing high-quality offices, lab space, and technical space. Contact us to find out more.