March 30, 2023
Violet Phase Two set to create room for growth
The second phase of Violet is expected to help create or support 300 jobs and add significant social value in the area through skills opportunities and local spending during the construction phase.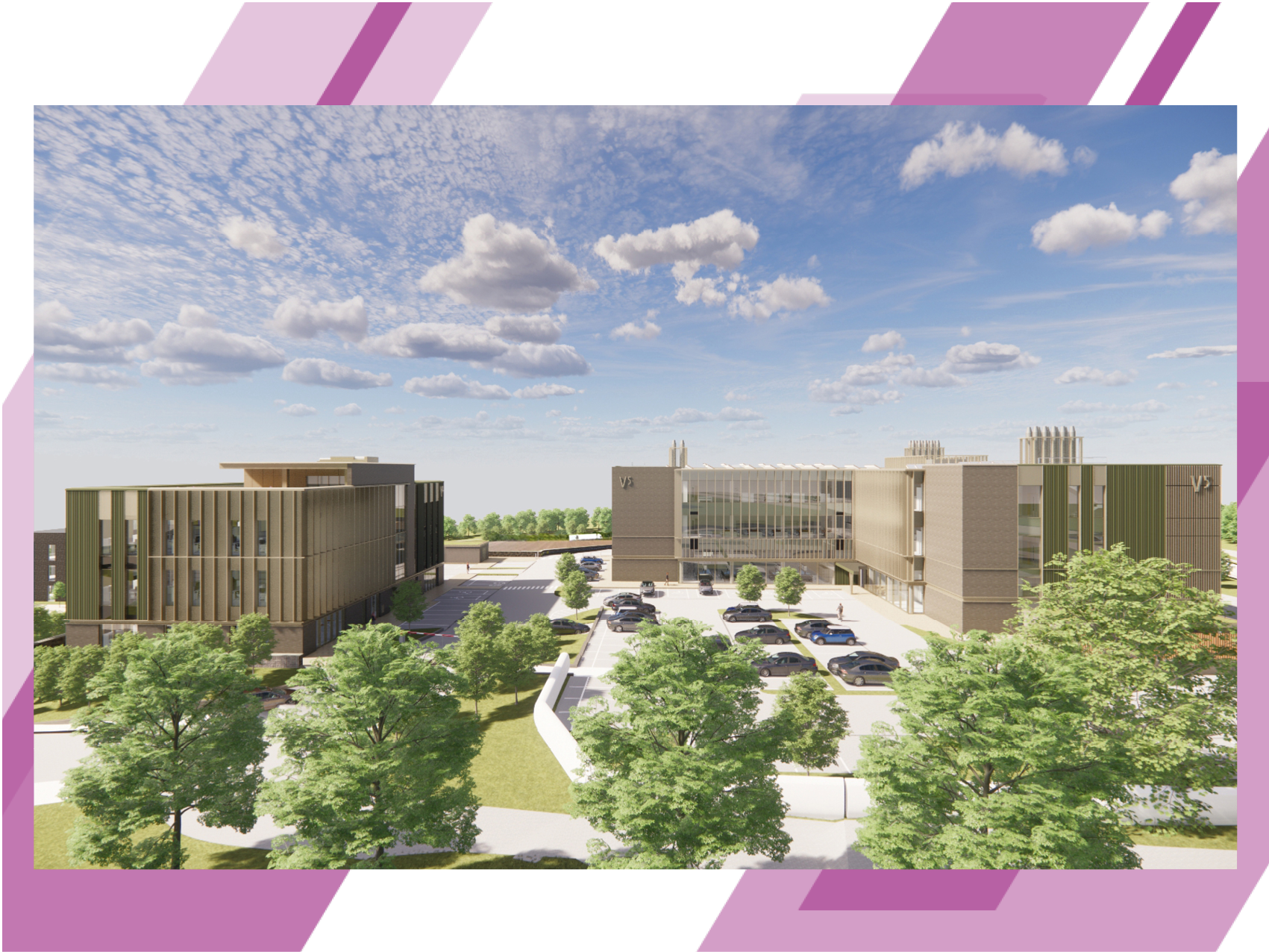 Second phase of Violet goes before planners for detailed consent
The North of England's ever sharpening focus on innovation-led businesses is set to take another step forward as the second phase of Violet, a c. £20million speculative development at the Sci-Tech Daresbury campus, goes before planners for detailed consent.
The project will deliver much needed Laboratory space to the region
The project is set to deliver a further c. 80,000 sq ft gross of innovation real estate to Liverpool City Region, including much needed laboratory space, in a development on vacant land at the north end of the campus in Halton.
The application is based around two new three-storey buildings, to be known as V4 and V5 following on from the successful delivery of phase one of Violet.  Having been completed in February 2022, Phase 1 comprised a £17.8million scheme which is already 85% occupied and features 43,000 sq ft of Grade A office and innovation space across three buildings  V1 at 19,000 sq ft and V2 and V3 providing 12,000 sq ft each.
Violet is central to Sci-Tech Daresbury's strategy of expanding the range of high-quality facilities to provide a 'home for life' for companies and will help joint venture partners Langtree, Halton Borough Council, and the Science and Technology Facilities Council (STFC) deliver on the promise to support job creation and drive inward investment in the region.
V4
The first new building in the proposed scheme, V4, measures c. 23,000 sq ft and will expand the availability of Sci-Tech Daresbury's Grade A office accommodation with larger floor plates of up to 6,000 sq ft. It has been conceived with companies in sectors such as advanced engineering, healthcare, digital technology, and sustainability in mind.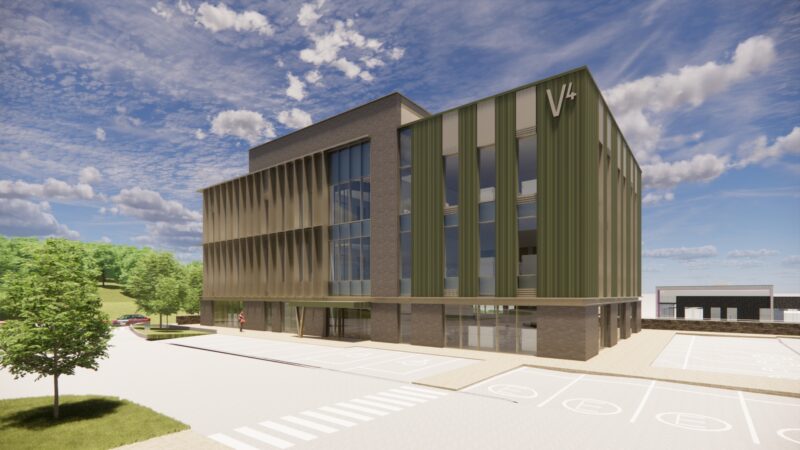 V5
V5, meanwhile, is c. 60,000 sq ft and based around dedicated CL2-enabled laboratory space along with areas to encourage collaboration and positive wellbeing, including an accessible roof terrace. Large floor plates of 5,000 sq ft to 20,000 sq ft will be available along with high ceilings, fume extraction and external door access, are part of a package of outstanding specifications configured to provide best-in-class research space. This new space will be particularly suitable for companies in life sciences, materials development, and instrumentation.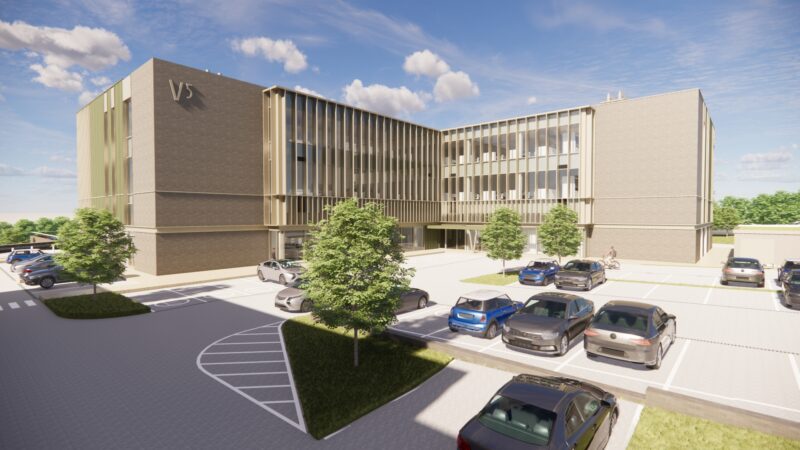 BREEAM Excellent buildings
Both buildings have been designed to BREEAM Excellent standard by Seven Architecture and sustainable features are included throughout the development. Solar photovoltaics and highly efficient air source heat pumps will ensure V4 and V5 achieve highly efficient energy performance. The development has also been designed to maximize bio-diversity and is capable of achieving up to a 25% bio-diversity net gain with the inclusion of green roofs and a comprehensive planting scheme.
Home to over 150 science and technology companies
Sci-Tech Daresbury, one of the North's most important clusters of R&D-focused businesses, is already home to over 150 science and technology companies in sectors including advanced engineering, instrumentation, materials, life sciences, healthcare, digital technologies, and sustainability. These include the likes of Croda, IBM, and Hitachi, co-located with STFC's Daresbury Laboratory, part of UK Research and Innovation at the site, which is located just off junction 11 on the M56 and within a 20-minute drive of both John Lennon and Manchester International airports.
Home for life
John Downes, Chief Executive Officer of Langtree and Chairman of Sci-Tech Daresbury, said:
Our campus is designed to be a 'home for life' and we need to provide larger laboratory and office facilities to ensure there is grow-on space for the businesses already within our community.
We also want to attract further investment from outside of Liverpool City Region. Larger floorplates are especially attractive in the market and the next phase of Violet will complement the existing office, laboratory, and science facilities that we already have on the campus. The continuing expansion of Sci-Tech Daresbury is key to ensuring that companies can start and scale in the North without the need to relocate elsewhere, which would create significant disruption for them and bring the risk of losing key staff. We also believe that investment in innovation capability goes straight to the heart of future-proofing the regional economy – it's part of creating a highly skilled workforce, that generates high value intellectual property.
Second phase of Violet is expected to add significant social value in the area
The second phase of Violet is expected to help create or support 300 jobs and add significant social value in the area through skills opportunities and local spending during the construction phase.
The planning application includes a comprehensive landscape strategy which will co-ordinate how the new development will connect pedestrian movements to the wider campus through both enhanced walkways and accessible lift provisions. Subject to securing consent, building works could commence in early 2024 with a targeted completion of mid-2025.
Sci-Tech Daresbury is a world class location for high-tech business and leading-edge science based in the Liverpool City Region.  It provides a unique environment for innovation and business growth, with knowledge sharing, collaboration and networking.  Home to the ground-breaking STFC Daresbury Laboratory as well as around 150 high-tech companies, the site was originally established in 2006. In December 2010 a new private-public joint-venture partnership was created to spearhead the longer-term development of the campus. Partners in the private-public joint-venture partnership are developers, Langtree, Science and Technology Facilities Council (STFC), and Halton Borough Council.  The campus was granted Enterprise Zone status in April 2012. Enterprise Zone status allows business rates to be reinvested in the campus, potentially creating up to 15,000 skilled jobs and providing funding for new specialist office, laboratory and technical space. Enterprise Zone status will also allow the campus to leverage more than £150 million in private sector investment. For more information visit: http://www.sci-techdaresbury.com/