December 6, 2022
Sci-Tech Daresbury celebrates status as science and technology powerhouse as Violet buildings approach capacity  
Sought after office space on-campus is nearing full capacity.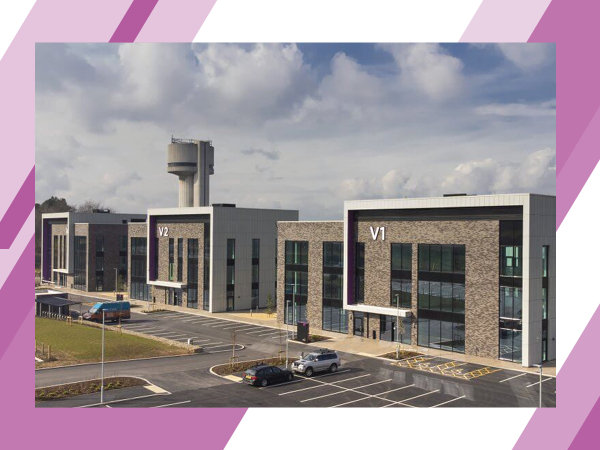 Sci-Tech Daresbury, located in the Liverpool City Region and the home of pioneering science, technology, and business has announced that its Violet development will soon be at capacity following phenomenal demand since the three-building complex opened in May of this year.
Violet encompasses three buildings (V1, V2 and V3) providing a total of 43,000 sq ft of Grade A office and innovation space.
Each building entails floor plates of around 4,300 to 6,300 sq ft and as part of the work, major landscaping improvements have been made around the Sci-Tech Daresbury campus.
5 industry leaders at violet
Sci-Tech Daresbury campus in demand
Only a floor and half left
Jayne Furnival, property director of Langtree said:
The first spade hit the ground for our Violet development during the height of the pandemic, at a time when many construction projects were paused. Yet, we remained resolute in the belief that our ambitious plans for propelling science and technology forward in our region though investing in quality laboratory and office space would fulfill a critical unmet need.
"That there is now only a floor and half left at these three spectacular buildings is a vindication of our strategy and reflects why we are looking to expand further with Ultraviolet. The remarkable take up we have seen has been driven by both the arrival of leading international firms and existing campus companies scaling up, in line with our Home for Life ethos.
"The success of our campus is not simply good news for science and technology in this country, but also our local community. Every day we are bringing new jobs and investment into our region. At this time of economic uncertainty, we are more committed than ever to showcase Halton as a fantastic place where individuals and businesses can all achieve their potential.
A thriving innovation economy
Steve Rotheram, Mayor of the Liverpool City Region, said:
Our area is home to a thriving innovation economy, boasting world-leading clusters of science and technology - and I'm on a mission to help those businesses unleash their full potential.
Earlier this year I launched our region's Innovation Prospectus – our roadmap to turning the Liverpool City Region into the UK's innovation hub. In it, we've outlined an ambitious £3bn pipeline of projects that have the potential to deliver £41.7bn to our local economy, creating more than 44,000 quality jobs.
For all the work we're doing to catapult our area to the forefront of UK innovation, we need to ensure we're investing in high-quality, sustainable spaces for our businesses to flourish. The Violet buildings are befitting of a modern, forward-looking city region like ours – and I can't wait to see where its new tenants will take us on our journey to realising that ambition.
Research and Development
Project Violet has received £8.4m in cornerstone funding from the Liverpool City Region Combined Authority, supporting its ambition to invest 5% of its economy on Research and Development (R&D) by 2030 – nearly double the government's UK target.