December 20, 2018
The Importance of Value Chain Management 
When was the last time you analysed your value chain to assess if your business was delivering its full potential?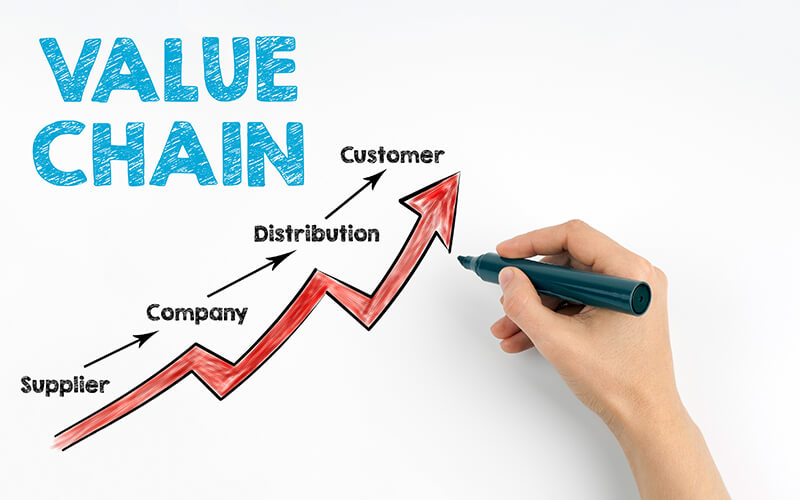 It is something the best businesses do. However, some businesses have never done it, while it is very easy to ignore when everything appears to be going well.
So, today is the day that changes, as the importance of a robust and effective Value Chain Management (VCM) cannot be overstated.
Even if it's a case of 'If it ain't broke, don't fix it' that doesn't apply when it comes to your VCM. This is an area of your business strategy that you need to consistently oversee, because a strong VCM can deliver you an advantage over competitors, bring in more customers and ultimately increase profit.
This is expertly explained by business blogger Peter Chisambra in his article on Value Chain analysis. He writes: "Competitive advantage is not just about matching or surpassing what your competitors are doing, but finding out the expectations of your customers, profitably meeting those expectations and even going one step further of surpassing them. Your organisation's overall competitive advantage derives from the difference between the value you offer your customers and the cost of creating that customer value.
"Value Chain Analysis (VCA) is a continuous process of gathering, evaluating and communicating information for decision making and will help you to identify all the value-creating activities and processes within your organisation. Using VCA, you will be able to identify the primary activities and support activities by which your organisation creates value."
The efficiency of the VCM rests with the senior management team and, therefore, it is essential that they have a full understanding of the Value Chain, which was established as a concept in 1985 by Michael Porter.
Porter identified five key activities and improving any one or all of them will assist in generating an improvement in your business. The Value Chain, as identified by Porter, is formed of primary activities that add value to the final product directly and support activities that add value indirectly. The better these perform the more value is added.
The five activities are:
Inbound logistics – everything related to receiving, storing, and distributing materials in;
Operations - the transformation activities that change the inbound materials into a product or service that are sold to customers;
Outbound logistics – deliver your product or service to your customer, including storage, collection or distribution;
Marketing and sales – identifying customer needs, deploying your product into the marketplace and identifying the sales channels and pricing; and
Service - activities related to maintaining the value of your product or service to your customers once it's been purchased.
Understanding these everyday activities and the value they add collectively in the process, will enable the management to fine tune the business and look objectively at where improvements can be made.
These improvements could be to reduce costs or improve production capacity. The additional value creation results in a company's customers deriving the most benefit from the company's product or service for the lowest cost.
It is feasible to take VCM a stage further and apply to the secondary support services that also bring value to the chain. It is also where efficiencies and improvements can be made, be that in reducing costs, increasing capacity and ultimately increased profit.
These secondary activities are:
Procurement (purchasing) – securing resources, vendors and negotiating best prices;
Human resource management – employees are a valuable resource;
Technological development – managing and processing information and minimising IT costs but also utilising technological advances; and
Infrastructure – company's support systems - accounting, legal, administrative etc.
By factoring in these, the tangible benefits include a proper cost analysis of each process, comparison with competitors to enable improvements in customer perceptions and an identification of the core competencies and activities.
Understanding the importance of a VCM, will make you understand your business better and deliver greater value – whatever sector you are in.
If you are in manufacturing, Sci-Tech Daresbury-based valuechain.com has developed industry-specific Value Chain software to improve performance, capture data and remain competitive.
"As society has moved to a servitisation model, in which customers buy-in to a complete product-service offering rather than purchasing a single product, the importance of Value Chain Management has increased greatly, and methods to manage it have evolved to be more collaborative; working with partners and customers to improve their VCM.

Digital technologies are bridging the gap between manufacturers and their customers, and we've designed and developed platforms and tools that streamline and standardise models to manage and improve value chains in this way. By streamlining communication on secure digital platforms, we're seeing more companies adopt this approach, working closely with partners as they're engaged in collaborative digital supply chain networks." – Alex Knight, Head of Marketing, Valuechain
Sources
https://www.mindtools.com/pages/article/newSTR_66.htm - for the primary and secondary activities
https://erpminsights.com/applying-value-chain-analysis-to-create-competitive-advantage/