May 27, 2021
Tangent Works Selected as Cool Vendor in Analytics & Data Science by Gartner
Gartner, the world's leading business research and advisory company, selected Tangent Works on its prestigious "Cool Vendor" list for 2021, in the "Analytics and Data Science" category. Companies previously named to Gartner's Cool Vendor list include Zoom, Snowflake, Gong, and many other leading SaaS unicorns.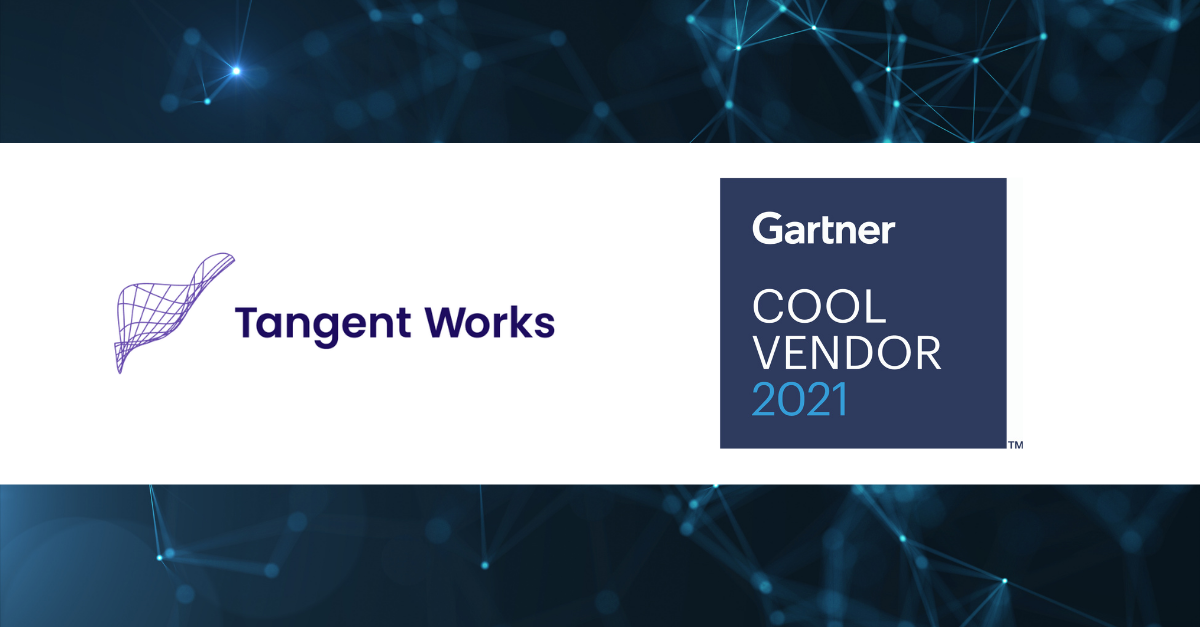 Tangent Works has been recognized for combining feature engineering, model selection and tuning a one-step process with automation to provide time-series predictive analytics, enabling users to complement what-if and simulation scenarios for budget exercises, doing risk assessments in their business transformation process and more.
Gartner Analyst Shubhangi Vashisth elaborated on Tangent Works' selection:
"Tangent Works' Tangent Information Modeler (TIM) is an automatic model-building engine for time-series forecasting and anomaly detection. It engineers features and applies a highly efficient algorithm in a single step. As compared to AutoML, where users need to do feature engineering, model selection and tuning, the TIM engine covers all these steps in a one step process. Users still need to prepare their data sets prior to feeding it to TIM, which then provides automated selection of the likely most relevant input variables (with an explanation of the impact of each predictor) and automated model generation. Time-series forecasting presents unique challenges, such as, identification of significant features, how to address changing dynamics in time-series data, dynamic data availability, multipoint and multi-situational forecasts, and so on.
"We are very honoured and extremely proud to be named as Cool Vendor 2021 in Analytics and Data Science by Gartner. This recognition is a new confirmation of our vision: making creation of business value from predictive analytics with augmented, hyper automated Machine Learning extremely easy, lighting fast, and based on explainable models."
Dirk Michiels, CEO Tangent Works
---
Access the 2021 Cool Vendors Report
Organizations can achieve broader analytics capabilities in a self-service manner. To achieve more productive self-service analytics and data science, data and analytics leaders should assess these Cool Vendors to build synergies among automation, augmentation, contextualization and composability. A vendor's strength in only one of these areas is insufficient to be considered "cool." Combining these to provide efficient analytics and data science to users in a cohesive manner is what makes a vendor stand out. This reports elaborates on four Cool Vendors: ConverSight.ai, Incorta, Sisu and Tangent Works.
---
About Tangent Works
Tangent Works was founded in 2014 by a team of data scientists and mathematicians who believed in the power of predictive modeling for optimizing operations and reducing costs, but found that the existing methods were far too complex for broad adoption. That why they developed the Tangent Information Modeler TIM.
TIM's mission is to de-mystify predictive modeling and anomaly detection and make them accessible and productive for a broad range of users and use cases. TIM is an important tool for both business and technical users across various industries, including retail and consumer packaged goods, banking, manufacturing, utilities, telecom, healthcare, and many more. TIM can be used for complementing what-if and simulation scenarios for budget exercises, doing risk assessments in your business transformation process and more.