November 9, 2019
Talent and Skills of former service people promoted at Sci-Tech Daresbury event
The talent and skills of former Armed Forces personnel have been showcased at an event at Sci-Tech Daresbury to encourage companies to employ their unique abilities.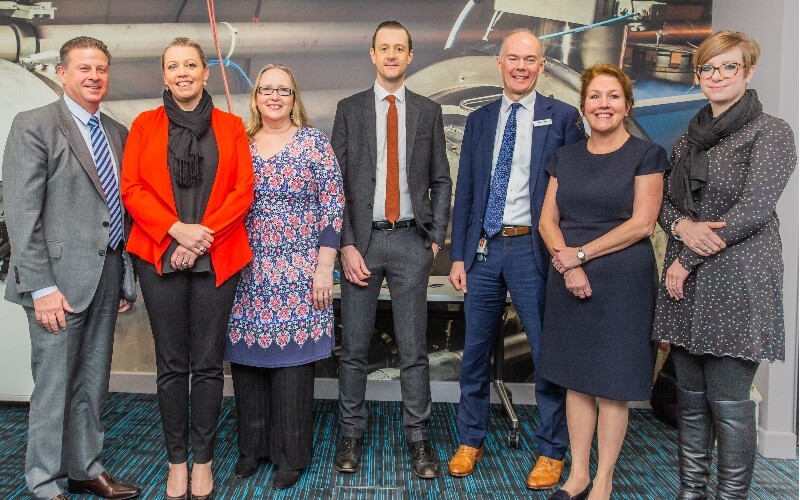 The event was part of the science and innovation campus's commitment to helping veterans find new work and skills following the end of their service and is part of Sci-Tech Daresbury RADAR, the strategic focus by the campus to support the acquisition, development and retention of talent in businesses on-site.
In May this year, the partners in the Sci-Tech Daresbury Joint Venture signed an Armed Forces Covenant supporting the employment of all veterans in securing roles that match their ability and experience, as well as helping them to access new training, working with the Ministry of Defence's Career Transition Partnership (CTP).
According to the Deloitte survey (2016), 72 per cent of organisations which have employed ex-military staff would recommend doing so to others.  More than half of employers said they promote veterans more quickly than recruits from other backgrounds, because many have the attributes of being educated, leaders, hardworking, good communicators, goal driven and team players.
Attendees of the event heard from those who had already accessed this talent source and what impact had been made on their business. They also discovered how companies can promote job opportunities via the Armed Forces portal and how the CTP can support companies in recruiting ex-Armed Forces personnel.
Speakers included David Parr, Chief Executive, Halton Borough Council and Board director of Sci-Tech Daresbury; Jan Cox, Regional Employer Engagement Director, The Reserve Forces' & Cadets' Association; and Shaun Whaites, North West Employer Relationship Manager, Career Transition Partnership; Amelia Millard, Consumer Sales Manager, TrainingByteSize; Margaret McCreedy, director and Belinda Long, Operations Manager, pm Connections; and Simeon Clow, Business Development Manager, Hartree Centre.
David Parr said: "The campus talent and skills strategy, Sci-Tech Daresbury RADAR, is an embedded partnership approach, which supports employer-led talent attraction and skills development and adds value by enhancing the existing local talent and skills infrastructure. It is a perfect match with the work of the CTP and together we are helping to ensuring that former members of the Armed Forces can gain new skills and great job offers.

"The skills base at Sci-Tech Daresbury spans all aspects of engineering and technology, especially high precision systems, intelligent sensors and software development. These are all skills that are critical to the economy and in growing demand and there is no doubt that the skills, talent and experience of former members of the Armed Forces can boost the campus's already soaring reputation."

Jan Cox said: "This really is a two-way street, on the one hand assisting veterans in securing roles that match their ability and experience and on the other allowing campus companies to find the right fit for their employment and business growth needs.

"There are many advantages for businesses participating and finding out more, principally having exclusive access to the portal to see which highly motivated and qualified people are looking for employment in the region."
For more information on Sci-Tech Daresbury RADAR, click here.