April 6, 2022
Supporting the government's commitment to level up the UK
Reflecting on how STFC's Daresbury Laboratory is supporting the government's levelling up mission and the economic and societal opportunities for the north-west.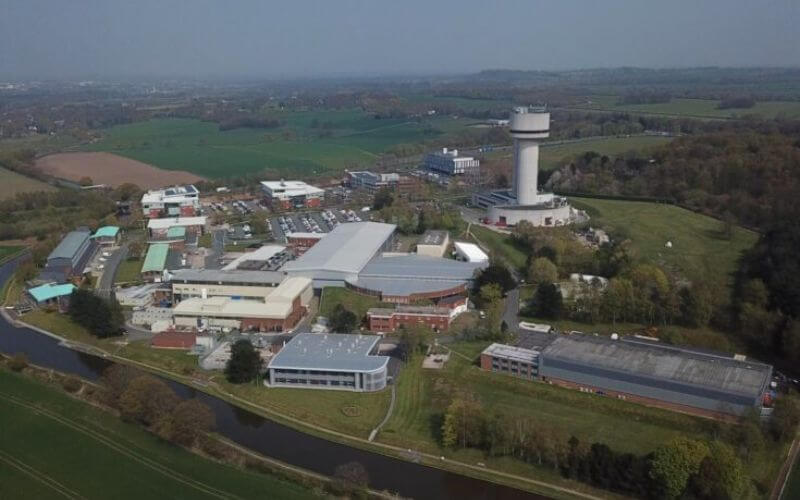 The government's Levelling Up white paper demonstrates its commitment to bringing significant economic and societal opportunities to regions across the UK. It also recognises the important role research and innovation plays in supporting and strengthening local communities and regional economies.
As we look forward to building back better from the COVID-19 pandemic, I reflect on STFC's Daresbury Laboratory's role in supporting the levelling up mission for the north-west.
Economic and societal inequalities
The COVID-19 pandemic highlighted economic and societal inequalities across the country, particularly for the north-west and the Liverpool City Region.
The government has now set out its strategy to provide clear societal and economic opportunities for regions across the UK.
It aims to improve living standards and stimulate business growth for a fairer and more prosperous economy for us all.
Important and valuable role
Science and innovation have an important role to play in driving regional economic growth, and a collaborative approach is vital, particularly between:
government
local businesses
research organisations
private investors.
I am immensely proud of the valuable role that STFC's Daresbury Laboratory, as a partner of the Sci-Tech Daresbury campus, is already playing. We are supporting business opportunities, jobs, economic growth, and real-life impact here in the north-west.
I am looking forward to continuing to support the government in its mission to level up the UK.
Location, innovation, collaboration
As part of Sci-Tech Daresbury, STFC's Daresbury Laboratory links businesses to an incredible range of unique, world-leading research facilities and expertise.
It's an incredible place where science and technology are supporting business to create high value jobs and sustainable economic growth. It has a target to create 10,000 jobs by 2030, and to support the development of skills to fill them.
Right now, we have around 150 companies co-locating here on site, ranging from start-ups to leading global organisations, such as:
A unique home-for-life ethos provides support not only to start-ups, but also to mature and growing businesses and organisations looking to expand on campus.
Already, the campus' next phase of expansion, Project Violet, has a number of firms in the final stages of negotiations to lease space. Outline planning permission for the next stage of expansion, Project Ultraviolet, has already been granted.
Campus growth
It was fantastic to see that results of the most recent 2020 campus survey showed that, despite the pandemic, companies on campus:
created 163 new jobs in 2020
generated £135 million sales in 2020
had a 95% on-site business survival rate
grew annual sales by 27%.
Furthermore, nearly 80% of campus companies collaborated with another organisation on site in 2020, the highest levels to date in the 15-year history of the campus.
Inspirational resilience
For me, the resilience shown by these businesses has been truly inspirational. It is great to know that the campus is providing businesses with:
critical knowledge sharing
collaboration
networking opportunities.
Things they need to seize the vast opportunities and success that innovation can bring.
It was also great to see that, despite the impact of the pandemic, job creation was at the same level in 2020 as the previous year. And with significant recruitment needs forecast well into the future.
This puts Sci-Tech Daresbury in a fantastic position to achieve its target of creating 10,000 jobs by 2030, alongside a robust skills development plan to support it.
For me, this is what makes Sci-Tech Daresbury unique and, so much more than just a science park.
Supporting start-ups and entrepreneurs
Entrepreneurs and small businesses are critical to our economic recovery, and COVID-19 has highlighted the importance for them to be agile and able to respond to changing economic situations swiftly.
Through our business incubation and support programmes here at STFC's Daresbury Laboratory, we are helping start-ups from across our region to access the support and technologies they need. This will speed up the development of new products and services that will benefit our society and economy.
In the early days of the pandemic, we celebrated the 10-year milestone of supporting high tech start-ups at Daresbury Laboratory. I am incredibly proud of the resilience of businesses located on campus throughout the pandemic. In fact, we have more start-ups located here at Daresbury Laboratory now than before the pandemic began.
There are a number of ways that we support small businesses, depending on:
their size
their industry sector
what stage they are at
their needs.
Whether it is as part of one of our business incubation programmes with the European Space Agency (ESA) or CERN. Or if they need access to flexible lab space or to our advanced digital manufacturing skills. I would encourage them to get in touch with my team to find out more.
Perfectus Biomed
For me, Perfectus Biomed is an outstanding example of a start-up that is achieving rapid growth and success.
One of the first start-ups to locate in Daresbury Laboratory's award-winning I-TAC incubator, Perfectus is now also award-winning, and has become a global microbiological test innovator.
Award-winning, top 20 company
Perfectus was named one of the 'top 20 north-west most exciting companies to watch out for in 2020'. It has continued to expand on campus after demand for its product development and regulatory support testing services doubled in the space of a year.
Recently, the company partnered with another successful and rapidly growing campus company Arcis Biotechnology, which specialises in rapid sample preparation, in a joint project to produce a coronavirus testing kit.
This is a fantastic example of the campus 'home-for-life' ethos. Today, both companies have expanded into larger laboratories on site, as they continue to grow organically, creating jobs.
SmartIR
SmartIR is the most recent company to locate to Daresbury Laboratory as part of our ESA Business Incubation Centre United Kingdom (ESA BIC UK).
A spin-out of The University of Manchester, it is developing a graphene-based smart coating that will provide a more cost-effective way to control a satellite's temperature in space. This is according to whether the satellite's surface is in Earth's shadow or on the side closest to the sun.
As the number of satellites in orbit continues to accelerate, this kind of technology will become more and more critical to our economy and society. Whether helping responders navigate to an emergency or supporting the fight against climate change with satellite imagery.
Validating new technology
Joining the ESA BIC UK here at Daresbury is enabling SmartIR to test and validate its new technology to meet the requirements of the space industry. Through the incubation programme, we are providing access to:
essential funding
space facilities
business support.
All alongside valuable collaboration opportunities that SmartIR needs to bring its game-changing technology to commercial reality.
When we first launched the ESA BIC UK in 2010, we joined a small but exclusive club of similar incubators across Europe.
Today, I am so proud to say that it is the world's largest business incubation programme for technology start-ups. From regenerative healthcare solutions to sustainable animal feed and remote earth observation, companies here are applying space technologies to develop new products and services that could literally change our world.
The power of the industrial cluster
Profitable regional businesses will continue to play a key role in supporting the levelling up agenda. And it is very clear to see that industrial clusters can have an important role to play in their success. They provide access to local strengths and partnerships to grow and succeed on a global scale.
Clusters stimulate innovation and facilitate commercialisation through the co-location of knowledge, expertise and facilities in specific areas of excellence.
Two new clusters launched
In the last three years, STFC has launched two clusters for the north-west right here at Daresbury, in collaboration with multiple key partners. Each cluster connects capabilities from industry, academic, public, and private organisations from across the region.
Ultimately, they promote a vibrant and outstanding environment where businesses can:
develop skills
gain support
attract investment
generate high value jobs for the region.
North-west HealthTec Cluster
Set up to boost the health technology ecosystem in the north-west, the HealthTec Cluster at Daresbury comprises more than 40 organisations.
In our first year following the launch of the cluster, the campus saw a near 15% growth in activity in this sector.
Organisations have been tapping into the world-leading expertise, networking opportunities and scientific facilities accessible on site. We are now finding more and more that the cluster is also attracting interest from companies from outside the region as well as from overseas, looking to relocate.
When we launched the HealthTec cluster in 2019, nobody could have predicted the health crisis that lay ahead of us all. It has never been more important that we come together as a sector, and as a community in the region, to enable members to:
network
innovate
share ideas and collaborate
tackle global health challenges.
Right now, businesses involved with the cluster are continuing to achieve incredible things in an effort to address our health challenges. From developing a new generation of plant-based anti-malaria repellent, to testing our next generation of cancer therapy. They are delivering solutions that will boost our economy, and most importantly, improve our lives.
Digital Tech Cluster
Most recently, we launched the Digital Tech cluster. The cluster will help small businesses speed up the development of new software products through access to the supercomputing, data analytics and artificial intelligence (AI) technologies here at Daresbury.
By providing them with ready access to STFC's world leading research infrastructure and digital expertise, we can help them to overcome their digital challenges and speed up their innovation process.
The digital technology sector is worth around £151 billion to the UK economy. We anticipate that the cluster will support the growth of 400 digital tech companies in the north-west over the next 10 years. It will lead to the creation of 1,000 high-value jobs over the same period.
Here at Daresbury we are home to some of the UK's most advanced computing, data and AI technologies. The Hartree Centre is home to one of the only UK supercomputers dedicated to industry engagement. Its technologies and experts enable businesses to reduce the risk of exploring and adopting these new digital technologies.
North-west Space Cluster
Last year, we set up the North-west Space Cluster project, one of several funded by the UK Space Agency to drive regional economic growth across England. This year I'm looking forward to launching the cluster formally, in collaboration with our many key partners from across the region and space industry.
The space industry is one of the UK's fastest growing industrial sectors, generating an income of nearly £15 billion every year, and employing close to 42,000 people. A large proportion of this is in digital and advanced manufacturing, for which the north-west has internationally recognised strengths that are second only to London and the south-east. The opportunities here are clearly vast.
In support of this, I was particularly pleased to launch the new Space Enterprise Lab (SEL) here at Daresbury just a few weeks ago. One of a national network of SELs it will enable businesses to engage and innovate virtually with collaborators across the country, regardless of their location.
The government's national space strategy outlines its long-term vision to make the UK space sector one of the most attractive and innovative space economies in the world. It is exciting to know that, here in the north-west, we have an increasingly important part to play in this.
World-leading technologies
Providing access to the cutting-edge technologies at Daresbury Laboratory can transform opportunities for businesses. And the new products and services they develop can also change our lives for the better bringing tangible benefits to our economy and society.
One of our most exciting events of the last year was the launch of our new Hartree National Centre for Digital Innovation (HNCDI). HNCDI is a five-year, £210 million collaborative programme in partnership with IBM.
HNCDI provides a safe and supportive environment where businesses and organisations can explore the latest digital technologies and use them to overcome industrial and societal challenges. Technologies such as AI and quantum computing.
Supporting the north-west economy
The past couple of years have shown us that it is impossible to predict what is around the corner. But what is clear is our absolute commitment to drive innovation, discovery, collaboration and our support for businesses and researchers across our region.
This is in turn will generate jobs and skills, promoting regional economic growth and the wellbeing of our society for many years to come.