December 3, 2019
Sky Medical Technology founder honoured at Bionow awards
The CEO and founder of Sci-Tech Daresbury-based Sky Medical Technology has received a major honour at a ceremony celebrating the outstanding leaders and innovators in the North of England's life sciences industry, which is worth more than £13bn to the regional economy.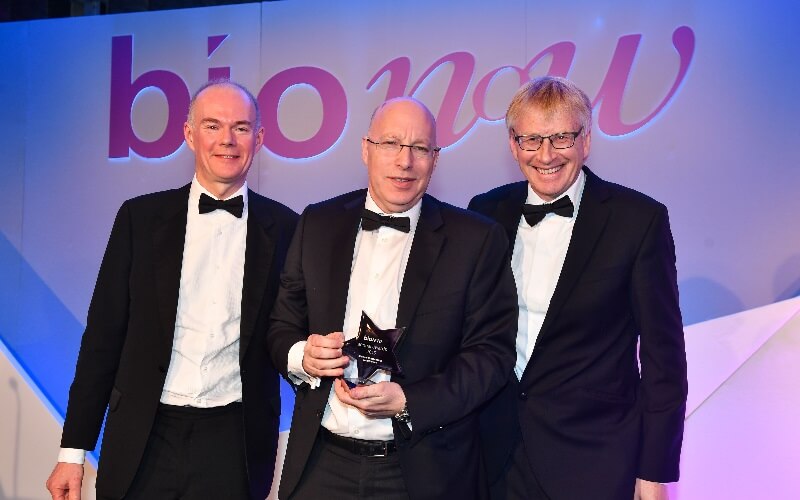 The 18th annual Bionow Awards held at the Mere Golf Resort and Spa, saw leading medical technology companies and academic and health organisations acknowledged by their peers for their application of cutting edge technologies, with Bernard Ross being honoured with the Bionow Outstanding Contribution Award.
Bernard set up Sky Medical Technology which develops bioelectronic medicine for clinicians who treat vascular related conditions, in 2008 to commercialise OnPulse technology. This involves strapping a device the size of a wristwatch to the back of the knee which helped some British athletes improve their performances at the London Olympics.
It was the result of a three-year programme of research at St Bartholomew's Hospital in London looking to find a better way to prevent deep vein thrombosis (DVT). Sky Medical Technology has since collaborated with the Royal Stoke University Hospital NHS Trust on a study that has seen use of the company's geko™ device in preventing venous thromboembolism (VTE), blood clots, in high-risk patients at the hospital's leading Stroke Unit.
Bernard said that being at Sci-Tech Daresbury had helped develop his business: "It's about the people that they have there who are quite remarkable in that if they see a connection that could be of value to you they put it together. If I need advice with something they will put you in touch with those in the region who might help.

"So it's very much this culture of collaboration and partnership that helps us thrive. They feel their role is to help companies grow and actively pursue this approach, in short, they are enterprise growth facilitators.

"Very quickly you're given a breadth of what you need – very few people when they set up business know exactly what they need – 'you don't know what you don't know', but at Sci-Tech Daresbury they give you a check list of what you might want to look at and they always bring their experience to bear for your benefit.

"Access to the campus itself is also very straight forward and it's well connected geographically. It's good to bring people to and it feels coherent, because it has all you need in one location both in terms of physical and intellectual resources."

He added: "There are lots of people to thank for my award. We've been blessed with some superb investors and shareholders, along with support from Deepbridge Capital, everyone at Sci-Tech Daresbury and many others.  Our industry is able to make a real difference to healthcare and we welcome the opportunity to make a difference."

Bernard's was one of 11 awards on the night and Geoff Davison, CEO of Bionow, said: "The work undertaken by all our winners and nominees in the past year has been truly inspiring, and leaves me in doubt that our sector is well placed to drive forward disruptive and pioneering products, treatments and developments that will vastly improve lives around the world."
A not-for-profit membership organisation, Bionow supports the North of England's burgeoning life sciences sector, which currently includes some 1,100 science and healthcare companies with a combined turnover of around £13.6bn. Its member base includes start-ups and spin-outs as well as well-established businesses. The services it offers to firms include dedicated business support programmes, shared procurement schemes, insurance, recruitment and a comprehensive events programme.