July 27, 2021
Sci-Tech Daresbury's Quantum Science looks to Japanese expansion following JETRO accreditation
Quantum Science Ltd, a leading nanomaterials company in the field of semiconductors, biotechnology and water treatment, has taken another step forward in its ambitious expansion plans following the forming of a partnership with the Japan External Trade Organization (JETRO) to support and assist the company's continued business growth in Japan.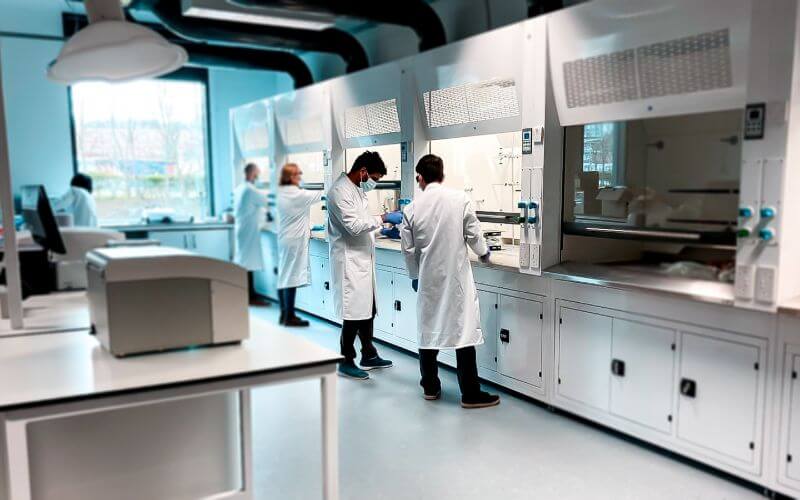 JETRO is a government-related organisation that works to promote mutual trade and investment between Japan and the rest of the world. Originally established in 1958 to promote Japanese exports abroad, JETRO's core focus in the 21st century has shifted toward promoting foreign direct investment into Japan in addition to helping Japanese firms maximize their global business potential.
Japan is one of the leading countries in semiconductor and electronic innovation and is, therefore, a hugely important market for Quantum Science's quantum dot technology, known as INFIQ® QDs.
Designed for use in image sensors to increase accuracy and sensing of silicon sensors into the infrared range, this technology will open new applications for CMOS (complementary metal-oxide-semiconductor) sensors in consumer electronics, self-driving vehicles, security and surveillance, and smart manufacturing.
Quantum Science is already closely engaged with over five Japanese companies sampling INFIQ® materials into the market, and work is underway to partner with these companies to integrate INFIQ® technology into their future products.
Additionally, there are several high-value development and pilot projects in the pipeline in the near future within Japan.
The JETRO accreditation will enable Quantum Science to significantly bolster its presence in the Japanese Market and represents another milestone following its expansion into a larger facility at Sci-Tech Daresbury earlier this year.
Reflecting the 'home for life' ethos that enables companies to scale up within the campus, the company moved from its initial home at the Campus Technology Hub to the Techspace One office and laboratory building.
Quantum Science, which is part of a growing cluster of materials companies at Sci-Tech Daresbury, now has nearly 2,300 square feet of office and lab space from which to serve the growing demand of its customers for its various products, as well as accommodate an ongoing recruitment programme.
Dr Hao Pang, the CEO of Quantum Science says, "Our INFIQ® technology is the only "one for all" machine sensing technology that enables current silicon-based image sensors with superior machine vision and cognition ability at a cost affordable to consumers.

"As the INFIQ® technology has gained initial success in Japan and international markets, the support from JETRO represents another step forward in Quantum Science's growing global ambition and evidence of the huge international interest in our technology.

"This latest stage in our development would not have been possible without the incredible community and research space here at Sci-Tech Daresbury. Our move to Techspace One earlier this year has only enhanced our business offer to our customers, and we will continue to tap into various resources and networks available on campus as we look to develop further products and enter new markets"

A spokesperson for JETRO said: "JETRO welcomes Quantum Science to the Japanese market and looks forward to supporting the company's technology to grow and advance the image sensor industry in Japan and in international markets."

John Downes, chief executive officer of Langtree and chairman of Sci-Tech Daresbury, said: "We were thrilled that Quantum Science expanded into Techspace One earlier this year, and this latest breakthrough into the crucial Japanese market is further evidence that this is a highly innovative company that sits at the vanguard of the nanomaterials market.

"We have a growing number of materials companies on site, and it's brilliant to know they're on hand to collaborate and share intelligence and expertise in order to help the Liverpool City Region be at the forefront of this increasingly important field."
Sci-Tech Daresbury's status as one of Europe's leading homes for science and technology was further boosted by the announcement last month of the Hartree National Centre for Digital Innovation (HNCDI) a joint programme between the UK's Science and Technology Facilities Council (STFC) Hartree Centre and IBM within the Liverpool City Region campus.
The £210 million investment will bring together world-leading expertise in quantum computing technology and innovative artificial intelligence (AI) to support UK businesses and the public sector by reducing the risk of exploring and adopting digital technologies by breaking down practical barriers to innovation such as access to infrastructure, expertise and digital skills gaps within organisations.
HNCDI will also host an IBM Discovery Accelerator - the first location outside of the USA – to engage industry, government and academia to accelerate innovation in high-performance computing, AI and quantum technologies and by building a global community of discovery and momentum for new ideas and solutions to benefit society.