May 27, 2021
Sci-Tech Daresbury wins award for outstanding charity work
Sci-Tech Daresbury has been honoured with a Corporate Supporter Award from Stick 'n' Step, a North West based cerebral palsy charity, in recognition of the campus' exceptional charity contribution and fundraising efforts over the past eighteen months.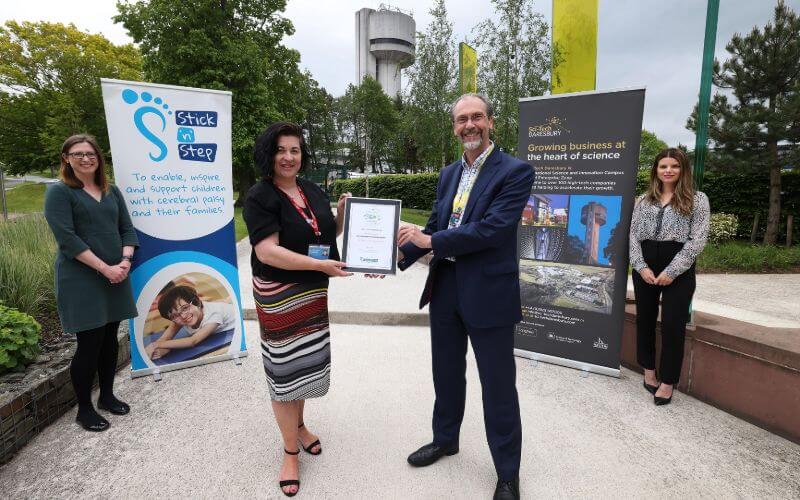 Stick 'n' Step, which has centres in Runcorn and Wallasey, is an entirely self-funded organisation which provides free weekly conductive education (CE) sessions for children and young people with cerebral palsy. Each session is delivered by skilled professionals and care workers and is aimed at aiding personal development in a pressure-free environment to build confidence, mobility and independence.
Sci-Tech Daresbury has worked with Stick 'n' Step since choosing it as their charity partner for 2020. The campus was chosen as winner of the award by a panel of judges due to its impressive fundraising activities during this time, which have helped to fund the charity's activities as well as raise its profile with the science and technology businesses based on the campus and across the Sci-Tech Daresbury network.
An interactive virtual ceremony named 'Stars of Stick 'n' Step Awards' was held on May 21 to celebrate the awards with all proceeds from the evening going towards the charity's operational costs. Attendees enjoyed a fantastic night of entertainment with activities such as bingo and a raffle, as well as being able to listen to music from local bands the Merseycats and choir, SingMe Merseyside.
Jenny Snell, Interim CEO at Stick 'n' Step, said:
"This was our first ever Stick 'n' Step awards ceremony and, despite originally planning to honour our Stars in-person, the night was a huge success with lots of virtual attendees and a lovely evening of entertainment to celebrate everything we have achieved over the past year'.

"Sci-Tech Daresbury has worked tirelessly over the past year and a half to continue its fundraising efforts, despite the turmoil caused by COVID-19. Their team's commitment to the charity has been clear with the campus going above and beyond to publicise our work, and every tenant coming together to support our campaigns and raise money. We are thrilled to have been able to show our appreciation to the campus with the Corporate Supporter award."

Sci-Tech Daresbury's initial partnership began as an effort to raise £30,000 for the charity. However, when the COVID-19 pandemic began, fundraising events and activity plans were paused. Sci-Tech Daresbury therefore worked to adapt its campaigning efforts in new and innovative ways, as well as contributing an upfront donation of £10,000.

As part of its lockdown-appropriate efforts, the company engaged in virtual and socially-distanced events, including Summer and Christmas-themed business breakfast networking events; as well as sponsored cycles and run events. A sponsored 'step-up' challenge was also organised, encouraging staff at the campus to raise money through walking.

It costs around £5,500 to fund a child through Stick 'n' Step's sessions for a year. So far, the campus has raised over £17,000. Thanks to this donation, three children and their families will be able to attend the charity's sessions for a full year, giving them the support and friendly community they need to cope with the condition.
John Downes, chief executive officer of Langtree and chairman of Sci-Tech Daresbury, said:
"We are incredibly pleased and grateful to Stick 'n' Step to have won their Corporate Supporter award. Particularly following the COVID-19 pandemic, our smaller, regional charities need our support more than ever.

"The work Stick 'n' Step does for children with cerebral palsy, as well as their families is so important. Over the past year, our tenants and staff have come together in new and innovative ways to make sure that our fundraising efforts continue throughout the various government lockdowns. Everyone is looking forward to continuing our activities over the next six months to meet, and hopefully surpass, our donation target."