December 16, 2019
Sci-Tech Daresbury welcomes 150th company to its award-winning campus
Sci-Tech Daresbury has reached a major milestone in its growth, having welcomed its 150th tenant to the site.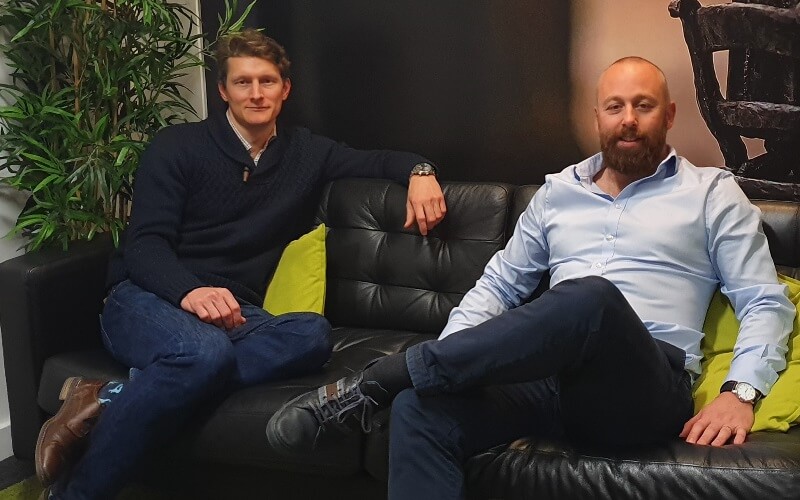 The latest company to locate to the campus is SamsonVT, a specialist in creating 3D interactive models from engineering data. The company's co-founders, Sam Burgess and Ed Brunyee, deliver a 'Virtual Twin', supporting applications ranging from manufacturing procedures, training, maintenance, configuration management and supply chain to their customer base.
Having set up business together in 2017, Sam and Ed have overseen the company's rapid growth over the last two years and recently moved into Sci-Tech Daresbury's Innovation Centre to base their growing business.
Most recently, SamsonVT has worked with Manchester-headquartered the Mines Advisory Group (MAG), a global charity that removes and destroys remnants of conflict such as landmines, cluster munitions and unexploded bombs around the world. SamsonVT's model has helped MAG to model the inner workings of landmines and Improvised Explosive Devices (IEDs) to help them train their local staff in clearance operations.
Sam said: "Our desire to be surrounded by like-minded individuals was the driving force behind our decision to move to Sci-Tech Daresbury. There's a lot to be said about healthy competition on the campus, although I don't think there are many organisations on the site who do exactly what we do, but there are some businesses that do very similar work and being in that environment is almost self-propelling. It's a great atmosphere to be in and I think it's managed exceptionally well. For us, it was a no brainer."
The major milestone comes ahead of Sci-Tech Daresbury's 10th anniversary of its joint-venture next year. The campus, originally named Daresbury Science and Innovation Campus, was established in 2006.
A public-private joint venture (JV) was formed in 2010, comprising private sector property investment development company, Langtree, the Science and Technology Facilities Council (STFC), Halton Borough Council, and the North West Development Agency (now defunct) to spearhead the long-term development of the campus. The campus was also renamed Sci-Tech Daresbury.
 One of the first companies to set up on the campus in 2006 was international computer technology and IT consulting corporation, IBM. Since its arrival, the company has been leveraging its ground-breaking research and technology to help streamline the business process for companies based at Sci-Tech Daresbury and its wider community.
IBM has contributed significant investment into the campus, most notably establishing an IBM Research presence at Sci-Tech Daresbury in a collaborative research partnership with the Hartree Centre – the first research team employed by IBM Research in the UK.
Kirk Jordan, distinguished engineer at IBM Research, said: "We believe that the research we're doing matters. Having the breadth of challenges that we see here, we are able to generalise those challenges and influence the way that our systems will work in the future. This diverse team that we have is complemented by Sci-Tech Daresbury's scientific community division and the Hartree Centre community, which enables us to tackle problems that people would not normally be able to tackle.

"It's really exciting to be able to work together. One of the aspects which makes the campus so fun is that it's difficult to tell who works for what organisation as you walk through the hallways, it's a seamless operation."

John Downes, group chief executive of Langtree and chair of the Sci-Tech Daresbury joint venture believes the campus's latest milestone is a reflection of the unique eco-system that has been created. He said: "It's gratifying to be welcoming our 150th tenant to the campus and, in particular, the impressive milestone that this signifies in Sci-Tech Daresbury's growth.

"There are a number of factors that have helped to drive this growth over the last nine years or so, through the open, collaborative culture we help to nurture among tenant businesses and providing them with access to leading industry expertise and world-class technical facilities. We're looking forward to supporting SamsonVT as they start out in their journey with us and hope that the success stories of long-term tenants, such as IBM, will help to inspire and demonstrate how Sci-Tech Daresbury can help businesses to grow and thrive."