September 26, 2023
Sci-Tech Daresbury strikes gold with new business partnerships for 2023
Sci-Tech Daresbury has released its annual line-up of strategic organisations that will offer the campus' high-tech SMEs first class business support, expertise and services in the coming 12 months.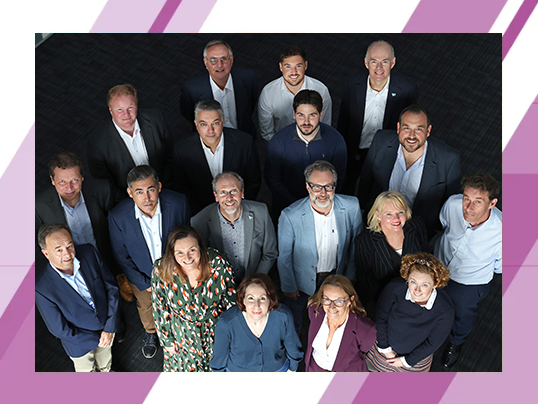 Sci-Tech Daresbury has released its annual line-up of strategic organisations that will offer the campus' high-tech SMEs first class business support, expertise and services in the coming 12 months.
David Antrobus Marketing, Guardian People Management, IBM, Marks & Clerk, Michael Page, RTC North, Slater Heelis, University of Liverpool, and Vista Insurance will continue to serve on the programme following on from 2022/2023, and will this year be joined by Grant Thornton and Asset Lifecycle Solutions.
The Gold Partners are a group of handpicked organisations that enhance the benefits for businesses located at Sci-Tech Daresbury across a range of areas, including legal services, financial and tax management, insurance services, AI and data analytics, intellectual property, marketing, talent recruitment and retention, HR services, scientific research, technology commercialisation and secure IT and laboratory equipment disposal.
With the support of Gold Partners and the facilities available from the partners and wider Sci-Tech Daresbury team to help reduce risks and increase the probability of success around campus companies, the failure rate of companies is just 5%. And, on average, campus companies have achieved an average sales growth rate of 25% per year. The returning members of the Gold Partnership programme bring experience from their previous years to the initiative and will continue to use their insights to contribute to supporting the needs and opportunities of high-growth technology companies located at Sci-Tech Daresbury.
Returning from a previous cohort, Grant Thornton UK LLP brings with it past experience from the Gold Partnership programme. It is one of the world's leading organisations of independent assurance, tax and advisory firms. It delivers technical expertise and a personal, proactive and agile service that goes beyond advisory services. Its services support businesses on their growth journey and as they grow internationally.
John Leake, Business Growth Director at Sci-Tech Daresbury said: "Once again our Gold Partnership programme brings together experts across various disciplines to use their skills, knowledge and networks to accelerate the success of companies on this leading science and technology location in the UK and deliver sustainable economic growth for the Liverpool City Region.
"We know from speaking to our campus companies that having access to the Gold Partners has been instrumental in driving profits, accelerating innovation and enhancing staff retention. The next twelve months promises to be another very exciting period for Sci-Tech Daresbury, and I'm looking forward to seeing what our companies can achieve with the Gold Partners at their side."
The Gold Partners will provide dynamic insights across a range of sectors:
Asset Lifecycle Solutions
Asset Lifecycle Solutions is a sustainable, secure IT asset disposal specialist. It services a range of sectors including healthcare, education and professional services, and provides expert advice in all things IT lifecycle management, from the recycling of equipment to the secure disposal of data.
David Antrobus Marketing
David Antrobus Marketing has been delivering successful traditional and digital marketing campaigns across various science and innovation businesses and associated technical and manufacturing sectors for 25 years. Its team are passionate about helping businesses grow and work closely with their clients to ensure that their marketing activities deliver a strong return on investment.
Grant Thornton
Grant Thornton is one of the world's leading organisations of independent assurance, tax and advisory firms. It combines global scale with local insight and understanding to build relationships and deliver the services companies need to realise their ambitions. From its local offices in Manchester and Liverpool it offers a full suite of tax and accounting services from R&D tax credits to outsourcing your financial book-keeping and accounts preparation.
Guardian People Management
Guardian People Management is a close-knit team of practical, friendly, and commercial HR & employment law experts with decades of experience supporting clients in a variety of sectors including research, science, engineering, and technology. Their focus is on making HR workable for employers by getting their house in order and demystifying how to get the best from their people.
IBM
Through the IBM Research team, IBM can offer businesses based on the Sci-Tech Daresbury campus advice on the latest emerging technologies such as AI and their applicability in a range of commercial areas. IBM's support for its fellow campus firms was enhanced last year with the announcement of the Hartree National Centre for Digital Innovation, which brings together innovative AI, quantum computing and the expertise of STFC Hartree Centre and IBM to benefit UK industry and research communities.
Marks & Clerk
Marks & Clerk, intellectual property (IP) experts, has a full IP service offering, giving clear, practical and commercially focused advice on all IP matters (patents, trademarks, designs, copyright, litigation, due diligence, etc.), helping companies to identify, protect, enforce and defend their innovations and brands in the UK and overseas, via its international network of offices.
Michael Page
Michael Page is part of PageGroup and delivers advice on talent attraction and retention. Established in the UK in 1976, PageGroup has grown to become one of the world's best-known and most respected recruitment consultancies. With 100 colleagues based in the North West and operations in 36 countries, PageGroup supports the Sci-Tech Daresbury community on a local, regional and global level via its four key brands: Page Executive, Michael Page, Page Personnel and Page Outsourcing.
RTC North
RTC North is a leading provider of business support and innovation services, working with organisations to unlock their potential and achieve sustainable growth. With a wealth of expertise and a commitment to excellence, RTC North empowers businesses to overcome challenges, embrace opportunities, and drive success in a rapidly evolving marketplace.
Slater Heelis
Slater Heelis offers legal services focusing on corporate structures and incorporation, corporate governance and directors' duties, mergers, acquisitions, IPOs and capital markets, development capital, venture capital and angel investment, joint ventures, commercial contracts, intellectual property licensing and transfer, real estate transactions, employment law, dispute resolution and estate planning.
The University of Liverpool
The University of Liverpool is one of the UK's leading research-intensive higher education institutions with an annual income of £614.9 million, including £145 million for research. The University is a member of the prestigious Russell Group of the UK's leading research universities and the N8 Research Partnership and is consistently ranked in the top 200 universities worldwide.
Vista Insurance Brokers Ltd
Vista Insurance Brokers Ltd is an owner-led company that focus on delivering impartial advice, attention-to-detail and straight-talking approaches to all their work. Their specialisms include cyber insurance, tech & life science, insurance due diligence and corporate insurance covering many specialist sectors. They have international reach in over 55 countries, aided over 400 clients, achieved over £27m in premium income in the last five years alone, and, most recently, won Commercial Lines Broker of the year at the prestigious 2022 UK Broker Awards.
Mark Lawson‑Jones, partner at Michael Page, said: "We've been proud to be Gold Partners for many years, and we're thrilled to once again sign up to this valuable programme at Sci-Tech Daresbury. It's an honour to help the innovative companies on campus reach their potential by helping them to attract, hire and retain the talent that will enable them to take their business to the next level. We're really excited to see what the year ahead holds working with some of the most exciting SMEs in the country."
Michael Shaw, partner, Marks & Clerk LLP, said: "At Marks & Clerk, we appreciate that running a business is exciting, hectic and unpredictable and you sometimes need a helping hand in taking care of the building blocks that will allow your operation to flourish. The Gold Partners programme offers just that, and we're delighted to once again sign up. In our years as a Gold Partner at Sci-Tech Daresbury, we've helped campus firms ensure their intellectual property rights are secured in a way that is cost and time efficient while maintaining quality and it's been a privilege to watch them subsequently scale up their business to great success. We look forward to working with more of the dynamic companies on site in the year ahead."
For further information please contact:
Tom Carlin / Carlin@thisisinfluential.com
Sci-Tech Daresbury is the home of pioneering science, technology, and business. It creates the conditions for ambitious businesses to accelerate growth and deliver real-world impact by solving the challenges of tomorrow.
Located in the Liverpool City Region, the campus combines world-class science infrastructure – including particle accelerators and supercomputers – a collaborative community, tailored business support and state-of -the-art office and laboratory space. Its "Home for Life" offering provides the perfect business location for technology companies to scale their business.
Entrepreneurs and scaling businesses sit alongside international giants to innovate, collaborate with world-leading scientists and academics, other businesses, and gain access to new markets around the globe while attracting and retaining the industry's brightest minds. Our Talent and Skills strategy RADAR, helps campus companies more effectively attract, develop, and retain the talent they need.
Originally established in 2006, in December 2010 a new private-public joint-venture partnership was created to spearhead the longer-term development of the campus. Partners in the private-public joint-venture partnership are developers Langtree, Science and Technology Facilities Council (STFC), and Halton Borough Council.
Last year, Sci-Tech Daresbury opened its Violet development on campus. Violet encompasses two buildings (V2 and V3) providing 12,000 sq ft each and one building (V1) of 19,000 sq ft. Each building entails floor plates of around 4,300 to 6,300 sq ft.
Violet Phase One – completed in February 2022 - comprised a £17.8million scheme of 43,000 sq ft of Grade A office and innovation space across three buildings V1 at 19,000 sq ft and V2 and V3 providing 12,000 sq ft each.  The complex is already 85% occupied, owing to existing campus firms that scaled up – including ORCHA, Peak Technology Solutions and MCS – and international leaders that made it their new UK/EMEA base, including Geek+ and Blackmagic Design.
The three buildings boast the highest energy efficiency standards and are the perfect environment for dynamic, forward-thinking science and technology focused businesses. A combination of existing campus firms scaling up into Violet and international firms choosing it as their UK basis means there is now only a floor and a half (6,361 sq ft) left at the complex.