February 2, 2018
Sci-Tech Daresbury enjoys another year of strong growth
Sci-Tech Daresbury has marked another year of significant growth, having welcomed 30 new companies to the world-class campus during 2017.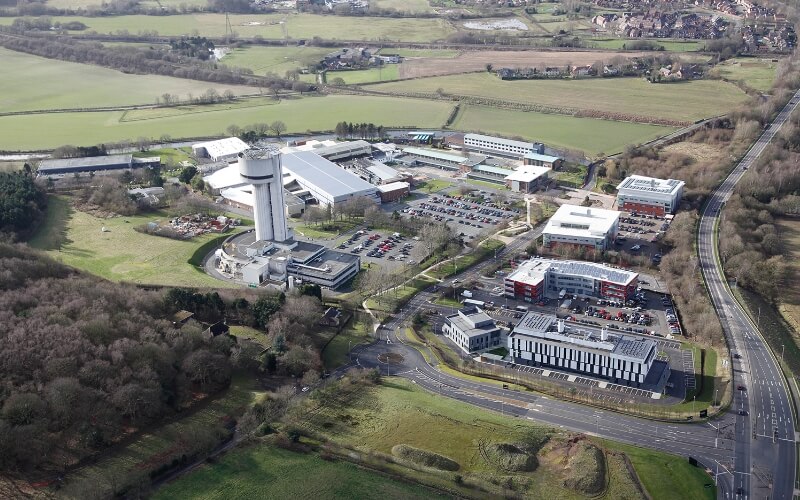 Sci-Tech Daresbury has marked another year of significant growth, having welcomed 30 new companies to the world-class campus during 2017.
It means that the Sci-Tech Daresbury campus is now home to 132 companies, with a strong pipeline of new enquiries already being received for 2018.
Aiming to build on this success and attract more cutting-edge companies to Liverpool City Region, Sci-Tech Daresbury's joint venture partners recently submitted a planning application for the speculative development of a new 42,000 sq. ft. grade A office complex. The proposed scheme, codenamed Project Violet, will see the construction of three new buildings situated at the gateway of the campus.
John Downes, group managing director of Langtree and board member of the Sci-Tech Daresbury joint venture company, said: "Sci-Tech Daresbury is continuing to see strong appetite for its office and laboratory space and in the last 12 months we have experienced another significant period of growth, following a record breaking 2016.

"Our culture of collaboration, scientific expertise and the world-class technical facilities of the Science and Technology Facilities Council's Daresbury Laboratory all create a unique space for companies to base their operations.

"The campus is designed to foster collaboration and innovation between local and international businesses, academic institutions and public sector – connecting ideas, networks and knowledge together. We are not resting on our laurels though and are looking for even more success in the year ahead. We have a bold vision for the campus and this means expanding our offer with Project Violet being a key part of that."
The Innovation Centre welcomed 19 new tenants in 2017: ACE UK, Active Data Metrics, Astute Licensing, AWOL Adventure, Blinx Solutions, BluCap, Chart Capture, Concert Care, Delphisonic, Device Trust, Department of International Trade, Just-R Limited, Magnify Solutions, Mere Digital, Outdoor Product Design, QMS Consultancy, Secure Digitali, SGM Projects, Structural Surveys.
Gareth Bartlett, chief executive of Blinx Solutions, a cloud-based Supply Chain management business, said: "As a startup company, it has been a very exciting period and our move to Sci-Tech Daresbury has had a big impact enabling us to win an important contract with The Stobart Group at the end of 2017.

"We are already out-growing our space, fuelled by the ecosystem that we are now part of, and are looking to expand elsewhere on the campus. From our first day, we have been well looked after and appreciated. The way the campus encourages collaboration and the way it is run is a great selling point for businesses, small and large."
At Techspace One, which itself opened in 2017, pharmacy automation firm Robotik Technology launched their operation in August, while international tech giant, Hitachi High-Technologies Europe followed in September.
Hitachi High-Technologies Europe's new lab space houses their latest Electron Microscopes and Scanning Probe Microscopes. Mike Dixon, Nanotechnology Section Manager, said: "Techspace One is a really flexible space and has allowed us to design it in the way that works for us best and we have now opened an applications lab to house our latest Electron Microscopes and Scanning Probe Microscopes.

"This campus is so well placed to connect into industrial and academic expertise in the North West and our move here also means that we are adding new staff to strengthen the company's applications and technical team and increasing our commitment to microscopy in the UK."
Five companies moved into Vanguard House: Avenista Table Reservations, CAE Technology Services, igroup, ORCHA and pm Connections.
Liz Ashall-Payne, CEO at ORCHA, which provides independent and impartial reviews of health and care related apps, said: "We were previously based in Liverpool so were well aware of Sci-Tech Daresbury and its excellent facilities and benefits for tenants.

"Given that we were growing at such scale and pace it made sense to move into this like-minded community that could serve our business ambitions more closely and already the move is proving very fruitful."
The Innovations Technology Access Centre welcomed four new tenants last year: Acorn2Oak Innovation Solutions, Dbeam, RE Speciality Chemicals and WaveReach.
The future holds Project Violet but other highlights from 2017 include Prime Minister Theresa May holding her first regional cabinet meeting at the campus where she launched proposals for a new Industrial Strategy;  the visit of HRH Prince Andrew for the official opening of the new Hartree Centre building, a high performance computing and data analytics research facility; and receiving major recognition at the prestigious UK Science Park Association (UKSPA) member awards as the science campus making the most significant contribution to innovation in the UK.
Sci-Tech Daresbury, located close to both Manchester and Liverpool, is internationally known for the quality of its work and is home to scientists and engineers from across the academic research community as well as private industry. Areas of study include accelerator science, bio-medicine, physics, chemistry, materials, engineering and computational science, as researchers explore new areas of science and new technologies – and facilities stretch from a VR/AR lab to a particle accelerator.