September 24, 2020
SCI-TECH DARESBURY ANNOUNCES CONTINUED SUPPORT FROM GOLD PARTNERS
Sci-Tech Daresbury has appointed seven industry experts to provide business and technical support and guidance to the increasing number of pioneering businesses based at the Liverpool City Region campus.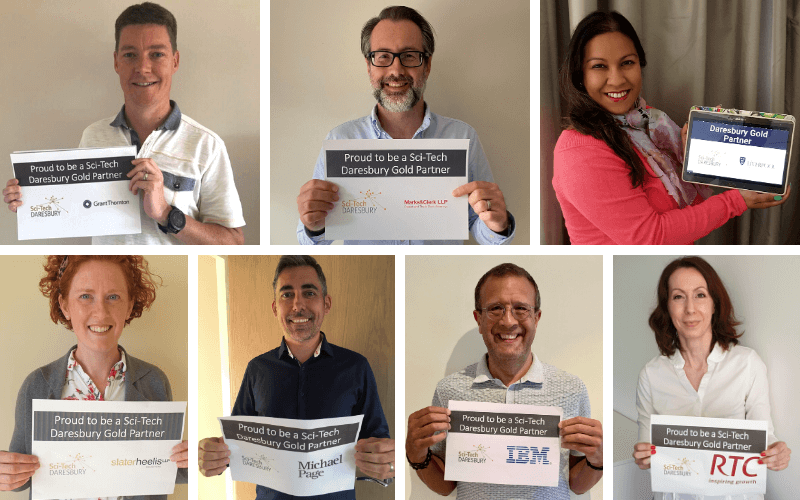 Grant Thornton, IBM, Marks & Clerk, Michael Page, RTC North, Slater Heelis and the University of Liverpool will return once again to serve as Sci-Tech Daresbury's Gold Partners for 2020/2021.
The Gold Partners are a cohort of handpicked organisations that will offer first-class support for Sci-Tech Daresbury businesses in a range of areas, including; intellectual property, financial and tax management, corporate finance and funding, legal services, talent recruitment and retention, scientific research, technology commercialisation and cloud solutions.
All seven are continuing partners, having been engaged in the programme for a number of years. This longevity means they have developed valuable insights and experience into the needs and opportunities for the high-growth technology companies at Sci-Tech Daresbury and are able to tailor their advice effectively for each businesses' requirements.
The Gold Partners will share their collective knowledge to the more than 140 businesses currently based at the science and innovation campus through a combination of events, seminars, expert advice and one-to-one sessions.
This guidance will be particularly useful in assisting businesses as they both adjust to the impact of the Covid-19 pandemic, and develop products and services that will support the global recovery.
John Downes, group chief executive of Langtree and chairman of the Sci-Tech Daresbury joint venture company, said: "We are delighted to announce Sci-Tech Daresbury's seven Gold Partners for the next year, and to once again enable our companies to tap into the vast reserve of expertise and experience in a wide variety of industries and disciplines.
"Sci-Tech Daresbury recognises that access to a collaborative network is crucial in enabling the growth of high-tech businesses, particularly during the current pandemic. Our organisations range from established global enterprises to new starter SMEs, and our Gold Partners will provide crucial guidance that will support their growth plans during this period of uncertainty."
One campus company that has benefited from the Gold Partners' expertise over recent years is A|2|O Technology Group, which provides technologies for weight reduction, operational efficiency and CO2 emissions reduction. It does this with composite material manufacturing processes and a material agnostic structural health monitoring system, known as CHASM.
Founding director of the company, Dr. Chris Berg said: "There are many benefits to being based at Sci-Tech Daresbury – from its location to the networking opportunities it gives you with like-minded businesses and local authorities. However, one of the huge advantages is being able to tap into the vast knowledge and expertise available from the Gold Partners.
"Marks & Clerk has been instrumental to A|2|O in developing our IP strategy, trademark, and filing patents – they've been with us on a journey as a business and really understand what we want to achieve. Likewise, Grant Thornton undertake our accounts, support our investment strategy and have helped us access R&D tax credits while RTC North's backing has enabled us to go on trade missions to South Korea and Detroit.
"We've received help from other partners too and look forward to working closely with all the organisations further into the future. The Gold Partners scheme has been instrumental to the growth of our business in recent years and their continued assistance for companies across at Sci-Tech Daresbury is excellent news, meaning that firms like ourselves have access to a network of experts that can enable our businesses to flourish."
Sci-Tech Daresbury also boasts Enterprise Zone status, which enables government support in the form of tax breaks, allowing business rates to be reinvested into the site and create important new infrastructure. This, alongside streamlined planning development, allows for greater investment into specialist office, laboratory and technical space.
Sci-Tech Daresbury is a private-public joint-venture partnership between developer Langtree, the Science & Technology Facilities Council (STFC) and Halton Borough Council.
The Gold Partners will provide dynamic insights across a range of sectors: