October 5, 2021
Sci-Tech Daresbury – 2020 Campus Survey report
As the Covid-19 pandemic impact started to cause unprecedented disruption across Britain, companies at Sci-Tech Daresbury had to evaluate what activities – such as laboratory work - and which staff needed to remain working on-site to support their business objectives.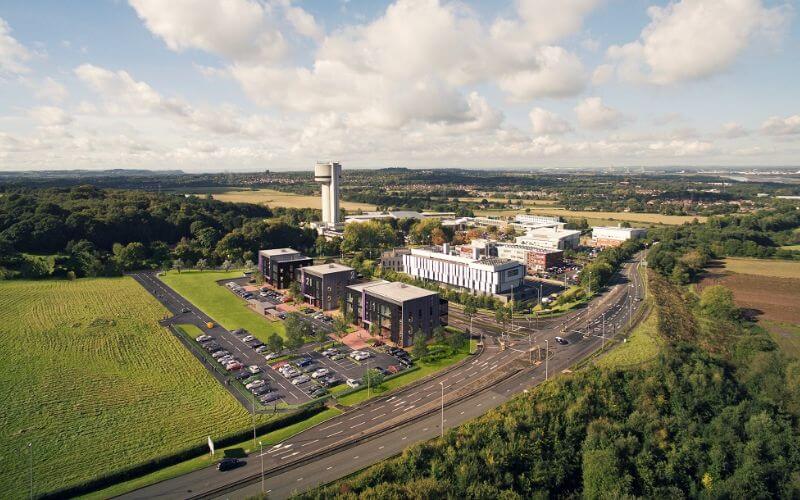 1. Adapting to a new world
As the Covid-19 pandemic impact started to cause unprecedented disruption across Britain, companies at Sci-Tech Daresbury had to evaluate what activities – such as laboratory work - and which staff needed to remain working on-site to support their business objectives.
The internationally renowned cognitive solutions and cloud platform company, IBM Research, which has had a presence at the Science and Technology Facilities Council's (STFC's) Hartree Centre at Sci-Tech Daresbury since 2012 and made the centre its UK base in 2016, instructed employees to get systems in place to support remote working a week before the work from home order was issued by the Prime Minister.
"There's a Chinese proverb about living in interesting times," says Peter Waggett, IBM UK's Director of Research "We've certainly had that recently. For me, it's demonstrated that it's always possible that things can change beyond recognition and it's all about how you adapt to that.

"The key watchwords for us are flexibility and adaptability. We were able to adapt to working from home, but there were also times when the labs had to be used. Sci-Tech Daresbury were flexible and accommodating throughout and supportive of whatever action we wanted to take.

"STFC and Sci-Tech Daresbury have been great, because all sides have worked together to make a success out of very difficult circumstances. None of us got stuck in entrenched positions about historic ways of doing things, but instead reacted to the new circumstances we found ourselves in."

For John Downes, Group Chief Executive of Langtree and Chair of Sci-Tech Daresbury, campus companies have shown what they are made of during the pandemic. "The resilience shown by our businesses has been inspiring," he says. "We have taken great heart from the continued demand for office and lab space. 28 new firms arrived on site in 2020, with several of our buildings approaching capacity, and work is nearing completion on our latest outstanding buildings - Project Violet - with a planning application submitted for further future development as part of Project Ultraviolet. Our businesses have a huge part to play in driving forward both the local regional and national economy in the years to come, and we are committed to supporting them in reaching their potential."
 Collaboration
Even during this cycle of great disturbance on a global scale, the underlying principles of Sci-Tech Daresbury continued to shine through. One of the great values held by the campus is the importance of collaboration, and though this could have been harder than ever to attain, the determination to share knowledge and expertise in order to achieve excellence was stronger than ever before.
"Our region is very lucky to have Sci-Tech Daresbury. It is home to some world-leading businesses and research organisations who are doing some incredible work in the fields of science, innovation and technology, and in helping to create entirely new industries too. I am really proud that the campus plays home to the only UK Research and Innovation (UKRI) site across the entire North," says Steve Rotheram, Metro Mayor of Liverpool City Region

"We recognised the importance of the campus even before the pandemic struck, with an £8.4m investment from the Combined Authority to help Sci-Tech Daresbury continue to expand and improve. And I think we've really seen that investment bearing fruit."

David Parr, Chief Executive of Halton Borough Council and Sci-Tech Daresbury board director, explains the strengths of the campus further: "Sci-Tech Daresbury is home to a number of world-leading science and technology organisations from both the public and private sector who are working hand in hand to drive innovation on an almost unprecedented scale. And the impact of these collaborative partnerships are clear to see – not just in the fields of science and technology, but in the creation of entirely new industries too."
Sci-Tech Daresbury's annual campus survey has revealed that 79% of campus companies worked with another organisation on site in 2020, generating over £12m of sales or cost savings throughout the year – the highest collaboration levels to date in the 15-year history of the campus. It was often the case that such collaborations played an important role in supporting the global effort against Covid-19.
This is exemplified by a collaboration between Arcis Biotechnology, a research and development led company with expertise in the development of a wide range of fast sample preparation technologies, and its onsite neighbours Perfectus Biomed Group, a leading international Contract Research Organisation (CRO) that provides both standard and customised microbiological testing services.
In response to the shortage of chemicals available for diagnostic testing during the early stages of the pandemic, Arcis Biotechnology developed a Coronavirus RNA extraction research kit that enabled users to go from biological sample to downstream testing in under three minutes in most situations, while also providing all of the necessary reagents to rapidly prepare respiratory tract specimens of molecular testing.
The methodology and swiftness rapidly increased the speed at which tests could be conducted, enabling the most at-risk patients to receive treatment faster while increasing the safety of healthcare workers.
Proving that campus companies are adept at adjusting when required, Perfectus focused its resources and knowledge into their Virology service offerings in order to cater for the growing demand for testing of disinfectants and hand gels, while also reducing the cost of its testing service to make it quicker for more high-standard products to get to market.
"Our mission as a business is to improve quality of life through exceptional microbiology," said Dr Samantha Westgate, Chief Executive at Perfectus Biomed. "During the early stages of the pandemic, we saw that as more important than ever. Whether that was adapting our services to support the development of new hand sanitisers or supporting our Sci-Tech Daresbury neighbours in helping to get their extraction kit into hospitals, we were all committed to using the expertise within our team to support the global fight against coronavirus.

"The work we achieved over the past year would not have been possible without our staff's flexibility. Whether that was maintaining social distancing in a lab environment on site at Sci-Tech Daresbury or delivering vital business and admin support while working from home. It's been inspiring to see how such important work can be achieved in difficult and disruptive circumstances."
Invention and expansion
Both Arcis and Perfectus moved to bigger premises at Sci-Tech Daresbury in the midst of the pandemic, reflecting the 'home for life' ethos that sees existing campus companies scale up on-site to larger offices and laboratories in order to meet their growth ambitions.
"It seems remarkable that two of our companies had gone to market with their collaboration at the start of April, which in hindsight was the early stages of the pandemic," says John Downes. "Yet it perfectly illustrates how our companies are dexterous, resilient and so often have the foresight to develop products and services before the wider world appreciates just how important they will be."
The benefits of pooling resources and expertise is further reflected in the work of Daresbury Proteins and Revivocell. These two biotech start-ups, located in the on-site incubator lab facilities at the Science and Technology Facilities Council's (STFC) Daresbury Laboratory, combined their individual expertise and know-how towards developing a low cost, highly accurate, rapid Covid-19 diagnostic test.
"Unlike other science campuses around the UK, Sci-Tech Daresbury offers something quite unique. STFC's Daresbury Laboratory anchors the Sci-Tech Daresbury campus – and with an internationally recognised reputation for being world leaders in cutting-edge research and development, it truly is a jewel in the crown of Halton," explains David Parr.
This laboratory-based test developed by Daresbury Proteins and Revivocell adapts to mutational changes of the virus and will, therefore, always be up to date. As the pandemic has progressed, it has become even more apparent just how important this innovation would eventually become.
The culture of collaboration fostered by Sci-Tech Daresbury has been crucial in enabling businesses to reach their potential, as Samantha Westgate explains: "Key to our development in recent years has been the support available at Sci-Tech Daresbury. The campus has been able to accommodate our expansion as we have scaled up the business and our requirements have changed. Our merger with Wyoming based laboratory, Extherid Biosciences, in the summer of 2020 took our business to the next level, and the excellent geographic connectivity available from Sci-Tech Daresbury – including easy motorway and airport access – will enable us to attract further interest from customers globally."
Although Sci-Tech Daresbury has continued to play a pivotal role in the national recovery effort against the Covid-19 pandemic, in early summer 2021 the campus's reputation as a frontrunner in global innovation was further boosted by the UK Government's £210m funding announcement – and IBM's further in-kind contribution of £38m - into the new Hartree National Centre for Digital Innovation (HNCDI).
Based at the Hartree Centre, part of STFC's Daresbury Laboratory, the HNCDI will, over the next five years, bring together world-leading expertise in artificial intelligence (AI), high performance computing, data analytics, cloud technologies and quantum computing to accelerate discovery and develop innovative solutions to real world industry challenges in key areas such as materials development, environmental sustainability and manufacturing to name but a few.
The joint programme between STFC's Hartree Centre and IBM also closely aligns with the long-term vision for the Liverpool City Region and will be mission-critical in helping to successfully fulfil the region's digital transformation agenda while supporting continued business growth and impact in both the public and private sectors alike.
The HNCDI illustrates STFC and Sci-Tech Daresbury's ongoing commitment to innovation through effective partnerships and collaboration across all industry sectors. The HNCDI programme also offers an important opportunity to contribute towards improved productivity, economic growth and prosperity across the region.
"The first of its kind in Europe, the HNCDI is a significant and exciting expansion on Daresbury Laboratory's long-running collaboration with IBM," said Paul Vernon, Executive Director of Business and Innovation at STFC and Sci-Tech Daresbury board director.

"Together, through our combined expertise, we will help businesses drive productivity and accelerate growth and job creation through the use of advanced digital technologies. As we strengthen our commitment to breaking down barriers to technologies such as AI and quantum computing, we are enabling industry to reduce risk and carry out invaluable research with long-term, tangible benefits to our economy and society."
2. Flourishing through adversity
Changing face of healthcare
The campus survey revealed that despite the challenges of the year, Sci-Tech Daresbury's companies experienced sales growth of 14% during 2020, often due to their products and services being created in response to the demands of the pandemic.
Take ORCHA, for example. The healthcare app reviewer built a Covid-19 App Library to ensure easy access to quality digital health information and resources at home. In its recent quarterly update, a staggering 6,500% increase in app recommendations was recorded.
As a result, the firm – which has been based at Sci-Tech Daresbury since 2015 – instigated a recruitment drive for over 100 staff plus key Board members, to enable expansion in 11 countries.
ORCHA's internationally unique app service saw huge demand from both governments and private organisations who utilised its products to support individual citizens both during the uncertainties of 2020, and with an eye on incorporating them into new healthcare models in the post-coronavirus age.
ORCHA's Chief Executive, Liz Ashall-Payne, who started her career as an NHS speech and language therapist, said: "The use of health apps has massive potential. This is the tip of the iceberg – a cultural shift is coming.

"With NICE having introduced guidance on digital health, it was inevitable that 2021 would be the year when health and care staff would embrace the full potential of apps – and it goes way beyond video conferencing.  We will start to see digital approaches being integrated into care pathways. For example, an app like FibriCheck allows patients to check their heart rhythms, using a medically certified system. They'll be able to detect arrhythmias and avoid complications like stroke.

"With multiple thousands of apps now available on unregulated app stores, it is essential that each and every one is rigorously tested to ensure they are clinically safe and responsible with our personal data. ORCHA is proud to be playing such a pivotal role in this most important of sectors from our home in the Liverpool City Region."
ORCHA also plays a key role in the North West HealthTec Cluster. Based at Sci-Tech Daresbury, the Cluster was first initiated through a formal partnership between STFC, the Innovation Agency and the North West Coast Academic Health Science Network (AHSN) – and since its inception in May 2019, the Cluster has gone from strength to strength.
With a core focus on promoting economic growth and empowering citizen health and wellbeing through the co-location of organisations, knowledge, skills and facilities, the North West HealthTec Cluster has become a centre of excellence where entrepreneurs and stakeholders from industry, academic, public sector and investor networks can come together to share ideas, stimulate innovation and tackle global health challenges.
Future proofing the campus
The ongoing requirement for high-quality office space, as exemplified by the growth of companies within the campus and the arrival of new firms, saw work beginning in August 2020 on Project Violet, a new £17.8m three-building development, which will offer a total of 42,000 sq ft for science and technology-focused businesses.
Sci-Tech Daresbury's confidence in the future of science and technology was further evidenced by its submission of an outline planning application to Halton Borough Council for another development – Project Ultraviolet – in early 2021. This will roughly double the quantum of space available for the high-growth, high-tech companies based at Sci-Tech Daresbury.
The investment in new facilities reflects Sci-Tech Daresbury's commitment to supporting more companies to follow in the footsteps of firms such as ORCHA, Arcis Biotechnology and Perfectus Biomed to scale up their presence within the campus in order to maximise their full growth potential. It is Sci-Tech's 'home for life' ethos that enables companies to easily scale on site from start-up space in its early days of operation to having its own building as the business grows.
In 2020, however, it wasn't just those companies operating in the arena of life sciences that experienced notable growth. At a time when businesses of all sectors were looking to better manage their processes and maximise their use of data, many turned to Blinx Solutions, based at Sci-Tech Daresbury's Techspace One.
The Blinx platform is a real-time digital business application designed to help companies better manage processes and drive continuous improvement through advanced analytics and business intelligence.
"We've grown from 35 to 45 staff in the past year," says Gareth Bartlett, Chief Executive of Blinx Solutions. "We have strong customer retention and organic growth, have added several new customers, achieved revenue growth of over 40% and completed new product offerings. We would not have been able to achieve any of this without the business support on offer here at Sci-Tech Daresbury."
Tackling the skills challenge
Despite the impact of the pandemic, the Sci-Tech Daresbury campus survey revealed that job creation levels were at the same levels in 2020 as the previous year. Furthermore, significant recruitment needs are forecast for 2021 and beyond.
Maintaining consistent levels of job creation throughout 2020 is an immense achievement that is a true testament to the strengths of the ecosystem created at Sci-Tech Daresbury., This is undoubtedly an environment that fosters and enables companies to achieve their ambitions and stimulate growth, even in the most difficult of circumstances.
This is further evidenced by plans of campus companies like ORCHA to significantly increase their workforce as they scale-up their business goals.
Nationally, there is a concern as to whether or not roles within science and technology firms can be filled in the years ahead. A report published by the Learning & Work Institute in March 2021 revealed that the number of young people taking IT subjects at GCSE level has dropped by 40% since 2015.
Coming at a time when the demand for AI, cloud computing and robotics skills is soaring, this presents a potential hurdle if the UK is to be at the forefront of the fourth industrial revolution.
While Sci-Tech Daresbury's companies are not immune to the national skills shortage – with perennial issues in commercial, software/IT and engineering - the support network developed on-site means that those companies are overall in a better position than their industry colleagues.
With just 33% of campus companies reporting skills challenges, compared with the national figure of 56%, it's clear that Sci-Tech Daresbury is well placed to continue to drive growth regionally and across key sectors.
"There are several reasons for our relative success in combatting the skills shortage," says John Downes. "Our Talent and Skills strategy – RADAR - which we launched nearly three years ago, supports companies through the three core pillars of Attract (inspire, attract and employ the best talent), Develop (develop key skills to enable growth) and Retain (retain talent and skills).

"Our aim with RADAR is to support the delivery of 10,000 high-value jobs at Sci-Tech Daresbury over the next 20 years while attracting and retaining the talent and skills essential to the growth of Sci-Tech Daresbury and the organisations located here. Although RADAR was formulated before the pandemic, its success is more crucial now than ever, so it's heartening to see it is already paying dividends."
RADAR has supported a doubling of companies recruiting university student interns in the past three years and a 40% increase in research and development collaborations in the past year alone. As a result of this increase, more than half of firms on the campus engaged with universities during 2020.
"We've got great relationships with the universities of Liverpool and Manchester," says IBM's Peter Waggett. "Being located at Sci-Tech Daresbury enables you to build connections with these great universities and other academic institutions throughout the North West in order to develop intern programmes that bring benefits to your business while supporting the next generation of science and technology workers. And it goes without saying that we've also benefitted from tapping into the institution's research and development knowhow.

"We recognised in the early stages of growing our business that we could benefit enormously from making connections with regional universities," says Liz Ashall-Payne.

"The University of Liverpool is one of the UK's leading research-intensive higher education institutions and a strategic partner with STFC and Sci-Tech Daresbury. The calibre of its graduates is outstanding and we needed a way to tap into that. We also wanted to highlight to students that world-class career opportunities were available right here in the North West, at ORCHA and Sci-Tech Daresbury."
The campus has also been progressing partnerships with the likes of Code Nation to increase opportunities for apprenticeships in coding and cyber security as part of supporting the growing skills base of digital businesses on-site and creating new pathways into employment in Sci-Tech Daresbury companies for local people.
Of course, once staff are on board, often the hard part is getting them to stay - and key to forming a culture of long-term retention is the creation of development opportunities. Once again, the campus compares favourably to the national picture here, with 62% of firms providing some form of training in 2020 - a figure 5% higher than the national average.
Gold standard
All businesses within the campus are experts in their respective fields, but to take their enterprise to the next level – and take their staff with them on the journey – extra support is often needed. Another key reason for the campus' success in 2020 was the continued presence of Sci-Tech Daresbury's Gold Partners, as John Downes explains:
"Access to a collaborative network is crucial in enabling the growth of high-tech businesses, but particularly during a pandemic. The Gold Partners are a cohort of handpicked organisations that offer first-class support for Sci-Tech Daresbury businesses in a range of areas including: intellectual property, financial and tax management, corporate finance and funding, insurance and risk management, legal services, recruitment and retention services, scientific research, technology commercialisation and cloud solutions."
Just under 60% of campus companies took advantage of the expertise of the Gold Partners in 2020, including A|2|O Technology Group, which provides technologies for light weighting, operational efficiency and CO2 emissions reduction in transportation.
"There are many benefits to being based at Sci-Tech Daresbury – from its location to the networking opportunities it gives you with like-minded businesses and local authorities," says Founding Director of the company, Dr Chris Berg. "However, one of the huge advantages is being able to tap into the vast knowledge and expertise available from the Gold Partners.

"Marks & Clerk was instrumental to A|2|O in developing our IP strategy, trademark and filing patents – they've been with us on a journey as a business and really understand what we want to achieve. Likewise, Grant Thornton undertake our accounts, support our investment strategy and have helped us access R&D tax credits while RTC North's backing enabled us to go on trade missions to South Korea and Detroit. While that support was delivered before the pandemic, the benefits we acquired helped to support our business during the period of upheaval and we will continue to utilise this invaluable resource going forward." In addition to these companies, A|2|O has also accessed support from Michael Page, University of Liverpool, and Konsileo.
Attracting global talent
As well as companies scaling up in accordance with the 'home for life' ethos, demand for campus space was bolstered by Sci-Tech Daresbury continuing to attract international companies, in many cases with a particular focus on digital technologies. Tangent Works (Belgium), Mish Mash (Bulgaria) and Factory Talk (Thailand) all arrived to further their work in areas such as AI, predictive analytics and Industry 4.0.
"I am pleased to see so many international businesses taking advantage of the world class facilities and talent available at Sci-Tech Daresbury," said Gerry Grimstone, Minister for Investment at the Department for International Trade, which played a crucial role in supporting the arrival on site of these companies. "Its thriving science and innovation ecosystem continues to create jobs and prosperity in the Liverpool City Region and wider Northern Powerhouse for tech, engineering and life science companies from across the globe."
3.Shaping the future
National and International science assets
"One of the most exciting aspects of the HNCDI is that it will host an IBM Discovery Accelerator," explains Peter Waggett. "This will be IBM's second Discovery Accelerator, and our first outside the USA. The Accelerator will fundamentally advance the pace of discovery through the use of high performance computing on the hybrid cloud, AI and quantum computing technologies. The possibilities of what can be achieved as a result of this being located at Sci-Tech Daresbury are exhilarating.

"It is also the next stage in the evolution of a very long-standing and fruitful partnership between STFC and IBM. It demonstrates the strength of the scientific expertise on the campus, as well as the depth of the collaborative and innovative community that is based here that makes it so attractive to international tech companies like IBM."

Expanding on what the HNCDI as a whole will encompass, Peter explains: "It will enable us to articulate the benefits of some of the technologies we're working on and collaborate with local groups with particular challenges that we can help them to solve.

"We've seen the importance over the past year of the transferring of technology into real life applications. The focus of the HNCDI is taking real world problems and delivering tangible solutions. If you want to get business benefit out of some of the technologies such as Quantum and AI, then we should be the natural place for people to come.

"With Projects Violet and Ultraviolet, there'll be a lot more exciting companies moving in, both new to the campus and those that have grown from a smaller presence on site. Combined with the HNCDI, it really reflects how Sci-Tech Daresbury has emerged from 2020 as more important than ever to the future of science and technology in the UK and Europe."
Conclusion
On the 13th December 2019 – just under less than a month before the first reported Covid-19 death in China's Wuhan province – Boris Johnson stood on the steps on Downing Street in the aftermath of his party's election victory. He spoke of how his government would 'level up' the UK in order to provide a fairer economy for all. He also made a commitment to provide support for "better infrastructure, better education, better technology."
Like the rest of the world, the Prime Minister could not have anticipated how those ambitions would be thrown into sharp relief by a once in a lifetime pandemic.
In addition to its inconceivable health impacts, the Covid-19 pandemic has also disrupted an already fragile UK economy, with the OECD estimating that the initial impact on the UK has been a reduction in GDP of more than 25% since the end of March 2020.
The subsequent knock-on effect to research and innovation activity has been substantial, with the Campaign for Science and Engineering reporting financial and logistical difficulties for academic institutes, medical research charities and businesses alike.
This is an issue of significant concern for the future of the country given the ability of research and innovation to drive economic growth as the UK seeks to recover from the pandemic, with UK Research and Investment having previously estimated that every £1 spent on research and development delivers £7 in economic and social benefit.
And while the picture for the UK is distressing, for the North of England it is harsher still.
A report published in November 2020 by The Northern Health Science Alliance, NIHR Applied Research Collaborations (North East and North Cumbria, Greater Manchester, North West Coast, Yorkshire and Humber) and the NIHR School of Public Health Research found that the North's economy had been hit harder than the rest of the country during the Covid-19 pandemic, with inequalities between the region and the rest of the country exacerbated.
The report conservatively estimated the economic cost of the increased mortality in the North during the pandemic at £6.86bn and the reductions in mental health support in the region due to the pandemic at around £5bn a year. The timing of the report meant this was before the third wave of the pandemic in the winter of late 2020 and early 2021, which resulted in greater hardship still.
Some 18 months on from the Prime Minister's speech outside Downing Street, the need to level up and utilise technology to rebuild the economy is more important than ever. As we have explored, Sci-Tech Daresbury will continue to play a key role in supporting the future prosperity of the UK by utilising access to its science and technology facilities and business community in a bid to help companies disrupt markets, open up new opportunities, react to changing needs and create valuable and rewarding career opportunities.
"To say this has been a difficult period would be an understatement. Yet our ambitious plans reflect our confidence that innovative science and technology companies will become even more important in the years ahead and will play a key role in driving forward the UK's economic recovery through wealth generation, job creation and attracting international investment," says John Downes.

"We see it as our responsibility to create the necessary infrastructure for both UK and global firms at the cutting edge of science and technology to realise their potential. 2020 and 2021 have been strenuous times for us all, but when I look at what our companies have achieved during the most arduous professional period any of us have ever faced, I am inspired and excited.

"While the North West suffered disproportionately during the pandemic, the ecosystem we have built – from our campus to our universities and partner agencies – means we are in a brilliant position to take charge of our own destiny in building back from the pandemic, creating the dynamic, economically fairer country we all want, and developing the products and services that will support health and wellbeing for decades to come.

"The past eighteen months has taught us that it's impossible to predict what's around the corner. But what I am certain of is that what we've created here at Sci-Tech Daresbury, in the heart of the Liverpool City Region and the North West, is an enormous achievement. Although there will be more difficult times ahead, by sticking to our core principles of innovation, collaboration, community and support for growth, we can continue to fulfil our aspirations while enriching the world around us."

"As our region takes our first tentative steps from the difficulties of the last year and a half, I think Sci-Tech Daresbury can take on an even greater importance. With more leaders and businesses committed to the principles of Building Back Better and tackling climate change, there will be an even bigger need for the facilities at Sci-Tech Daresbury," concludes Steve Rotherham. "I'm committed to retaining as many jobs and businesses and as much investment as possible, while attracting fresh new companies to our region. I am sure that the whole team at Sci-Tech Daresbury will have an important role to play."