November 8, 2022
ORCHA, putting people at the heart of business 
ORCHA encourage its team to take time reflect upon their mental health & well-being leading to decreased stress levels and improved focus on tasks.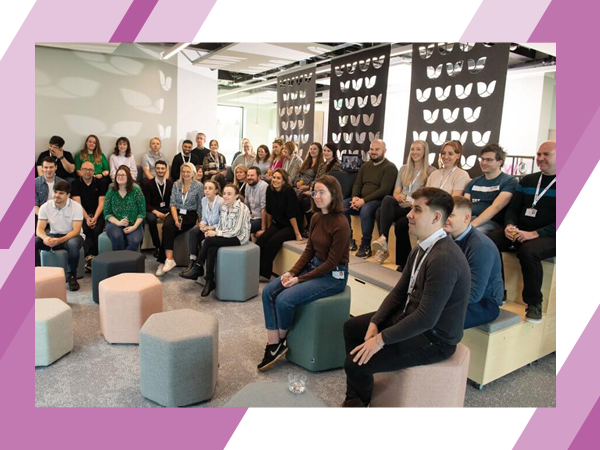 Sci-Tech Daresbury has been working hard to invest in its people since it was established in 2006. As the 2021 campus survey reveals, the businesses at Sci-Tech Daresbury are leaders in retaining talent in science and technology. This is a key reason why at 28%, the number of campus firms experiencing skills shortages is much lower than the national figure of 56% as reported by the Open University in its Business Barometer 2020 report.  
Sci-Tech Daresbury, a world-class science and technology campus.
The campus strives to get that figure even lower, and one means to do so is creating an environment that engages staff through both facilities and community, as well as providing an attractive place to work. 
Nestled within the heart of the North West, the dynamic campus setting of Sci-Tech Daresbury has seamlessly integrated world-class science and technology, innovation and business enterprises together within the Liverpool City Region. The community brings together some of the most innovative minds within STEM and its related fields. It's a place called home to nearly 2,000 staff, belonging to nearly 150 businesses and counting.  
Employees are the most important stakeholders of an organisation
It's often argued that employees are the most important stakeholders of an organisation - they are, after all, the backbone of any business and are essential to an organisations long-term success.  
However, all too often, an employee's value is extracted, but not returned. It's no secret that skilled workers are in high demand, especially within STEM subjects, and businesses must now do more than simply consider upping-salaries to retain their precious talent. A survey by LinkedIn found 94% of employees who receive regular opportunities to learn, develop, and advance are more likely to stay with a company, improving factors like company culture and job productivity rates.   
Sci-Tech Daresbury is working closely with its partners to challenge and overcome the nation-wide problem of low staff-retention.  
The introduction of its Talent and Skills strategy, RADAR, was designed to help its companies attract, develop and retain the talent they need to meet their growth aspirations. By offering state of the art facilities, mentoring opportunities, work experience, learning and development training days, collaboration spaces and fully equipped gymnasiums to name a few, Sci-Tech Daresbury has proved itself exemplary in its efforts to establish a happy and healthy working environment that allows its best assets to be heard, seen and appreciated. 
A fantastic example of an organisation whose ideologies align closely with those of Sci-Tech Daresbury is ORCHA – the Organisation for the Review of Health and Care Apps. ORCHA's business models are based on more than just the theory of deliverance. It is an organisation that try to make life better for their employees as well as their customers.  
ORCHA's mission is to drive standards and help NHS and care organisations across the world to capitalise on the power digital health apps have to offer their patients. It delivers a systematic approach to assessing, accrediting, deploying, and embedding digital health technologies into clinical services and pathways, using a risk management approach that has long been in place for medicine. 
Previously based at Vanguard House at Sci-Tech Daresbury, ORCHA has seen huge growth in its employee numbers since its creation back in 2015. Despite the challenges of recent years, its numbers have almost doubled with its recent growth now supporting a headcount of over 100 staff. 
As a result, the business announced its relocation to Violet,the newest development to hit Sci-Tech Daresbury's bustling campus, in August 2022. This move will provide more space for ORCHA's employees to collaborate and will easily accommodate for their employee-centric flexible working style.  
ORCHA has exciting plans to invest much of its resources into providing training and development programmes for its staff. ORCHA partnered with several organisations to deliver a development programme for both the Executive and Senior Leadership teams, and more recently first line managers to support its goal to be an employer of choice.  
Encouraging its staff to take time reflect upon their mental health and wellbeing has led to decreased stress levels and improved focus on tasks. Activities to date include a focus on team sports, a summer barbeque and a communal walk on the Sandstone Trail. More events are set to follow. ORCHA is keen to support the health and wellbeing of its staff and organises quarterly events. In the New Year, the company will also hold two further events in Spring and Summer. 
A recent employee survey sent to ORCHA's staff discovered that an impressive 95% of staff feel that the wider team care and support each other, and that 97% of them felt that their managers care about them as individuals.  
Equality diversity & inclusion programme
Head of People, Nita Parmar, said:
At ORCHA, we are continuously working to remain an inclusive workforce. We're strong believers in investing in our people and have plenty of plans to keep the learning process fresh and exciting for everyone. We're planning to launch a performance framework so that all our people will have a personal development programme and we have partnered with a number of companies to help develop both our first line managers and our senior leadership team," says Nita Parmar, Head of People.  
We want people to bring their whole selves to work, and not hold back on what makes us human in fear of being seen as unprofessional. Currently in the pipeline we are proposing to launch our wellbeing strategy in the new year which will include having teams of mental health first aiders, so that we can ensure that our staff know that they can have open and honest conversations without fear of judgement – we believe that simply having someone there to listen contributes to a healthy and positive working environment for our staff. 
We are excited to soon be launching an equality diversity and inclusion programme based upon understanding the benefits that diversity of thought can bring to our community, we are proud to be an inclusive employer and encourage job applicants from all backgrounds to come and meet our team.
ORCHA launches healthcare plan
ORCHA has also launched a healthcare plan with Simply Health and an EAP with AXA, both of which include a number of wellbeing options and support.  
Tackling diversity is also a topic that ORCHA is working to challenge. Currently the workforce has a 50/50 gender split and is led by female founding CEO, Liz Ashall-Payne.  
ORCHA is always looking to recruit bright minds and has established partnerships with the University of Liverpool to source the talent it needs on its own doorstep. This relationship has meant that ORCHA has been able to offer multiple exciting career opportunities to Liverpool graduates and highlight to local students that world class career opportunities are available in the North West, at ORCHA and Sci-Tech Daresbury. 
Sci-Tech Daresbury is focused on delivering thousands of high-value jobs over the next 20 years by enabling science and technology companies on campus to readily access the talent and skills necessary to accelerate their growth and scale-up.  
The combination of organisational and wellbeing support provided by ORCHA to its talent, alongside the incredible facilities supplied by Sci-Tech Daresbury, is a shining example of how a nurturing company culture can maximise the positive impact throughout a business, attracting and retaining the very best talent needed to break barriers and deliver success. 
Sci-Tech Daresbury is a world class location for high-tech business and leading-edge science based in the Liverpool City Region.  It provides a unique environment for innovation and business growth, with knowledge sharing, collaboration and networking
Home to the ground-breaking STFC Daresbury Laboratory as well as nearly 150 high-tech companies, the site was originally established in 2006. In December 2010 a new private-public joint-venture partnership was created to spearhead the longer-term development of the campus. Partners in the private-public joint-venture partnership are developers, Langtree, Science and Technology Facilities Council (STFC), and Halton Borough Council.
The campus was granted Enterprise Zone status in April 2012. Enterprise Zone status allows business rates to be reinvested in the campus, potentially creating up to 15,000 skilled jobs and providing funding for new specialist office, laboratory and technical space. Enterprise Zone status will also allow the campus to leverage more than £150 million in private sector investment.
For more information visit: http://www.sci-techdaresbury.com/