June 1, 2020
North West HealthTec Cluster marks its first anniversary
A year of life-changing innovation, award-winning business and dynamic collaboration have marked the first year of the HealthTec Cluster for the North West.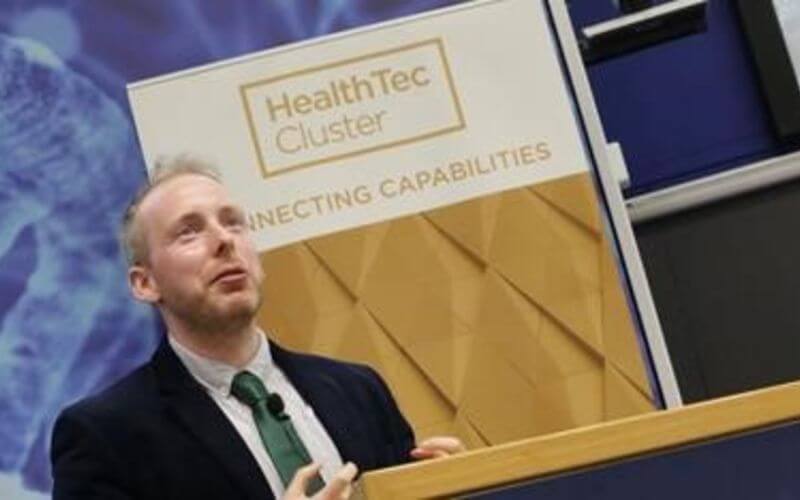 A joint initiative between the Science and Technology Facilities Council (STFC) and the Innovation Agency, the cluster connects capabilities from academic, public and private organisations from across the region.  With a mission to boost the health technology ecosystem in the North West, and the second of its kind in the UK, it operates in synergy with its counterpart HealthTec Cluster at the Harwell Campus in Oxfordshire.
Hosted at Sci-Tech Daresbury in the Liverpool City Region, the HealthTec Cluster is home itself to more than 40 organisations that are supporting the health and life science sector. In the last year alone since the cluster launched, the campus has seen a near 15% growth in activity in this sector, with organisations tapping into the world-leading expertise and scientific facilities at STFC's Daresbury Laboratory, alongside the exceptional networking opportunities available through the wider campus. Increasingly, the Cluster is attracting interest from companies from outside the region who are interested to relocate and has hosted a number of trade missions from across the World.
Dr Phil Carvil, HealthTec Cluster Development Manager at STFC, said: "When the HealthTec cluster launched a year ago, nobody could have predicted that it would reach its first milestone in the midst of a health crisis. It has never been more important that we come together as a sector, and as a community in the region, to enable members to network, innovate, share ideas and collaborate with each other.  Throughout the last year, start-up businesses involved with the Cluster have achieved incredible things in an effort to address our health system challenges; from developing a new generation of plant-based anti-malaria repellent, to testing our next generation of cancer therapy, they are delivering solutions that will drastically improve people's lives."
One of those companies, NGPod Global is developing a revolutionary new device designed to change the way that hospital patients requiring feeding tubes are treated. Since moving on to the Campus, the company has grown substantially and is now operating its manufacturing R&D from its own bespoke laboratory here at Daresbury Laboratory. The company has just completed a clinical trial with over 400 results at three NHS hospitals.
Perfectus Biomed is an outstanding example of a start-up company achieving rapid growth and success.  Having joined the Campus as a sole-trader, it is now an award-winning, market-leading microbiological test house that has just expanded on campus after the demand for its product development and regulatory support testing services doubled in the space of a year.  Earlier this year it was named one of the 'Top 20 North West most exciting companies to watch out for in 2020'. Most recently, the company teamed up with another fast-growing campus company Arcis Biotechnology, in a project to produce a coronavirus testing kit.
Further afield, Liverpool-based Glow New Media won a coveted place on a government procurement framework, for its digital platform, SafeTeam Guardian. Designed to make NHS community teams safer and more efficient as they work in the community, such innovations could be fundamental in how Health systems operate in the future.
Phil Carvil added: "This is just a snapshot of the organisations and companies who make up this vibrant and growing community. Going forward, it is our ambition to continue to ask how we can better support collaboration both in and between sectors, support cutting edge innovation and growth for companies in the region, and continue to grow this fantastic community. It is truly inspiring to be part of this cluster, supporting innovation and technological developments that will go on to empower citizen health and wellbeing."
Innovation Agency Chief Executive, Dr Liz Mear said: "It is part of our core business at the Innovation Agency to support local businesses with great products to access health markets and I am absolutely delighted with the success of the HealthTec Cluster in strengthening that work."
STFC's Dr Barbara Ghinelli, Director, Clusters and Campus Business Development, said: It's exciting to see how the cluster model hosted at Sci-Tech Daresbury is fuelling the innovation capacity of HealthTec organisations across the Northwest, all too evident during the Covid19 crisis. Our close collaboration with our co-funding partner, the Innovation Agency, the critical mass of cutting edge capabilities on Campus and a strong link to investor networks and key stakeholders have been fundamental factors for the successful growth of our cluster."