September 20, 2019
NGPod takes its business to the next level with a new laboratory at Sci-Tech Daresbury
North West start-up company NGPOD Global, whose manufacturing and R&D facility is located at Daresbury Laboratory, is about to launch a revolutionary new device that will change the way that patients requiring nasogastric feeding tubes are treated.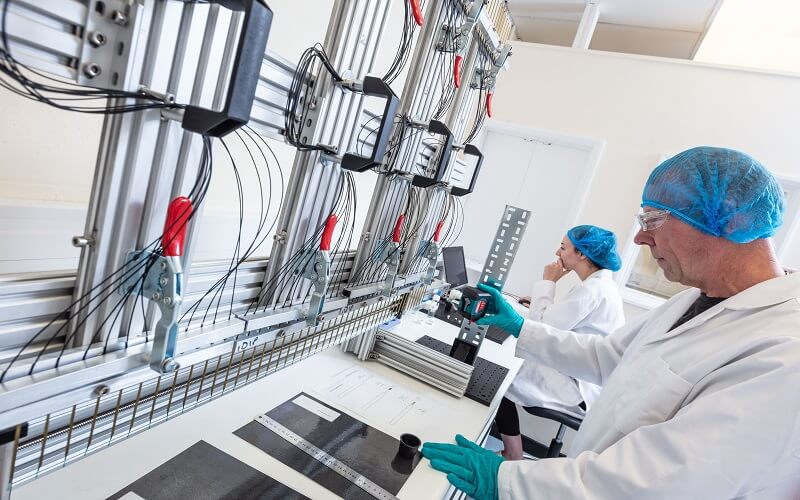 Insertion of a nasogastric feeding tube is a common procedure carried out daily in our hospitals, mostly without issue. However, precision is critical because incorrect positioning, such as into the lung, could cause serious consequences for the patient, even death.
NGPod has developed a revolutionary handheld device that uses a fibre optic sensor tipped with a pH indicator to detect the presence or absence of stomach acid to confirm when a feeding tube is correctly in place.
The company moved its R&D to STFC's Daresbury Laboratory at Sci-Tech Daresbury in 2018 as winners of an innovation competition. The prize, a six month R&D and business support package, included free access to a fully self-contained laboratory, specialist technology and design support, £10k towards equipment, one-to-one business advice and investment readiness training, each of which are critical when bringing a new product to market.
Fast forward a year, and the company has just expanded into its own bespoke 'controlled environment' lab where it can now manufacture its cutting edge device.
John Carrington, CEO at NGPod Global said: "Locating our R&D at Daresbury Laboratory last year allowed us to take the next step on our journey towards the launch of our new device - the NGPOD®. The laboratory facilities here, which would otherwise be out of reach financially to a small business, have enabled us to move on to the next technology readiness level and develop our fibre optic sensor production process. Creating our own controlled environment lab space would have been a challenge without the valuable on-site knowledge and expertise which guided us through the whole process."
NGPOD is currently trialling its device at several NHS hospital sites in the North West and anticipates that these sites and others will start to take on the product commercially.
"Taking on the new space at Daresbury Laboratory has enabled us to increase our production output of sensors and to employ additional team members to meet predicted demand," added John. "Our next step will be product soft launch in November 2019 followed by full scale automated production."

Delyth Edwards, Business Incubation Programmes Manager at STFC, said: "Through the unique business incubation programmes here at Daresbury Laboratory, we are making it easier for start-ups to access the essential support and technologies they need to gain a competitive advantage as they develop new products and services that will benefit our society and economy. Adding to this, the newly launched HealthTec Cluster here at Sci-Tech Daresbury provides an invaluable network of like-minded professionals that can provide a fantastic support for pioneering companies like NGPOD, through every stage of their business."
Further information about business incubation opportunities at Daresbury Laboratory, and across STFC more generally, can be found at the STFC website.