February 10, 2023
New £30 million supercomputer centre at Daresbury Laboratory
The new facility will host the latest in new supercomputing, artificial intelligence and quantum technologies to support business and industry.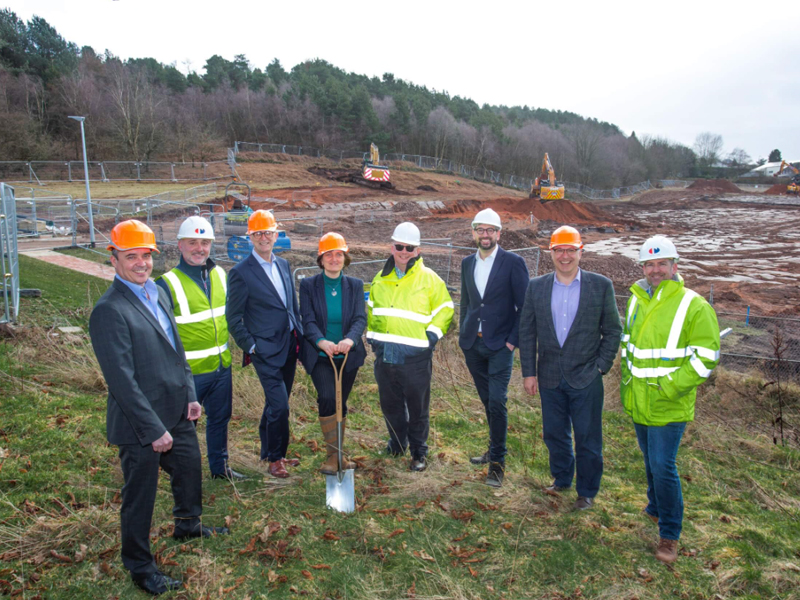 A ground breaking ceremony has been held in celebration of a new £30 million supercomputer centre that is under construction at the Science and Technology Facilities Council's (STFC) Daresbury Laboratory.
The new centre is part of the Hartree Centre's £210 million Hartree National Centre for Digital Innovation (HNCDI), which provides UK industry access to state-of-the-art digital technologies and expertise. HNCDI is part of a £172 million collaboration with IBM.
Once completed, the facility will host the latest in new supercomputing artificial intelligence (AI) and quantum technologies, with the potential for further expansion built in. This will allow the Hartree Centre to grow its capability in the future without the need for additional major construction.
Supporting UK industry
Home to some of the UK's most advanced technologies in AI and quantum computing technology, the Hartree Centre is one of the UK's only supercomputing centres dedicated to supporting industry.
Located within the Sci-Tech Daresbury campus in the Liverpool City Region, it provides businesses of all sizes access to advanced supercomputing technologies that are normally only available to academia and large-scale industry.
This enables them to make important research breakthroughs, reducing the time and cost of developing technologies and products that will benefit our economy and society now and in the future.
100 trillion calculations per second
Procurement is currently underway for the new, more powerful, high performance computing systems needed to support the Hartree Centre's rapidly expanding supercomputing and AI activities.
This will enable the Hartree Centre to expand its capacity and deliver an even better quality, more flexible and secure service to businesses.
The Hartree Centre anticipates that the first system to be installed in the new building will have a performance capability of between 80 to 100 petaflops (up to 100 trillion calculations per second). This will make the new system 20 to 25 times faster than the current platform.
Tackling global challenges
Supporting businesses and industry across the public and private sector, the centre will support discovery-led research across a range of industrial sectors, tackling some of our most pressing global challenges.
To name a few, areas include:
Materials
Life sciences
Environment
Manufacturing
Supporting UK net zero commitments
Importantly, the new facility will ensure that the Hartree Centre can continue to support UK industry's commitments towards net zero, which includes enabling the development of:
More efficient manufacturing processes
More efficient transport through better battery design
More environmentally friendly personal care product design
More energy-efficient logistics for distribution challenges
A more sustainable design and build
With environmental sustainability in mind, significant efforts throughout the whole design and building process of the new supercomputing centre aim to minimise its carbon footprint and maximise efficiency.
This includes compliance with the latest standards on energy consumption, with a strong emphasis on replacing inefficient buildings and ageing computer hardware, to more efficient cooling systems.
As a result, the new facility will use less electricity per unit of performance than its current systems and will enable fewer interruptions to service when essential maintenance is required.
The forefront of global research
STFC's Professor Kate Royse, Director of the Hartree Centre, said:
This is an incredibly exciting day for the Hartree Centre, and we are fully committed to providing an environment where UK science and businesses can be at the very forefront of global research and development in the very latest digital technologies.
Providing access to technologies, such as AI and quantum computing, enables businesses to increase productivity and achieve success, to the benefit of our economy, both here in the north-west and nationally.
Economic and societal benefits
Paul Vernon, Head of STFC's Daresbury Laboratory, said:
Our new supercomputing centre is a significant development in our mission to provide UK businesses with access to the vital infrastructure and expertise that will help them to grow and succeed on a global scale.
It will help UK businesses drive productivity, accelerating growth and job creation through the use of advanced digital technologies.
As we strengthen our commitment to breaking down barriers to technologies such as AI and quantum computing, we are enabling industry to carry out invaluable cutting-edge research, with long-term, tangible benefits to our economy and society.
A highly complex project
Manchester-based Russell WBHO is contracted to deliver the new supercomputing centre at Daresbury Laboratory where work is currently underway at the 6.2-acre site.
In order to deliver the project, it is also working with:
Data centre specialist consultant Sudlows
Project management consultant Arcadis
Architect AEW
Structural engineers Healy
Consulting
Environmental consultancy E3P
Close collaboration
Nick Sunderland, Commercial Director at Russell WBHO, said:
It's great to have everyone together on site to mark the official 'groundbreaking'.
A project of this complexity requires close collaboration of all partners and stakeholders and the highly specialist team we've put together is committed to exceeding client expectations throughout.
We're all extremely proud to be leading the delivery of this important new facility for the Hartree Centre and to be getting the project underway.