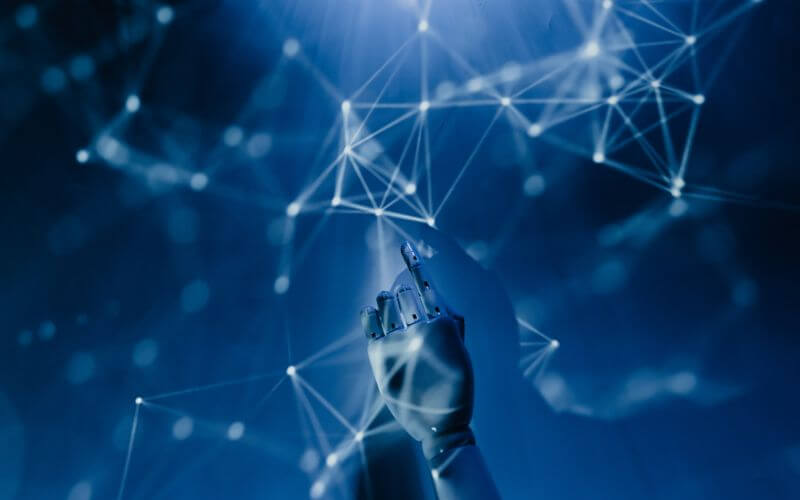 February 21, 2022
Looking back on 2021 and towards the future at Sci-Tech Daresbury
As a hub for tech businesses, Sci-Tech Daresbury is naturally always looking to the future. And now 2021 has drawn to a close, it seems a good time to do this.
However, it also seems an appropriate point to look back at the year and round up the highlights and challenges we've faced. To do this, we've asked our Business Growth Director, John Leake, and Paul Vernon, Executive Director for Business and Innovation and Head of Daresbury Laboratory at the Science and Technology Facilities Council (STFC) which also forms part of the joint venture at Sci-Tech Daresbury for their thoughts. We've also asked Richard Lock, Managing Director of tech business Holiferm based on campus to get involved too.
2021 had a unique set of challenges with Covid, Brexit, and slow supply chains. How do you think tech companies dealt with these issues?
John Leake (JL): It's no surprise to me that tech companies and tech entrepreneurs are creative and resilient to not only deal with the issues that Covid and Brexit have brought but - just as importantly - take advantage of the opportunities.
We've seen a number of our campus companies experience significant expansion during the Covid pandemic as the need for their solutions and services increases. Good examples of this are Orcha with their solution to validate apps used in healthcare, Perfectus Biomed, who've expanded their viral testing service, and Holiferm, who have secured the investment to establish a manufacturing operation in the Liverpool City Region for their Biosurfactants.
Richard Lock (RL): Support from Sci-Tech Daresbury, Innovate UK, and the Liverpool City Region has allowed us to continue to rapidly scale throughout the pandemic. Having the Innovate UK continuity grant and funding from Liverpool City Council enabled us to build a fully operational pilot plant rather than use a contract manufacturing organisation facility, which has enabled us to develop much more effectively over the past year and has been critical to our US$9.5M fundraise.
What do you feel the biggest success for Sci-Tech Daresbury was in 2021?
Jonh Leake: I think there have been three significant successes. Firstly, the attraction of well over 30 new businesses to the campus during the year despite the impact of the Covid pandemic.
Secondly, securing the £200m+ investment for the STFC Hartree National Centre for Digital Innovation (HNCDI) from government and IBM, to help further support businesses in taking advantage of data analytics, AI, and quantum computing technologies.
And finally, the near completion of the new Violet office development on campus providing a further 42,000 sq ft of high-quality office space, and the fact that most of this space is expected to be occupied shortly after practical completion of the buildings.
Richard Lock: Despite the challenges of 2021, companies at Sci-Tech Daresbury have continued to scale up and build additional labs. Both us and Croda have expanded into new facilities in Techspace 1, which is now operating at full capacity, thanks to the hard work of the Sci-Tech Daresbury team to enable the companies based there to continue operating. From our perspective, having the pilot plant operational enabled us to secure a $9.5M fundraise from the US, EU and UK Verified Carbon Standard (VCS). This has been an exceptional success, enabling us to build a commercial-scale plant in 2022.
Paul Vernon: For me, one of the biggest achievements has been the resilience shown throughout the pandemic by the Sci-Tech Joint Venture and by our resident companies.  We have continued to support start-ups that are developing technologies to overcome coronavirus, and we now have more incubatee companies based on campus now than before the pandemic started. We've also worked closely with the UK Government and IBM to bring over £200m of investment to establish the Hartree National Centre for Digital Innovation to support businesses, which will be important in economic recovery going forward.
It's probably worthy of note that our Hartree Centre is the only high-performance computing centre in the country dedicated to supporting the tech industry. And finally, STFC launched the Digital Technology cluster in 2021 which plans to support the growth and success of digital businesses across the North West and we are working on establishing a North West Space Cluster which will follow the same model.
In 2022 and beyond, climate change looks set to dominate the political and public agendas. Technology will clearly have a big part to play - what do you see as being the most important factor in this?
John Leake: I think any new technology developments will have to have sustainability at their heart. New technology developments in all areas from computing to healthcare and advanced manufacturing to agriculture won't be deemed acceptable if they are seen to be utilising too much energy, creating too much waste, and impacting on the world's resources.
In addition, the fight against climate change will undoubtedly create significant innovation needs to develop more sustainable energy sources with lower environmental impacts. I'm sure areas like hydrogen and battery technology will see a lot of activity, but I think it will also create opportunities for the Hartree Centre and the Digital Technology cluster for AI and data analytics to play an important role.
Richard Lock: There is clearly a large and growing demand from consumers for eco-friendly products. Traditionally, this has come with increased cost, which is undesirable to consumers and has led to poor market uptake. In industrial biotechnology, we see reducing costs of production - and, therefore, costs of the final products to consumers - being critical to reaching the mass market and replacing petrochemicals at the same price as the current incumbents.
Paul Vernon:  STFC has a very clear objective to strive towards net zero. As the Sustainability Champion on STFC's Executive Board, it's important to me that STFC takes an active role in developing the technologies that will help the UK towards net zero, but also that we're doing this in the most sustainable way possible.
Sustainability pervades all we do across STFC, and we are working on a four-pillar strategy, which includes a sustainability action plan until 2025. Things covered include energy efficiency in large research facilities. For example, the High-Performance Computing Centre is being designed to ensure it meets the sustainable future, by including low carbon concrete in its structure. The roof will also incorporate photovoltaics (converting light into electricity) and the systems going in will accept groundwater cooling. The building will also have the ability to tap-off hot water, which will then go on to heat other buildings.
And we are transforming our car park at Daresbury Laboratory by installing around 3000 solar panels, forming part of an STFC-wide effort to support the mission to achieve net-zero goals by reducing energy consumption on site.  Each panel is rated at 395w and the total peak power of the system is greater than 1MW watt of electricity, and each individual panel can be monitored for individual efficiency, points on site. This will generate about 750,000 kWh annually and save in the region of 220 tonnes of carbon dioxide (CO2) every year.