June 1, 2015
Innovation Centre Overhaul to Drive Collaboration
Marking its 10th anniversary, a major refurbishment of Sci-Tech Daresbury's Innovation Centre has just been completed, keeping the building at the forefront of business space aimed at the science and technology community in the Northwest.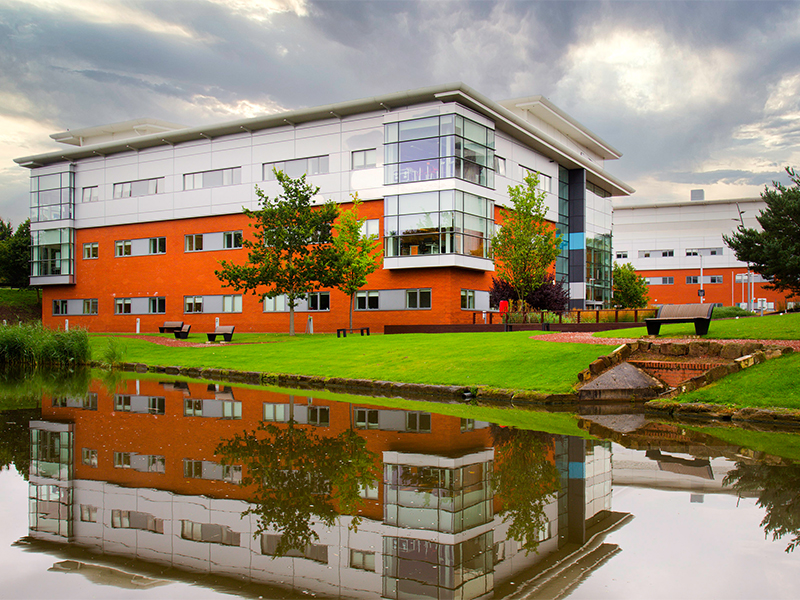 Marking its 10th anniversary, a major refurbishment of Sci-Tech Daresbury's Innovation Centre has just been completed, keeping the building at the forefront of business space aimed at the science and technology community in the Northwest.
The refurbishment has also incorporated additional design improvements to further aid collaboration between the site's high tech companies.
The building comprising of office and laboratory space is a key part of the site, which is home to over 100 high-tech companies attracted by the co-location with world-leading research facilities.
The Innovation Centre was originally developed in 2005 and provides premium space specifically for science and technology companies from start-ups to international corporates.
It facilitates access to the collaborative business community at Sci-Tech Daresbury, including the likes of IBM and BAe Systems and the Universities of Liverpool and Manchester.
"Collaboration is at the heart of the business ethos at Sci-Tech Daresbury and it continues to drive growth here" explained John Downes of Langtree, the private sector partner of the Sci-Tech Daresbury joint venture company."

"These works are vitally important to ensure our buildings are optimally designed to foster increased collaborative working through informal discussions and chance meetings. It is part of a wider investment into the site to create a portfolio of buildings that support the on-going growth of campus companies and our 'Home for Life' philosophy."

"We will be announcing further major investments at the site in the coming weeks and months set to drive Sci-Tech Daresbury forward as a 21st century science and technology campus." he concluded.
Among the companies which have benefited from these collaborations are Wadaro, a high-tech SME that develops applications for mobile technologies and delivers network experience monitoring solutions for its global customers.
The company was recently announced as one of the top technology startups in Europe at the annual Red Herring 100 awards. It joins the likes of Google, Yahoo, Skype, Twitter and eBay which have all previously been recognised on the list.
Wadaro provides SIM-based technology that targets and monitors customer experience of mobile networks, helping to eliminate problems and provide accurate analysis of network coverage.
Wadaro has taken larger office space in The Innovation Centre and has benefited from the networking opportunities at the site. The company is growing and revenues have doubled over the past 12 months, with a similar projection in line for the next 12 months.
Robert Wakeling, managing director of Wadaro, said:
"Basing Wadaro at The Innovation Centre has undoubtedly been beneficial to the business. We have recently engaged in business with a large car manufacturer and mobile operator which wouldn't have been possible without the connections made at Sci-Tech Daresbury."

"Wadaro is exploring options globally, including in the Middle East and America and we are entering our second year of trade with Mexico. Further to this, we are engaged with African governments and network operators with 4 million SIM cards already in the African market, proving Daresbury can provide a gateway to business all over the world."
Another of the companies benefiting from being based at Sci-Tech Daresbury is Asset Handling, a company that provide products and technologies that allows a company to monitor, capture and analyse data within its assets. This data can then be used to predict failures before they happen.
The company took space in the Innovation Centre in 2013 to tap into the network of innovative businesses based at the campus. They work in a broad range of sectors, monitoring equipment in data centers in the chemical, manufacturing and telecommunications sectors, to name but a few.
Stephen Harrison, managing director at Asset Handling, said:
"We have gone from strength to strength since moving to Sci-Tech Daresbury two years ago. We now have systems in place that allow us to monitor the whole asset cycle, through both asset and project management, ensuring the project runs smoothly from conception."

"We are a rapidly growing company, with a turnover of £1.5 million in 2014, and since moving to Sci-Tech Daresbury we have seen our turnover double year on year, something that is forecast to continue."
A third business based at the Enterprise Zone, HCD Economics, has enjoyed significant growth. HCD Economics is a specialist agency that offers strategic and analytical support to pharmaceutical and medical device companies.
Spanning a global network, HCD Economics works closely with clients to help them access market strategies and support them through the healthcare landscape.
David Hughes, CEO at HCD Economics, said:
"The Innovation Centre at Sci-Tech Daresbury is strategically placed to allow access to the wealth of talent and opportunities available in the North of the country."

"We have been based at Sci-Tech Daresbury for two years and in that time we have seen sharp increases in profit, up 40% in our first year and already 20% up on 2014 – a trend that is predicted to continue."

"Being based in Daresbury we have seen rapid growth, thanks in large part to being based at such a high profile centre for innovation. This was something we noticed from the outset."

"Through the Sci-Tech Daresbury Gold Partners scheme we were able to access a wealth of advice from respected professionals which was of huge benefit in those early stages."