March 21, 2023
Sci-Tech Daresbury's Holiferm brings economic boost to Liverpool City Region with new plant in Wallasey
Over 500 jobs were supported as the plant took shape, with the majority going to people from the Wirral and the Liverpool City Region.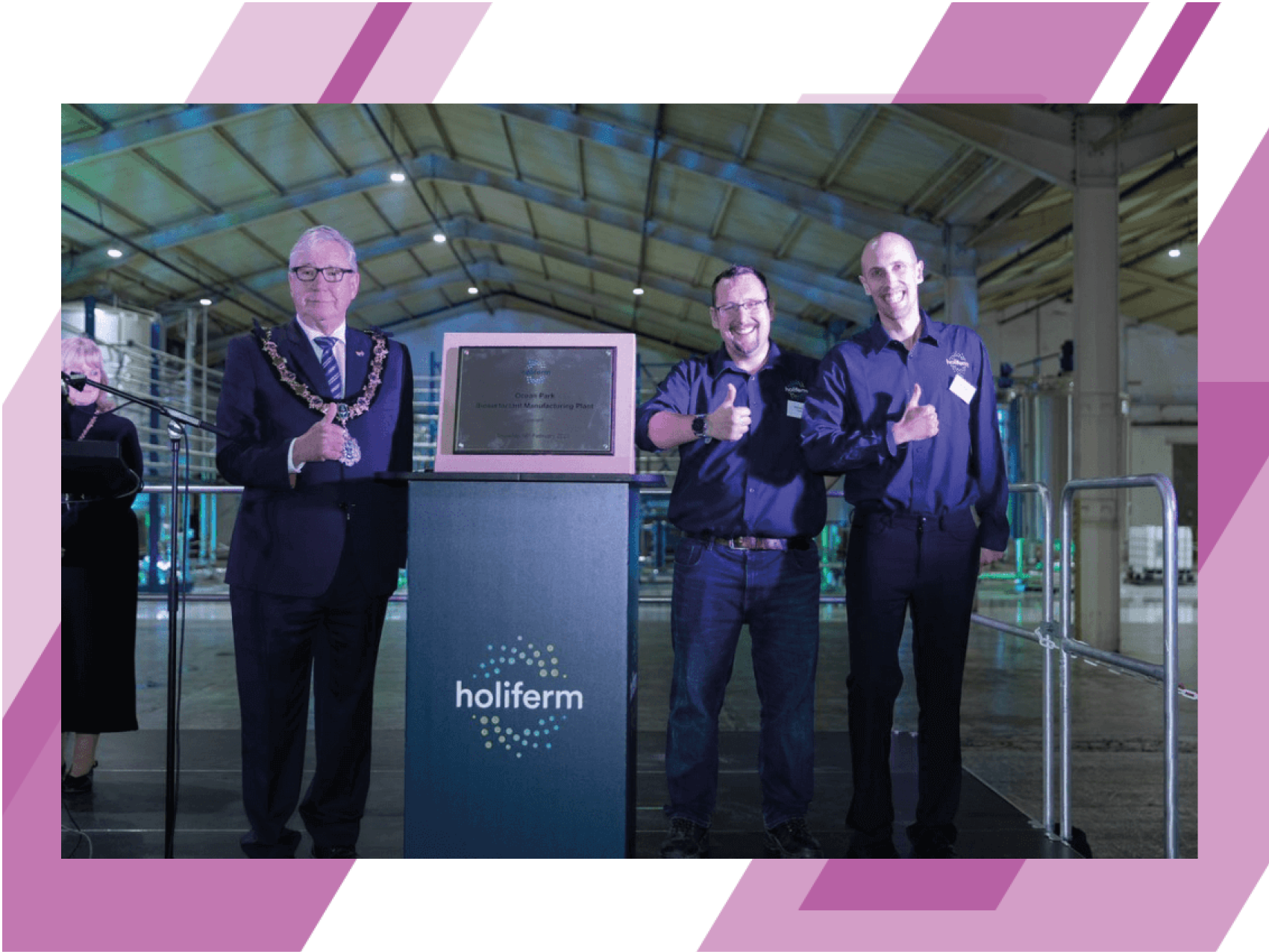 Holiferm opens it's new commercial plant in Wallasey
Holiferm, the University of Manchester biotech spin-out based at Sci-Tech Daresbury, has officially opened its new commercial plant in Wallasey
The new 90,000 sq ft site will help Holiferm take its work in developing environmentally friendly biosurfactants for use in detergents and toiletries to the next level, enabling it to produce 1,100 tonnes of biosurfactants annually for its growing client list of multinationals including Ingretech and Azelis, and independents such as MixCleanGreen.
The plant will employ 40 staff, over half of which are new jobs
Surfactants are a key ingredient in the manufacture of detergents and personal care products, but current mainstream goods primarily use petrochemical and tropical oil-based surfactants, which cause significant harm to the environment.
While environmentally-friendly products in this sector do exist, they use a costly yeast-based batch fermentation process. Holiferm has developed an approach which allows this yeast-based approach to be carried out as a semi-continuous process, allowing the delivery of green products to the mass market at a competitive price point.
The plant will employ 40 staff, over half of which are new jobs created by Holiferm's expansion, with additional roles set to be created as the facility is further scaled up.
500 jobs were supported as the plant took shape
During the construction process over 500 jobs were supported as the plant took shape, with the majority going to people from the Wirral and the Liverpool City Region. The project was delivered by a team including Addison, Kelcrest and Omnis.
From 2024, the plant will also produce rhamnolipids and MELs, with Holiferm looking to increase the capacity of the plant to at least 3,000 tonnes. Holiferm is also set to launch new biosurfactant products and is working in collaboration with BASF on the next two molecules in its pipeline.
The plant was officially opened by Mayor of Wirral, Jeff Green.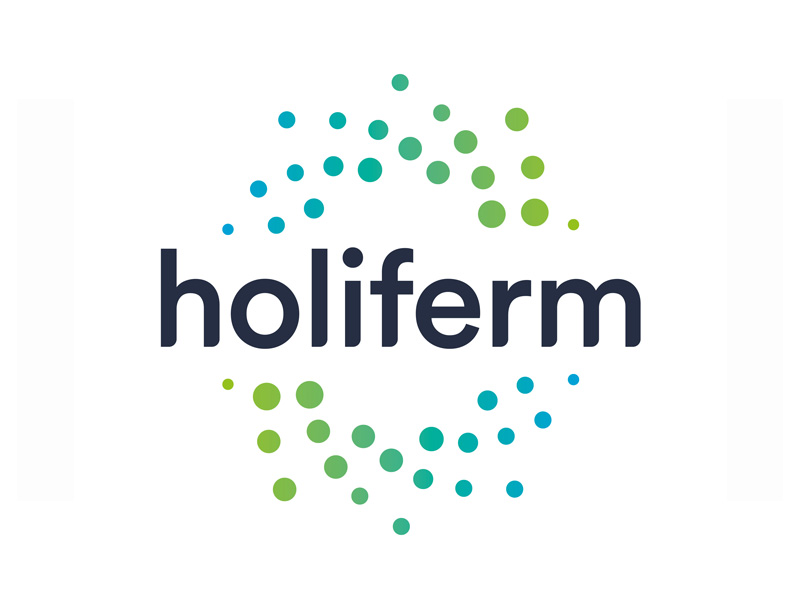 Bigger need for services
managing director of Holiferm, Richard Lock, said:
We're anticipating our customers will have a bigger need for our services as it becomes increasingly important for products to be more sustainable and produced in greener ways and important for end users too.
"The process we're designing allows us to produce biosurfactants with less energy and less CO2 and in a much more sustainable way, as we can produce in a continuous manufacturing process rather than a batch process. We're trying to redefine what chemical manufacturing means. There's a great misconception that it must entail huge power stations and industrial plants, but we use a process that is completely green.
"The opening of this plant represents the culmination of a key chapter in the Holiferm story – along the way we've created jobs and developed innovations to protect the environment. We're excited for what happens next.
Developing groundbreaking technologies
Holiferm is one of the many innovative materials companies based on campus who are developing groundbreaking technologies that have the potential to significantly improve the world around us. It is a proud moment for all of us that following the successful pilot plant at Sci-Tech Daresbury, the company has now scaled up to this fabulous new facility – exporting knowledge and skills nurtured on our campus in a way that brings a real economic benefit to the North West.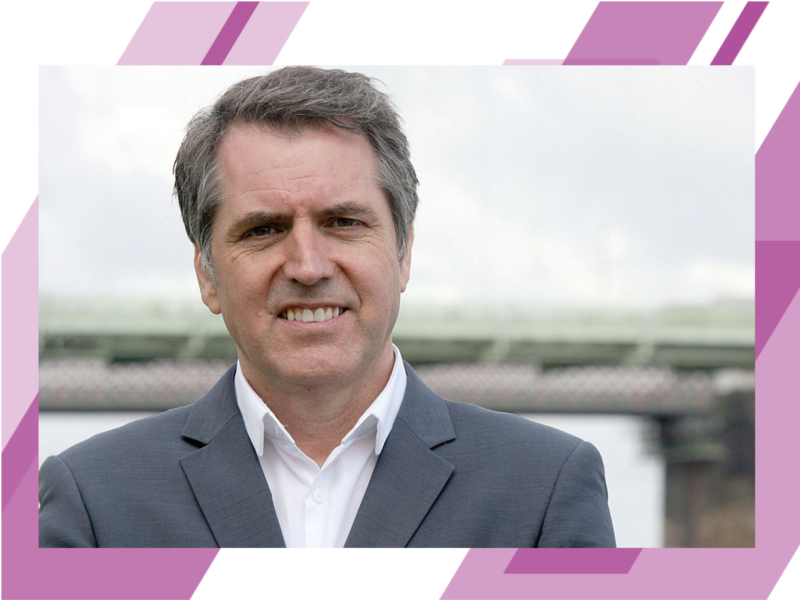 Home to some of the country's leading bioscience innovators
Steve Rotheram, Mayor of the Liverpool City Region, said: "We're fortunate to be home to some of the country's leading bioscience innovators who are blazing a trail in finding new and better ways of doing things.
"I want our area to harness our existing industry strengths and build new ones in order to create well-paid, secure jobs and training opportunities for local people and attract greater investment into our economy. To make that happen, we're putting our money where our mouth is. We'll be investing 5% of our GVA in research and development over the next few years – that's nearly double government's national targets.
"I believe we have the capacity, the capability, and the creativity to position ourselves at the forefront of UK innovation. By attracting companies like Holiferm we are well on the way to doing that."
Sci-Tech Daresbury, supporting innovation & growth
Holiferm's presence at Sci-Tech Daresbury and the new manufacturing plant in Wallasey was supported by a £400,000 grant from the Inward Investment Facilitation Fund (I2F2) set up as part of Mayor Steve Rotheram's £75m Business Growth Package.
Sci-Tech Daresbury is the home of pioneering science, technology, and business. It creates the conditions for ambitious businesses to accelerate growth and deliver real-world impact by solving the challenges of tomorrow.
Located in the Liverpool City Region, the campus combines world-class science infrastructure – including particle accelerators and supercomputers – a collaborative community, tailored business support and state-of -the-art office and laboratory space. Its "Home for Life" offering provides the perfect business location for technology companies to scale their business.
Entrepreneurs and scaling businesses sit alongside international giants to innovate, collaborate with world-leading scientists and academics, other businesses, and gain access to new markets around the globe while attracting and retaining the industry's brightest minds. Our Talent and Skills strategy RADAR, helps campus companies more effectively attract, develop, and retain the talent they need.