April 12, 2022
Growing Innovation and Investment for Pandemic Resilience
In February six major national and regional organisations all stakeholders in the wider North West HealthTec Clusters came together to bring the R&D community together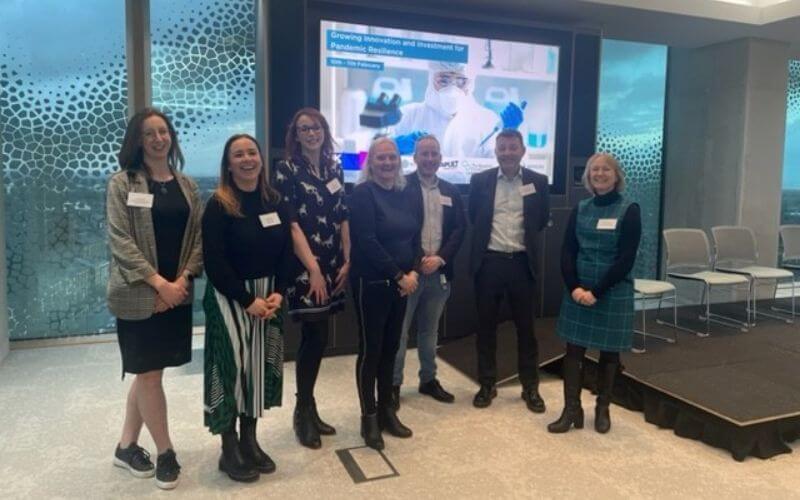 Phil Carvil - The HealthTec Cluster
In February six major national and regional organisations all stakeholders in the wider North West HealthTec Clusters came together to bring the R&D community together with key stakeholders to discuss the need to build pandemic resilience through investment and innovation.
The two-day event, hosted at the newly completed Northern Headquarters of the Royal College of Physicians – The Spine in Liverpool was one of the first major in-person events for the North West Health Tec Cluster since before the pandemic began.
The investment of time, capital and expertise were truly transformational in shaping a coherent message, reaching a diverse audience (outside of individual networks) and harnessing collective expertise. This is the power of clusters – not being a front door to an ecosystem but bringing together partners alongside a common vision who already exist and excel in driving health and life sciences research and innovation and connecting capabilities.
This event was jointly hosted by the Infection Innovation Consortium: iiCON and the Science and Technology Facilities Council, part of UK Research and Innovation. Event partners included the Medicines Discovery Catapult, The Rosalind Franklin Institute, Bruntwood, Sci-Tech Daresbury, The Innovation Agency and Innovate UK, all key stakeholders in the wider North West HealthTec Cluster.
What truly struck me at this event was the conversations. From highlighting lessons learned from the Covid-19 response (including the vaccine development and ventilator challenge) to how the investment scene continues to evolve and the opportunities for collaboration and discovery. From meeting representatives from some of the UK's leading life science institutes to innovators developing solutions for global challenges, there is something so special to being in the room and just hearing these incredible feats and plans.
What's next? This event was about marking and celebrating achievement, hosting honest conversations about what is needed, including greater investment in R&D and raising awareness of the cutting edge local and national platform capabilities available to accelerate and scale innovations.
We must continue to look forward, to encourage connections and build collaborative capacity. As Professor Dame Anna Dominiczak, Director of Laboratories, UK Health Security Agency highlighted and our speakers championed, we need to support triple helix collaborations if we are to build pandemic resilience and drive down health inequalities.
Therefore, this event is not just a culmination of discussions, it is about continuing the need for more, so I look forward to working with our partners to ensure that the vocal need that this pandemic awoke for innovation and investment continues to support new R&D, greater collaboration and new investment to scale innovation to solve global health challenges.
if you would like to find out more about the health technology and life sciences sector in the North West, follow the link here or alternatively, you can email Phil Carvil.
Sci-Tech Daresbury is a national science and innovation campus located in the Liverpool City Region. It's home to nearly 150 high-tech companies in areas such as advanced engineering, digital, materials, biomedical and energy, and environmental technologies. Sci-Tech Daresbury offers flexible space to rent within its multi-occupied buildings, showcasing high-quality offices, lab space, and technical and meeting space. Contact us to find out more.