March 25, 2019
Global firm Hosokawa Micron launches state-of-the-art lab facility at Sci-Tech Daresbury
International process technology company Hosokawa Micron Ltd has launched a new state-of-the-art Technical Innovation Centre at leading science and innovation campus Sci-Tech Daresbury.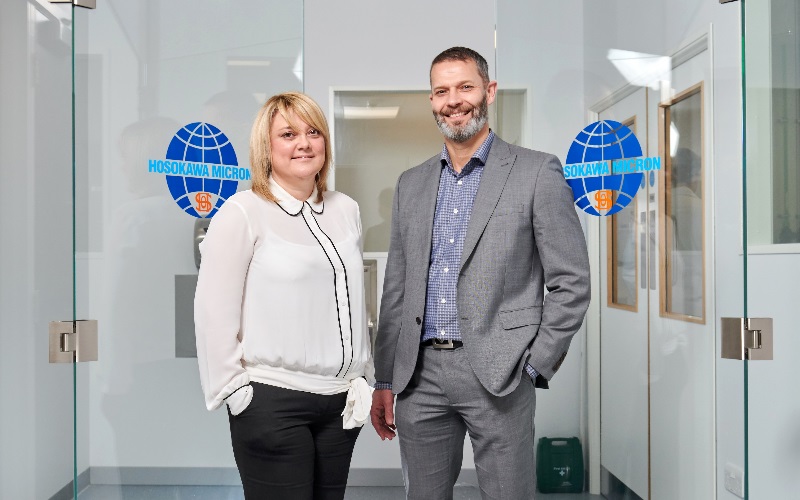 Hosokawa Micron is a specialist in development, manufacture and installation of machines for powder and particle processing.
The company has relocated its Hosokawa Technical Innovation Centre to a new laboratory at Sci-Tech Daresbury's Techspace One building, having previously operated from its nearby main site in Preston Brook, Runcorn.
The relocation is part of a strategic move to expand Hosokawa's testing facility and manufacturing capabilities in the UK.
The Technical Innovation Centre is a purpose-built laboratory and will be used to house the company's customer and contract manufacturing R&D. The workspace also incorporates a small office area which will be used as a 'hot desk' for sales and technical centre employees.
Hosokawa's Technical Innovation Centre offers its customers unique opportunities to test equipment, processes and systems in a controlled and convenient environment. Its testing facility features a range of Hosokawa and ancillary equipment which can be organised into unified in-line processes to suit the customer's specific needs.
The firm operates around the world and has offices in Japan, Germany, the Netherlands, and the USA. It also has satellite offices in Korea, China, and India.
Kathryn Hipkins, Technical Centre Manager said: "We chose to relocate Hosokawa's Technical Innovation Centre to Sci-Tech Daresbury as part of a strategic move to increase our contract manufacturing capabilities in the UK.

"Sci-Tech Daresbury is an internationally-recognised location with a strong emphasis on technology innovation and growth and we felt this was a natural fit to base our operations out of the campus. We're now situated within a highly-collaborative business environment and its location offers opportunities to work with academic and industrial partners on the campus and across the wider region."
Sci-Tech Daresbury is a private-public joint-venture partnership between developer Langtree, the Science and Technology Facilities Council and Halton Borough Council.
Jayne Furnival, group property director of Langtree, said: "Our reputation as a key location where science and innovation businesses can meet their ambitions is increasingly attracting companies from around the world. Without doubt Hosokawa Micron's decision to open a facility on the campus is a great coup for us and we are delighted to welcome them here.

"Such is our appeal that we are now home to companies from 13 countries besides the UK itself, big name players with a strong global presence accessing the North West's rich talent pool, surrounded by successful and ambitious cities, towns and universities and enjoying excellent support and collaboration opportunities on the campus and through our networks."
Techspace One is a three-storey, self-contained building comprising 33,000 sq. ft. of high quality wet and instrumentation laboratories, grade A office accommodation, meeting hubs and break out areas, located in  the Sci-Tech Daresbury Enterprise Zone.