September 19, 2019
Gaming meets science to revolutionise life science teaching at universities
A start-up based as STFC's Daresbury Laboratory is about to transform how life sciences are taught in universities, thanks to cutting edge gaming technology.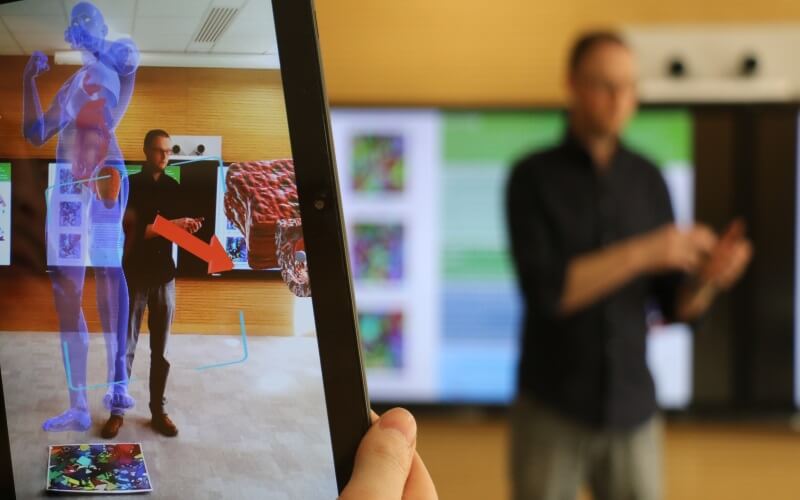 Immersive technology company, Imagin3D is using augmented and virtual reality techniques to develop a solution that enables students to 'see' how highly complex metabolic processes, in this case insulin signalling, work within the human body. This is the first time that augmented and virtual reality techniques have been used in this way, and could transform the way life sciences are taught in higher education.
Imagin3D has been developing its technology at the digital manufacturing facility at STFC's Daresbury Laboratory, at Sci-Tech Daresbury, where it has based its headquarters.  Here UK businesses can gain affordable access to advanced digital technologies combined with a strong focus on 3D printing for rapid prototype development, without the financial restraints of having to buy or pay high prices to access the very latest technologies.
Meanwhile, in neighbouring Sensor City in Liverpool, the company employs a team of highly talented content developers, recruited exclusively from Liverpool John Moores University and composed entirely of graduate interns, meaning that its innovations are driven by students for students. 'Digital inclusion' is high in Imagin3D's list of core values, meaning that any content created can be deployed in a manner where those with only limited technology and varying technical ability can view the content. This can range from still images and video animations, to 3D 'mass distribution' free viewers, augmented reality and virtual reality.
Dave Bogg, Manager at STFC's digital manufacturing facility said: "Developing new technology products can be both challenging and expensive. At Daresbury Laboratory, we provide businesses from across the North West with affordable access to the best skills and equipment in engineering R&D, so that they can solve their technology challenges.  Imagin3D is a perfect example of this, successfully illustrating how AR technologies can be used to enhance instructive teaching with digital visualisations to maximise the impact and understanding of highly complex subjects in higher education.

"Companies can benefit massively from access to the unique business support, incubation facilities and cutting edge technologies we have not only here at Daresbury Laboratory but also across the wider Sci-Tech Daresbury Campus.  In Imagin3D's case, this has so far included STFC's Hartree centre, which is the UK's largest commercially available supercomputer, and the University of Liverpool's Virtual Engineering Centre."
Throughout this project Imagin3D has also worked in close collaboration with the University of Aberdeen's Dr John Barrow in the creation of the cutting edge visual experience which simplifies the description of the complex metabolic processes in insulin signalling. The collaboration led to an award-winning academic paper entitled 'Augmented Reality for Enhancing Life Science Education' which was published at the 'Visual 2019' conference in Rome. The paper disclosed that 95 per cent of the students who took part in the study at Aberdeen University's School of Medicine, Medical Sciences and Nutrition agreed in a questionnaire that "seeing" abstract concepts would help them in their studies.