November 2, 2022
Much anticipated fifth site for Greenlight Computers Ltd
The team has attended events for many years at Sci-Tech Daresbury and has been continuously impressed by campus and it's facilities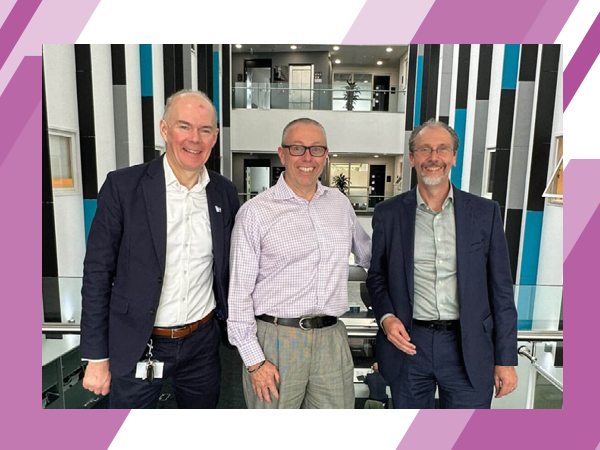 Greenlight Computers Ltd, the life sciences IT support specialists, recently opened its new workspace at Sci-Tech Daresbury, its fifth office overall.
Continuously impressed by Sci-Tech Daresbury
The Greenlight Computers team has attended events for many years at Sci-Tech Daresbury and has been continuously impressed by the development of its business community and the expansion of the campus.
Under the long-term leadership of Paul Treloar and John Leake, Sci-Tech Daresbury has become a significant centre of innovation for the Liverpool City Region and UK Plc.
With its HQ in Manchester. Greenlight Computers' expansion plans have been designed to get close to its clients, with other offices in Stevenage Bioscience Catalyst (Hertfordshire), Alderley Park (Cheshire) and at the University of Manchester.
Expansion planned before covid-19
Expansion into Sci-Tech Daresbury was originally planned for 2020 but was curtailed by Covid. However, good things come to those who wait!
Greenlight Computers and sister companies Greenlight Web (Digital Marketing) and Greenlight Telecoms (VOIP solutions) enable the group to offer a "single point of service" for all its clients' IT requirements. Having established an initial eight-person office base, the firm is now looking to recruit locally as the business develops over the next few years.
Collaborative culture
CEO Greenlight Computers Group, Gary Dodson, commented:
We have long been admirers of the collaborative culture that Paul, John and the campus team have established over the years.
Greenlight has an established base of clients in the Liverpool City Region and Sci-Tech Daresbury is the perfect place from which to support them. We hope our investment in GxP & GCLP training for technical and commercial staff and our in-depth cyber security knowledge will add value to the services community at Sci-Tech Daresbury.
A dynamic service
 Business growth director at Sci-Tech Daresbury, John Leake, said:
We've had the pleasure of getting to know Gary and his team over the years as they've attended our events on campus. We know that Greenlight provides its clients with a dynamic service that addresses their business needs, and that will only be enhanced following the company's arrival on site. Sci-Tech Daresbury is a hotbed of life science activity, from international firms to start ups and I've no doubt having Greenlight join us on site will be hugely beneficial to our community.