July 20, 2023
Crowds flock to Daresbury Laboratory for science extravaganza
Schools and visitors from across the region got a rare opportunity to get up close to some of the world's most groundbreaking technology at Daresbury Laboratory for the Sci-Tech Daresbury open day.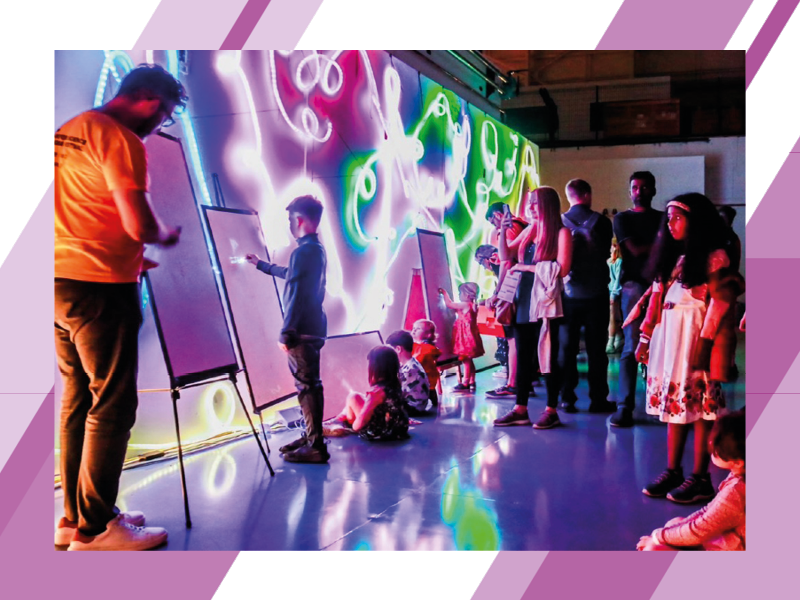 More than 5,000 visitors from across the North West gathered at the Science and Technology Facilities Council's (STFC) Daresbury Laboratory on 15 July 2023, for an awe-inspiring science extravaganza!
A up-close experience
Its first major public event for seven years, the event, sponsored by IBM and Eviden, offered an up-close experience with some of the world's most groundbreaking technology at Daresbury Laboratory.
Scientists, engineers, technicians, and businesses from across the entire Sci-Tech Daresbury campus participated, presenting more than 250 meticulously designed activities to enthuse visitors of all ages.
Inspiration in every corner
From hands-on workshops to cutting-edge demonstrations, attendees immersed themselves in the modern science and technology, and the positive impacts of science on our everyday lives.
Whether immersed in the dedicated space zone, discovering particle accelerators, or eating liquid nitrogen ice cream, there was something for everyone eager to explore the world around us and beyond.
LEGO Master joined the fun
Adding an extra colourful and engaging touch to the event, LEGO Master Steve Guinness collaborated with the enthusiastic public to construct a live LEGO mosaic of the laboratory.
Using more than 8,500 LEGO bricks, the mosaic was an excellent symbol of the collaborative and creative spirit that drives scientific innovation.
A new generation of scientists
The event was a perfect opportunity to inspire and encourage young visitors, sparking their interest in becoming our next generation of scientists, engineers, and technicians.
Importantly, it was a chance to explain the many routes to a science career, such as university studies or through an apprenticeship, with apprentices on hand to chat and answer questions.
Enlightened and exhilarated
The production-like prototypes were vital for the client and played a large part in driving interest for pre-orders during the show. Without rapid prototyping methods like 3D printing and a trusted supplier network, it would have been impossible to create what was needed to successfully demonstrate the product in the tight schedule.
Now, using the facilities and support from the campus team at the Innovation Centre at Sci-Tech Daresbury, 4D are taking the prototypes to the mass production stage and developing packaging for the product to be sold on E-commerce platforms across the world.
Inspiring our next generation
Phill Day, Public Engagement Manager at STFC's Daresbury Laboratory, and the event technical lead said:
Thanks to the fantastic support of our staff, academic partners, campus collaborators, and sponsors, we delivered a mesmerising day of science fun and inspiration for people of all ages.
Our aim was to leave attendees inspired, enlightened, and exhilarated by the wonders of science, and we did just that.
I'm so pleased with the turnout and the overwhelmingly positive feedback we've received already, for both the schools and public days.
I'd like to express my gratitude to everyone who came along to take part throughout the week.
A key part of our mission is to share our exciting work with schools and the public, showing people of all ages how science impacts our everyday lives, and particularly to inspire our next generations that a career in science could be for them.
Solving urgent challenges
Part of STFC, Daresbury Laboratory has been pushing the boundaries of modern science and technology for over 60 years.
Located at Sci-Tech Daresbury, its scientists collaborate with researchers and industrial partners from around the globe.
Its mission is to solve our most urgent societal and industrial issues, from healthcare to the environment.
Find out about public and school events at STFC's Daresbury Laboratory and across STFC.
Credit: STFC