June 7, 2023
Daresbury Campus Pool Bikes
At the Daresbury campus, there are several pool bikes that are available for staff or visitors to use. Read on to find out how you can utilise the facilities
Anyone can borrow the bikes for any length of time, and there is no charge. You may wish to try out commuting by bike, cycle to a local pub for lunch, or just explore the lovely Cheshire countryside!
The electric bikes are equipped with a motor that gives a boost whenever you're pedalling, up to a maximum speed of 15mph (24km/h). So they're super easy to use. No need for special cycling clothes, and no need to get out of breath or break a sweat. You can compare it to a gentle stroll. The motor assistance means you can effortlessly glide up hills as if they were flat, and you'll never be slowed down by a headwind. It's a fun and efficient way to get around campus and enjoy the fresh air – great for your wellbeing, your wallet, and the environment!
We've made it simple to book the bikes.
Watch the short 

introduction video

Request access to the bike shed – email UKRI 

Business Support

Book a bike: either use

 

this form

, or (for UKRI staff) set up an Outlook meeting (search for Pulsar, Electron, or Graphene in the address book)

Enjoy the ride!

Return your bike and the key to the shed on time, and plug it in if the battery is below 50%
When using the bikes, we ask that you follow the rules of the road, paying close attention to your surroundings and taking particular care around more vulnerable road users. Your safety is your responsibility. Please check the correct functioning of the brakes before you set off. Wearing a helmet or high-visibility clothing is entirely up to you (studies show no correlation with safety); there is a spare helmet available to borrow in the bike shed. If you've not been on a bike for a while, we'd recommend a few laps of the site before you take it out on the roads. By using the bikes, you agree to our e-Bike Terms and Conditions of Hire, which you can download here
From Daresbury, there are a number of options for safe and easy off-road routes.
Two of the bikes (Graphene and Electron) have colour screens which can link to navigation on your phone using the eBike Flow app [Android / Apple]. Alternatively, you can attach your phone via an inexpensive and flexible handlebar mount like this one, and use your own navigation app (we recommend Komoot).
Please send us any feedback about the bikes, or maintenance requests, either using this form or by directly contacting the team – see below.
Ben Shepherd and Paul Aden are responsible for looking after the bikes. In case of any questions or issues, please contact one of them – they'll be happy to help. There is a Bicycle User Group at Daresbury; you can join our Teams chat and ask about buying advice, route-finding, maintenance, or anything else you need. Get in touch with Ben for details of this.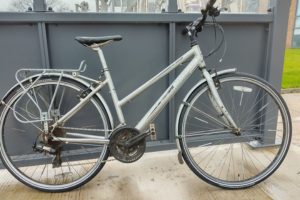 Finally, we also have some non-electric bikes available for staff to use. These are bikes that have been donated by staff and renovated by a local bike shop, so they have more of a 'hand-me-down' feel.
They are kept in a secure bike shed at Sci-Tech Daresbury, between A and B Blocks, and are kept locked with combination locks. Please lock them securely if you leave them unattended off-campus. They are kitted out with bells, luggage racks, and USB-rechargeable front and rear lights. There are charging points in the bike shed - if you plan to use a bike in the dark, please ensure the lights are charged before you leave (an hour should be plenty).
When using the bikes, you are responsible for your own safety. Please check the correct functioning of the bike (brakes, tyres, etc) before taking one out. You may need to adjust the seat height. There is a toolkit located in the bike shed, including a track pump. Report any issues using this form.
To take a bike out, please fill in the booking form. Your personal details are kept private and will only be used to contact you regarding this scheme.
Campus cycle facilities map