October 20, 2023
Collaboration leads to sales growth and key breakthroughs for Sci-Tech Daresbury companies
The continued impact of the collaborative culture at Sci-Tech Daresbury resulted in an underlying sales growth of 33% for campus companies in 2022, and an average sales growth of 24% over the past four years.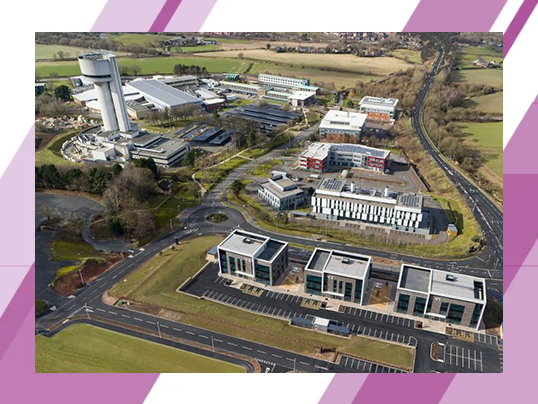 Collaboration leads to sales growth and key breakthroughs for Sci-Tech Daresbury companies
The continued impact of the collaborative culture at Sci-Tech Daresbury resulted in an underlying sales growth of 33% for campus companies in 2022, and an average sales growth of 24% over the past four years.
The statistic has been revealed through the latest campus company survey to be conducted by Sci-Tech Daresbury. This annual strategic review carried out with companies on the campus has been undertaken every year since 2009. As part of this year's survey, 110 companies were interviewed. The findings show that the commitment to collaboration fostered at the campus is playing a key role in supporting the growth of the site's innovative high-tech businesses. Pivotal to this growth has been the development of the cluster model on the campus and the engagement of companies into this.
The survey also revealed that:
• 76% of companies surveyed are engaging with at least one other organisation on the campus - a figure that has remained consistently in this ballpark for the past four years.
• 57% of companies surveyed are working with the Science and Technology Facilities Council (STFC) particularly using facilities, expertise, access to programmes and engagement into the STFC's clusters on the campus.
• 55% of companies surveyed are engaging with universities. While the strongest relationships are with those based in the North West, in total over 50 universities have been engaged with across the UK and internationally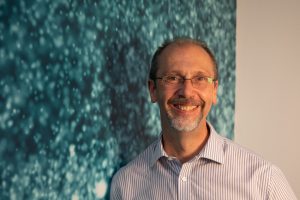 John Leake, business growth director at Sci-Tech Daresbury, said:
"This year's campus survey demonstrates once again that collaboration is the key element that has underpinned the success of the campus in recent years. One of the biggest drivers for companies moving here is access to technical support, world-class facilities and connection to the local and national networks needed to become trailblazers in their chosen field. An openness to collaboration and an unwavering curiosity about what can be achieved when likeminded groups of people work together is part of the DNA of all of our companies, and it is why so many of them are at the cutting edge of the technologies of tomorrow."
Cluster focus
STFC is one of the Joint Venture partners of the Sci-Tech Daresbury campus, and has pioneered the identification and development of clusters for almost a decade. Through its deep knowledge of the UK economy, and what is driving productivity, STFC builds thriving and collaborative sector communities in places where there already exists a critical mass of knowledge and activity. The truly novel and exciting thing about STFC's cluster model lies in the organisation's ability to connect these innovators into a wider network of public and private sector partners and unique science and research infrastructure, enabling disruptive innovation to flourish.
"I think some of the key success stories we've seen has been the result of using clusters as a way to bring the community together around specific areas," explains Phil Carvil, Head of North West Clusters - UK Research and Innovation – STFC. "Last year we had the fourth anniversary of our HealthTech Cluster, and held an event focussed on infectious diseases. We celebrated what had been achieved but took a forward view and brought in Moderna and AstraZeneca as well as major funders and UKRI – all organisations our cluster firms should be talking to."

"Last year we also launched the North West Space Cluster. Having this cluster on campus at Sci-Tech Daresbury has empowered developments across the region. We saw the launch of Lancashire Space Partnership at the anniversary conference at Sci-Tech Daresbury this summer and Cumbria has hosted its first Space Week – I believe these things only happening after our cluster was launched reflects the impact it has had. Our clusters are instrumental in helping to move conversations forward in the area and bringing together industry, academia, local and regional governments."
STFC's cluster team is particularly focussed on cross-cluster engagement, and the results of this process are proving vital for several campus companies.
"Every year we launch STFC's Cross-Cluster Proof of Concept Grant. It's been going since 2017 but it wasn't until we spun up the clusters at Sci-Tech Daresbury that the recipients of this call spread beyond the greater South East. However, in the last call 50% of the recipients were from the North of England.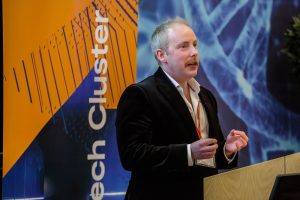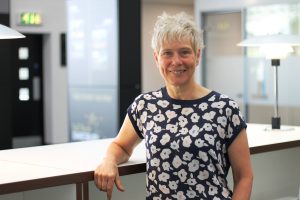 Examples of companies who have been successful for these funding bids have been IoT Horizons and Agile Life Sciences (ALS).
ALS is developing a urine test, called 'Menoguide', which is hoped will be able to identify with greater accuracy at which stage a woman is on her menopause journey.
Bethan Hughes, Head of Sales and Marketing at ALS explains how working with Health Innovation North West Coast - another campus organisation, and part of the NHS, that supports the identification, development and deployment of innovations and improvements in health and care across large parts of the North – was crucial to its product development.
"Health Innovation North West Coast headquartered at Sci-Tech Daresbury was able to connect us with local GPs and helped to identify kind of people that had worked with them on similar projects. This enabled us to do a benchmark comparison between doctors' interpretations of data,

"Much of today's menopause diagnosis is made from clinician's opinion, based on patient reported symptoms," explains Bethan. "We were able to then correlate and contrast multiple GP opinions on the same sections of data, which was really interesting.

"Next, we made a further connection that helped us to pull together a GP focus group, which was really important. So, we facilitated that focus group, and designed the discussion guide but without Health Innovation North West Coast's input we wouldn't have been able to a secure the attendance. They took care of all kinds of logistical planning and critically, helped us get the audience we needed."
Critically, this project was funded by STFC's Cross Cluster fund – further emphasising the importance of collaborations on campus for companies like ALS.
"Without being on campus we might not have known about it or able to make those connections," says Jan Rogers, joint CEO of ALS. "I think our presence on campus for a lot of these things has been really paramount in either finding out about the grants or having the links with other organisations. STFC and Health Innovation North West Coast both took time to understand our business, our projects and how we can make impact. The groundwork they did was fundamental to the success of our relationship."
Looking ahead, there are further plans to collaborate with other campus organisations, as Jan explains:
"Another campus company RTC North are part of the Innovate UK Edge support team and we've started to connect with them to help us understand our business, understand where we have gaps and how they can support us in that.

"It's about building the support around that with respect to positioning visions and values. It's early days but everything we've done so far has been very positive. It's about identifying priorities, and them then supporting you through those priorities.

"At a recent HealthTech Cluster event we got introduced to the legal firm Mills and Reeve, and they hosted their Fem Tech accelerator day recently that we attend. It's at these events you often make connections - we might not have known about them but somebody at the campus thinks, oh, that might be really good for the guys at Agile."
Using the campus as a testbed
IoT Horizon is an Internet of Things (IoT) Solutions provider delivering digital transformation consultancy services and smart building solutions. Niamh Allen, sales and marketing director at the company, explains how the campus proved a fruitful testbed for a key proposition.
"As a smart buildings' provider, we wanted to deploy indoor air quality sensors on a large scale to demonstrate their impact on energy reduction, sustainability, and occupant comfort. We did a full deployment of all the offices in the Campus Technology Hub - sixteen offices in total, and we also did a deployment of air quality around some of the lab spaces. We're monitoring things like temperature, humidity, CO2, particulates, light, sound, presence detection, formaldehyde.

"We were looking for a whole host of different indoor environmental factors and we're able to see overheating, over ventilation and appliances being left on. In our first year we did see some really interesting findings."
Once this work was complete, IoT Horizon turned to STFC's Phil Carvil to take the project to the next level.
"Phil helped us look at how we could make the data accessible, and less scary for clients. If you don't communicate the data properly, people aren't going to want to come back into those spaces if they think there's really high CO2 levels or high temperatures or it's not a safe environment.

"Those two funding pots and the work we did on campus have helped us secure contracts with the AMRC Wales and Harwell campus. We've secured some big contracts with local authorities too," explains Niamh. "Ultimately, the collaboration opportunities available on campus enabled us to commercialise our offer a lot quicker had we been based elsewhere. The collaboration opportunities that come from Daresbury are just great and so crucial to our business."

"Phil helped us make sure that we were communicating the information, but not scaring people, which was a great help. We also worked with the Energy Tech cluster to look at how we also represented where we might be seeing overheating or when we were clicked on a lot of data, how could we turn that into information that head of FM or finance teams would be interested in so that they can make some tangible savings."

In the second year of the project, IoT received funding to demonstrate the integration of IoT technologies with Building Management Systems (BMS) to foster smarter, greener and more cost-efficient buildings. IoT Horizon has been able to use the Campus Technology Hub as a demonstrator site, somewhere it can bring clients to show them what they can do and to bring their work to life.
Tapping into academic excellence
The importance of collaboration to driving growth and innovation was also evidenced by over 50% of campus companies engaging with universities on a variety of research activities, accessing the graduate and postgraduate talent through recruitment or internships, as well as developing customer/supplier relationships.
"We've made presentations at the Liverpool School of Tropical Medicine (LSTM)," says Jan Rogers. "We try to engage with them as much as possible and we could go down the Knowledge Transfer Partnership route in years to come. Right now, for a company at our stage of development it's about building those networks, so you know what's available. So, when the opportunity arises, you can instantly just go to the right people.

"Through Sci-Tech Daresbury we were able to utilise the Liverpool City Region Graduate Futures Programme in order to try and find graduates in particular spaces. We've been successful in recruiting a marketing executive. They reach out to their alumni and without the access to that network we wouldn't have made that hire."
The importance of playing the long game when it comes to collaboration is a point also raised by Phil when reflecting upon work between the Hartree Centre and LSTM, two organisations that are world leaders in their respective fields of digital and infectious diseases.
"We're not trying to influence what they're doing. But one thing you can do is bring them closer together through civic engagement events and supporting some of the relationships to build up through the clusters over the years," explains Phil. "It's not that you're creating a partnership, per se, but you're laying the groundwork by helping them understand each other more and building the dialogue.

"Not every meeting and engagement is trying to get an outcome right away – it's all about trying to understand your partner more, trying to understand different stakeholders and where some of the touch points may be in the future. The success of the collaboration culture is not built on an ethos of quick wins but long-term ecosystem development".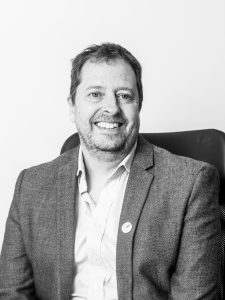 Digital revolution
If there is a campus company that embodies the spirit of Sci-Tech Daresbury, it might just be ORCHA. One of the key figures in the site's HealthTech Cluster, last year the firm scaled up to the new Violet development, in line with the Home for Life ethos that is so important to the campus.
"Our mission is simple," says Tim Andrews, co-Founding President and CCO at ORCHA. "To get more people using digital health to improve their health and well-being. We want to integrate digital health into normal healthcare. It should be a standard part of how health is supported and delivered. Given the strain and difficulties all healthcare systems face, as we all know from watching the news, digital offers a huge opportunity. It allows patients and the population to better manage their own health and care, which is a central part of healthcare systems globally. It's a plan for how we deal with the challenges we know exist.

"One thing we often hear when talking about A&E attendances, is that nobody having a heart attack can use an app to sort it out. Whilst that is true, the reality is that the wait for an ambulance or how quickly they can get into an A&E department is directly affected by how many others are putting pressure on the system. This is where digital can help, especially in vulnerable populations with long-term conditions. If digital can improve their mobility, activity, and mood, which it can, it eases the strain on the system and increases the chances of timely care."
Over the past year, work with the STFC Hartree Centre at Sci-Tech Daresbury has proven pivotal to the development of ORCHA's work.
Its assessments are supported by a technology called the Assessment Engine, which was designed and refined over many years. This makes its assessment processes highly efficient. However, at the core of it, there's still an assessor who reviews various materials, be it a privacy policy, an evidence abstract, or checks for usability and accessibility. Work with the Hartree Centre to adapt this process has refined the operations significantly, as Tim explains:
"What we collaborated on with the Hartree Centre was how we could use elements of AI to complement, and in some cases, reduce some of that human effort. This way, assessors can focus on more valuable elements that can't be done by technology.

"We've come up with a prototype that's sort of a midway stage. The assessor still thoroughly examines a privacy policy, for example but in the background, the AI also analyses it. If the AI detects something the assessor may have missed, it prompts a question, asking if they've interpreted it correctly. This way, we're training the AI to become more proficient at examining different kinds of documents. Eventually, we envision a point where parts or even the entire evaluation of something like a privacy policy, which is a substantial part of the assessment, can be handled by AI, thanks to the training we've provided. Assessors can then focus on higher-level aspects of data and privacy. This has been a significant part of our work with the Hartree Centre."

ORCHA has also collaborated with Health Innovation North West Coast on a study on patient consent related to health data,
"We view them and other agencies as natural partners in our efforts to support our supplier network and enhance digital health offerings," says Tim.

"The ability for ORCHA to work more easily and quickly with on-campus organisations like the Hartree Centre and Health Innovation North West, is part of the benefit and opportunity that a naturally collaborative environment like Sci-Tech Daresbury gives to the innovative businesses on the site" says John. "This collaborative environment is developed and supported through a range of activities from monthly networking events, specialist forums and support programmes. Coupled with a business support team that has both intelligence of the businesses and direct relationships with the management team, makes it easier to bring organisations together where there is natural synergy and opportunity"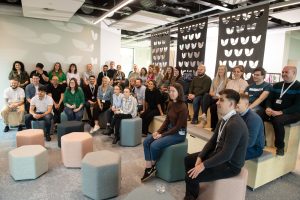 Collaborating with the next generation
Pivotal to the future is the next generation of talent.
More than 5,000 visitors from across the North West gathered at the Daresbury Open Day in July this year. The event was a perfect opportunity to inspire and encourage young visitors, sparking their interest in becoming our next generation of scientists, engineers, and technicians.
Importantly, it was a chance to explain the many routes to a career in science and technology, such as university studies or through an apprenticeship, with apprentices on hand to chat and answer questions. It was also a great opportunity to see and experience a variety of hands-on activities showcasing some of the amazing science facilities on the campus and meet with a many of the high-tech businesses at Sci-Tech Daresbury to understand more about what they do and the types of people and skills they need.
"The Daresbury Open Day as part of the wider Open Week was an amazing opportunity to really engage with young people in the local community and their families to help them get excited about the world of science and technology today and to be able to envisage a place for them in this world. Our collaboration with companies is vital but so is collaboration with the local community." reflects John Leake.

"We couldn't see ourselves being in another place," concludes Tim Andrews. "There's a unique dynamic at Sci-Tech Daresbury, fostered by the senior leadership team. The fact that they actively support collaboration sets a unique tone. It's not just relying on chance for people to come together; they take a proactive role in bringing organisations, including NHS bodies and international healthcare systems, into the fold. It's phenomenally helpful. It's like having an extra, behind-the-scenes marketing and business engagement function that pops up every now and then. For instance, today we have a Dutch delegation visiting the office for three days.

"How they manage this magic formula, I'm not sure. A lot of it seems to stem from the mentality and attitude of the individuals involved. Not everyone in such a role can create the same environment. So, it's a credit to the incredible team. Hopefully, this atmosphere will extend to new people joining Sci-Tech Daresbury, furthering this brilliant culture of collaboration. "