July 22, 2019
Collaboration drives £20m boost for Sci-Tech Daresbury companies
The impact of the collaborative culture at Sci-Tech Daresbury delivered a £20.3m boost in 2018 for companies based at the award-winning science and technology campus.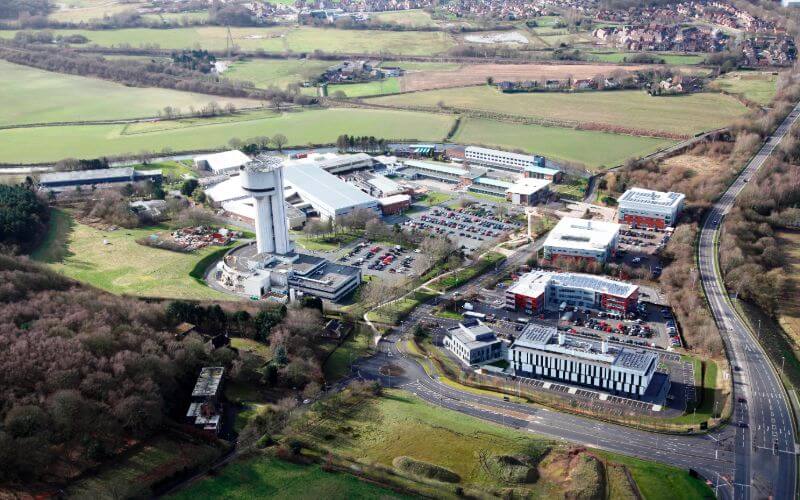 The total business value - an uplift of £3m on 2017 - comes out of the latest tenant survey to be conducted by Sci-Tech Daresbury and is evidence that the campus is continuing to achieve its aim of accelerating growth for high-tech tenant businesses by encouraging collaboration.
In a survey of 112 companies based at the Liverpool City Region campus, there are currently 202 collaborations between businesses located at the site, up from 161 in 2017 and 113 in 2016, with more than half of the businesses (54%) actively collaborating with each other.
The survey revealed that collaborations between companies have generated a business value of £5.5m in terms of new sales or cost savings. These collaborations are mainly in the form of buyer-seller relationships and collaborative partnerships.
The annual survey also revealed that there was very high level of collaborative intensity on the campus with 73% of companies have at least one collaboration on campus with either the Science and Technology Facilities Council (STFC) or another campus company.
Further, 59% of companies reported they were collaborating with a university, an increase from 49% in 2017, with the Universities of Liverpool and Manchester representing the most prominent relationships, but with a significant increase with Lancaster and Liverpool John Moores Universities. In particular, there has been an upsurge in companies securing student placements and carrying out research with the universities.
Liz Ashall-Payne, CEO of ORCHA, a live resource for rated and reviewed medical and health care apps which relocated to the campus in 2016, believes that Sci-Tech Daresbury enjoys a community in where businesses can grow and thrive.

She said: "The location is critical to our growth both in terms of who we can collaborate with here, but also in drawing in talent. It's really difficult finding talent in niche areas particularly in digital and everyone is fighting for the same people. But being located here means we can draw talent in from Liverpool, Cheshire and Manchester and from a number of different universities, helping us grow our workforce which is absolutely vital in achieving our growth ambitions."
Based at Vanguard House, one of six campus facilities, ORCHA started with five staff and now employs 21 FTE roles with plans to double in size in 2019. In the last year ORCHA has been working with the Hartree Centre, the high performance computing and data analytics research facility, part of STFC.
Liz said: "The core of what we do is to review health apps and we use technology to review more of them than anyone else globally to ensure that that process is efficient, effective maintained and scalable. We are currently doing a number of projects with the Hartree Centre around Artificial Intelligence and looking at ORCHA data and what we can do with it.

"We have been part of a number of EU projects with the Hartree Centre to look at how we can improve and expand our offer. We are about to go into another big bid with them that will continue that partnership on an ongoing basis and which will help our growth and futureproof us."

She added: "Sci-Tech Daresbury provides a community where they want to support you for your whole journey. There is no doubt that, as we originally hoped it would, it's helped us establish ourselves and thrive and will aid our expansion ambition."

John Downes, group chief executive of Langtree and chair of the Sci-Tech Daresbury joint venture company, said: "In 2016 we revised our Science & Innovation strategy to focus on five key areas, including powering productivity through partnerships. It's part of an explicit drive to cement collaboration at the heart of the campus, because it allows innovation and entrepreneurialism to thrive unlocking business growth.

"This year's survey proves that the financial and commercial value of knowledge exchange between companies continues to deliver fantastic results, positioning Sci-Tech Daresbury as one of the UK's leading scientific assets.

"We are continuing to build our reputation with the recent launch of the HealthTec Cluster. This will further increase collaboration, cross-sector engagement and support the translation of research and development to application by linking the business and research community and end-organisations at the forefront of delivering health innovation.

"We are also looking to create a similar cluster for digital sector companies as well as build further strategic activity with universities to increase interaction with companies."