September 17, 2020
Collaboration and innovation crucial to accelerating campus company growth at Sci-Tech Daresbury
The continued impact of the collaborative culture at Sci-Tech Daresbury resulted in overall sales growth of 27% for the companies based at the leading science and technology campus during 2019.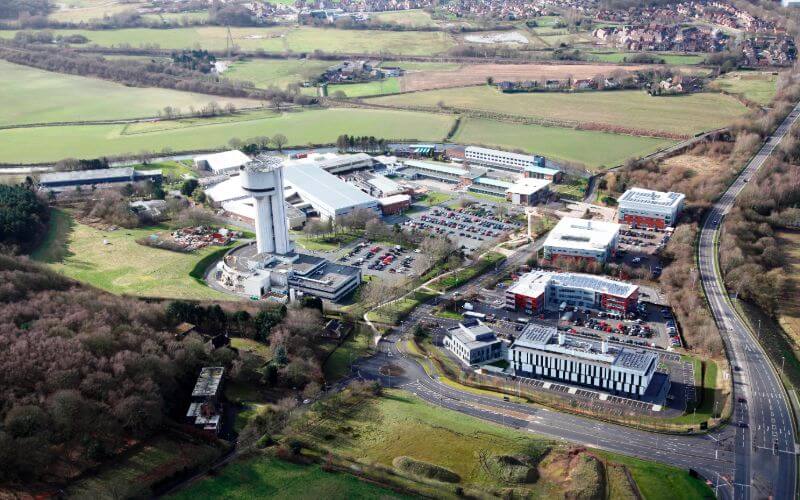 Over 240 new products and services developed by Sci-Tech Daresbury companies in 2019
Over 70% of campus companies collaborating with another organisation based on site
Collaboration business value of £10m in 2019
40% increase in new jobs created versus 2018, with over 1,000 permanent employees now on site
The continued impact of the collaborative culture at Sci-Tech Daresbury resulted in overall sales growth of 27% for the companies based at the leading science and technology campus during 2019.
The figure – a 5% rise on 2018 - has been revealed through the latest campus company survey to be conducted by Sci-Tech Daresbury. The findings show that the commitment to collaboration fostered at the campus is playing a key role in supporting the growth of the site's innovative high-tech businesses.
The survey of 117 companies at the Liverpool City Region campus found that over 70% of firms on site are collaborating with at least one of their on-site neighbours, generating approximately £10m in sales creation and cost savings during 2019.
Export sales for campus companies currently sits at 29%, with Europe remaining the key market and accounting for 50% of all international sales.
The survey also revealed that over 240 new products and services were developed in 2019 – nearly double that of the previous year and the highest ever figure for the campus. This rise was supported by over 30% of campus companies engaging with funding agency Innovate UK and 43% working with the on-site Science and Technology Facilities Council (STFC) regarding their work.
As a result of such activity, the average business value in terms of new sales or cost savings for campus firms sits at £10m, another new record.
The importance of collaboration to driving growth and innovation was also evidenced by over 50% of campus companies engaging with universities on a variety of research activities as well as developing customer/supplier relationships.
While the University of Liverpool and the University of Manchester remained the two most common for collaboration, companies worked with over 50 institutions from across the UK & overseas, demonstrating that the campus's work with academic institutions is expanding beyond the North West.
Close relationships with universities have also been underpinned by a rise in the recruitment of graduate and post graduate students, as well as internships and Knowledge Transfer Partnerships.
Such initiatives are of increasing importance to ensuring the long term sustainability of high tech industries within the North, with the approach already showing results.
The survey also showed Sci-Tech Daresbury companies created a net increase of 162 full time jobs in 2019, over 40% higher than in 2018.
There are now over a thousand full time employees on site, representing an 18% increase on the previous year. 69% of the jobs are at bachelor's degree level or above.
Additionally, the survey revealed companies at Sci-Tech Daresbury experienced the same difficulties as businesses across the UK in attracting talent, with challenges in areas such as software development, engineering and commercial roles. Sci-Tech Daresbury launched its Talent and Skills Strategy, RADAR, last year supporting companies in attracting, developing and retaining the key skills necessary for business growth. This has resulted in a range of partnerships and programmes with organisations such as the University of Liverpool, the Armed Forces and Code Nation.
John Downes, group chief executive of Langtree and chair of the Sci-Tech Daresbury joint venture company, said: "2019 was another robust period of development and growth for Sci-Tech Daresbury. The feedback from this survey demonstrates that collaboration remains a key driver for innovation amongst the companies on site, resulting in both dynamic new products, growth in numbers of employees and excellent sales results.

"It's particularly pleasing to see the creation of high value jobs and the development of opportunities for graduates. Such roles will be crucial as we look to ensure the Liverpool City Region remains an attractive proposition for businesses and employees alike. While we're pleased with the progress being made, we're going to continue to develop programmes that will allow our tenants to access the talent and skill they need to prosper.

"Likewise, in response to the economic shock of Covid-19 there will be a variety of initiatives developed that will offer guidance to our companies through this unprecedented period. Many of our tenants have responded to the pandemic by developing products and services that have assisted the global fightback, and I'm confident that our HealthTec cluster – in collaboration with the business and research community - will continue to advance solutions to many of the challenges we're currently facing.

"This is a very exciting period for Sci-Tech Daresbury, with work on our latest development Project Violet set to start later this year. Already in 2019 we've seen several longstanding tenants move into bigger premises on site, perfectly reflecting the 'home for life' ethos that means we support businesses every step of the way on their journey and provide different facilities and services for each stage of their expansion. We use the findings from this survey to further support our businesses as they continue their impressive journeys of innovation, collaboration and growth."
ORCHA Health at Sci-Tech Daresbury – collaboration case study
In five years ORCHA - (Organisation for the Review of Care and Health Applications) has grown from an innovative health concept to its current position as the world leader in health and care app assessments, driving standards and helping NHS and care organisations across the world to capitalise on the power digital health apps have to offer. ORCHA is also part of the NHS Accelerator Programme and works with CCGs and NHS Trusts in 50% of NHS regions across the UK.
Liz Ashall-Payne, co-founder and CEO of ORCHA believes the collaborative nature of Sci-Tech Daresbury has been crucial in enabling the company to grow and thrive.
"Collaboration is one of ORCHA's core values. Alongside Curiosity, Trust and Fun, it reflects the type of organisation we are, how we work and is proving central to our success," says Liz. "The ORCHA team includes the best clinicians, technology and usability experts, who by working together, have transformed the way health providers utilise Digital Health.
"Thanks to Sci-Tech Daresbury, this collaboration extends beyond our team, as we partner with others on the campus. For example, we're working with The Hartree Centre on a ground breaking usability study, which will shed new light on how patients view and use health apps, which will be central to the success of the digital health programmes, ensuring impact on health outcomes. The campus' links with bodies such as the Department for International Trade has also led to international collaborations, and we now partner with experts worldwide in countries across Europe and beyond."
In response to the COVID-19 pandemic, ORCHA recently launched a health app formulary to help healthcare professionals and consumers know which health apps they can trust. The site includes reviews of health apps across a range of health conditions relevant to the COVID-19, including reviews of COVID-19 apps launched to date – evidence of the esteem in which the company's products are held.
"Talent underpins all of our values.  Our healthcare customers trust us to test the health of health apps.  They rely on us to be ahead of the world on standards and regulations; on knowing what best practice looks like, and implementing this within their organisation. To deliver on this, we have to attract the best people.  Although in some areas there may only be a handful of people in the UK with the right skills, Sci-Tech Daresbury has helped us to attract them."
Ambersail at Sci-Tech Daresbury – talent and skills case study
Ambersail is a specialist in cyber security assessment services, and has been based at Sci-Tech Daresbury's Innovation Centre for four years. The 15-strong team is trusted by organisations around the globe to locate, confirm and report cyber vulnerabilities in infrastructure, applications and business processes.
"Our clients employ us to try and break their systems before hackers do. We work on a lot of cutting-edge technology across mobile devices, applications and networks such as banking, retail and government apps," says Jon Morris, managing director of Ambersail.  "The level of skill required to deliver this service means that we need employees with the best training and knowledge to hit the ground running and make an immediate impact."
Ambersail's impressive growth has been bolstered by Sci-Tech Daresbury's talent and skills strategy, which focuses on developing, attracting and retaining the wide range of skills and expertise on the campus and bolstering the Liverpool City Region's reputation as a leader in science and innovation.
"Our location at Sci-Tech Daresbury has supported this pursuit to find the right team members. The opportunity to receive the supported services and connections to the wider world has been invaluable as we try to grow and develop our team. Geographically, it's in a fantastic place to access some of the best academic institutions in the UK. It's near to all of the major road connections that makes us easily accessible for staff and clients.

"The employees that we want to attract are tech-minded people and they feel very comfortable in this environment because there are lots of other technology companies around. The campus almost has a university feel to it – and they feel comfortable with that. The high-tech, academic atmosphere on the campus is perfect for our team to thrive in."
Over the last three years, Ambersail has employed seven graduates from North West universities. Of those seven, all have progressed into full-time employment and some carry senior roles within the business, including a senior penetration tester and team leader of the sales operation.
"We are always looking for the best of the best. Sci-Tech Daresbury has been instrumental in helping us to strengthen our ties with universities to recruit and retain graduates at the highest level", says Jon.
Graduate recruitment remains a top priority for Jon and over the past year Ambersail has developed an even closer relationship with the University of Liverpool.
"We chose to work at Sci-Tech Daresbury because of its strong diversity of its tenants, as well its ties with local government, business support systems, and the range of other initiatives it offers and – particularly important for us – its close connections with universities.

"For us, a big problem has been the availability of good people. It's more complex than just having the right degree – we look for computer science graduates, but they also need to have the right wherewithal about them to really excel.

"While we're proud to work with many local universities, over the past twelve months we've had great experiences with the University of Liverpool. As part of Sci-Tech Daresbury's talent and skills strategy, it has set up a close partnership with the University of Liverpool's careers and employability teams and recruited a student brand ambassador to promote the campus companies and opportunities in them to students within the university. This has enabled companies like ours to maximise opportunities to recruit interns and full-time employees from the university's graduate and postgraduate base.
Through this, Ambersail has become a regular presence at university events and we've fostered a relationship that's allowed us to work closely with the computer science team.
"I gave a lecture to first year students and was thrilled that over 200 students came. Of that number, it might turn out that 5-10% are interested in the work we do – and it's crucial for us to follow up on that. It's not just those that are studying computer science, we also attend sessions of the Cyber Security Society. From this process, we can identify the individuals who have got the passion and know-how that means they would be a valuable asset to Ambersail.

"One such person is joining us soon for a placement year, and we're very excited by his potential. We hope that once he has graduated he will come back to us and join us full time at Sci-Tech Daresbury.

"For us, it's very exciting to take raw talent and apply it to client projects that will test people's abilities and enable their personal and professional growth. We, in turn, are able to tap into the knowledge of the next generation in order to develop new ways of working for our clients. It's a fruitful two-way transfer of talent and skills that ultimately results in better results for us as individuals, for Ambersail and for our clients."