June 6, 2023
4 Years of the North West Health Cluster
With the recent 4th anniversary of the North West Health Cluster, I wanted to reflect on some of the recent highlights from the research and innovation landscape in life sciences from across the North West and discuss some of the upcoming developments to watch out for.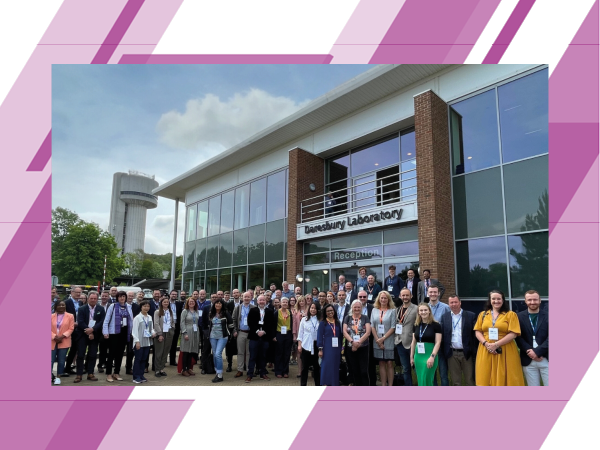 For those that are not familiar with this regional landscape, the North West of England is comprised of 5 vibrant sub-regions Cheshire & Warrington, Cumbria, Greater Manchester, Liverpool City Region and Lancashire. Together they house 15 universities, national scale facilities (Including the STFC Hartree Centre Henry Royce Institute) numerous specialist NHS Trusts, several major innovation districts (including the UK's largest single site Life Sciences Park - Alderley Park), dynamic industry bodies (including Bionow & Medilink North of England) and hundreds of companies, ranging in scale from micro SME's to Blue Chips.
But what's behind some of these areas?
Well I'll be delving into each of them individually and spotlighting a few of the many growing and innovative organisations we have in the cluster and the pioneering work they are doing.
Infectious Diseases
Over the last few years pandemic resilience hasn't just been a regional issue, but a global one. Together organisations have worked to tackle not only the COVID-19 pandemic but the wider field of infectious diseases demonstrating the importance of collaborative efforts to stand us in excellent stead to be resilient against any future pandemic issues we may face.
A leading beacon in this area is the Liverpool School of Tropical Medicine which for 125 years has helped support responses not just in the UK but internationally to combat infectious diseases. Working with industry, government, and international aid organisations they continue to be a leading light in this area. This has been further supported by the development of the iiCON: Infection Innovation Consortium, launched through UKRI's Strength in Places program, this world leading centre for infectious R&D has, in its first 24 months, already enabled 19 products to get to market, helped secure £200 million of funding for innovation related to infection control and supported the creation of 176 jobs in the sector.
This was why at the recent cluster anniversary conference (proudly hosted by the national research and innovation campus Sci-Tech Daresbury), it was such an exciting opportunity to bring together this community, working with LSTM and iicon.
The event highlighted not only some of the incredible work happening currently in this exciting innovation ecosystem, but also considered what the next 25 years could have in store, with insights shared from colleagues at national bodies including Medicines Discovery Catapult, BBSRC, LifeArc and UK Health Security Agency
We heard from companies looking to improve diagnostics (such as PBD Biotech), to those designing new approaches & therapeutics (Entropix Ltd, Destiny Pharma plc, ReNewVax Ltd) to the perspectives from leading Vaccine Manufacturers on what next (such as CSL Seqirus, AstraZeneca and Moderna).
What a sincere pleasure it was to hear how capabilities continue to grow in this evolving landscape (particularly within the region) and what we need to be mindful of if we are to reap lessons learned.
Oncology
A key focus area for the health sector is oncology and the fight against cancer, over recent years there have been huge steps taken by innovative organisations, including the incredible university engines, which have helped the ongoing research and advancement of treatments.
Within the region these range from the work of major charities such as North West Cancer Research, Macmillan Cancer Support and Cancer Research UK, to major NHS Trusts like the The Clatterbridge Cancer Centre NHS Foundation Trust and The Christie NHS Foundation Trust looking at next generation R&D for treatment.
One particular feature of the North West has been its heritage in Particle Accelerator technology, hosting the first proton beam treatment centre for ocular cancer at the Clatterbridge Cancer centre many years ago.  Since then, new developments have come forward and one example to highlight has been the work of Advanced Oncotherapy plc who have developed and now provide a breakthrough proton therapy treatment, their ambition for this never before seen light therapy is 'to overcome the costly infrastructure, to offer increased precision, and to strive for user-friendliness'.
In 2022 they reached a critical milestone with the proton beam achieving up to maximum system energy of 230 MeV. This is the level energy that is needed to treat any tumour in all patients. Also last year, Advanced Oncotherapy CEO, Nicolas Serendour, was featured in the top 10 impactful healthcare leaders to watch in 2022 in Business Beyond. I'm incredibly proud of the work Advanced Oncotherapy are doing in this sector, as well as the many other cluster companies progressing the research and offering within oncology.
Longevity
Science has made some incredible advances in recent years and many people are now able to live longer and healthier lives, with a tipping point in opportunity to make that next leap for longevity innovation. Earlier this year, working with esteemed colleagues, the cluster co-hosted a Quantum Longevity workshop in Newcastle with the UK National Innovation Centre for Ageing, Collider Health and Innovate UK – to understand just that.
What are some of the leading developments in longevity innovation within the ecosystem and what are the next steps we need to take to advance this mission.
Talking about steps, one company that has pivoted in this area was Safe Steps who produced a Falls Prevention App that pre-empts those at risk of falling and allows family and carers to put practical and preventative risk assessments into place to allow individuals to continue to live safely, independently and remain active.
Staying active is key and this was the main theme in Active Lancashire successful bid to be a trailblazer for Healthy Ageing, helping to empower people to understand more about their journey in health and support organisations to do the same.
With the North West hosting the UK's High potential opportunity zone in use of diagnostics and early intervention for healthy ageing coupled with its drive to support innovation in health and social care, I am excited to see what next for Longevity research in the region and UK.
Diagnostics
Diagnostics is an incredibly active area for the sector and the region has seen many developments in this field throughout the last few years. Last year working with the Northern Health Science Alliance Ltd we held a pan northern workshop inviting academic, industry, clinical and public sector to understand what the northern opportunity for Diagnostics could be and it is incredible exciting.
Even recently there have been two recent major announcements within Greater Manchester alone including the move and expansion of the UK BioBank and the development of an innovation accelerator for diagnostics led by Health Innovation Manchester .
The region hosts a plethora of expertise within the region, with countless pioneering companies developing new approaches. One example I particularly wanted to highlight was Agile Life Sciences who, late last year, developed a menopause testing product that allowed women to identify where they were on their menopause journey, the ALS test is reported to be the most accurate on the market.
This stage of women's health journey in particular is one that is notoriously managed poorly with 80% of women in a recent study supporting that statement, antidepressants are often one of the first medications offered to combat low mood which is not sustainable. By providing an uncomplicated and accurate solution it will facilitate better menopause management both by women and their clinicians. It was also great to see Agile Life Sciences receive a Cross Cluster Proof of Concept Award allowing them to take the next step in Menoguide's journey. (reference for figures Women invited to take part in menopause test pilot with Daresbury start-up | InYourArea News)
Digital Health
Following on from our Digital Tech Cluster Anniversary Conference in December 2022, the cross over between the health and digital sectors continues to be an increasingly important collaborative effort (enhanced further with the linked capabilities of the space sector).
Within the region, there are several major Digital Health initiatives such as Liverpool's LCR Civic Data Cooperative to Lancaster's Cyber Foundry. One company in particular that has been championing the digital Health space for many years now has been ORCHA Health.
Their extensive suite of products allow digital health to be introduced safely and covers each step in the digital health offering including data insights, health app libraries, digital health formularies and assessment platforms. Earlier this year they charted at number 7 in the top 50 HealthTech companies in the UK as well as numerous other award wins. Their offering is set to tackle vital fields in the health sector including women's health, diabetes, healthy aging and mental health.
Huge successes
The last few years have seen huge successes, inspirational science, business growth and regional developments. While it has been a busy and productive time for the cluster, it has also been a time of opportunity and development for me personally. Throughout recent years I have had the opportunity to run not only clusters in the health sector (in both Harwell and the North Wes)t, but also in Space! Team work really does make the dream work and this shone through co-leading the set up of the North West's Space Cluster and standing in to manage manage our Harwell Space Cluster (until we were able to be joined by our brilliant dynamic space duo Alan Cross and Gemma Wilson, who now lead these clusters with far more grace than I).
These opportunities helped me to understand not only the opportunity provided through cross-regional engagement but critically cross-sector, with so much untapped growth potential between the space and health sectors for example. If I had one piece of advice, it would be to look for opportunities to work with other sectors, you never know what you will learn that could create a step change in your own!
Since then, I have now taken on, with great joy the role of Head of Clusters here in the North West, working even closer not only with my great cluster team including James Bedford & Alan Cross, but also colleagues across the UK. I'm looking forward to getting more involved with cross sector activity (watch out for the launch of our Cross-Cluster Proof of Concept Fund later this year!), not just in Space and Digital, but also in other regional areas of strength such as Materials.
It's been a fantastic year for innovation for both the sector and the region and I look forward to seeing what the future holds for the North West Health Cluster!
To keep up to date with the North West health sector activities and opportunities make sure to sign up to the cluster newsletter.
Credit: Written by Phil Carvil, Head of North West Clusters - UK Research and Innovation | Science and Technology Facilities Council